"On average, on-demand service users spend $57.6 every year."
Perhaps, no other transformation in history has been as drastic as the smartphone transformation. The shift observed in human behaviors after the advent of Mobile phones and the Internet is baffling.
How we purchase, how we communicate, how we consume entertainment, and how we interact with brands morphed into something totally alien for older generations. Gradually, smartphones became an integral part of our lives, giving birth to the concept of an on-demand business model. Customers ordered through mobile, and businesses provided the goods at the doorstep instantly.
The popularity of top on-demand apps kept growing and skyrocketed after the global pandemic broke out. Today there are thousands of on-demand apps working throughout the world. In this article, we will review some of the most popular and amazing on-demand apps in the world.
One by one we will cover all the continents of the world. Let's get ready for the adventurous imaginary trip around the globe, where we will learn how individuals and businesses are reaping the benefits of the on-demand business model.
Let's traverse from east to west. Australians use a plethora of on-demand apps for home services, food delivery, entertainment, etc. Australia is home to one of the most robust on-demand apps markets.
The video on-demand statistics show that in February 2021, Disney+ was the most downloaded app. It enjoyed around 238,000 downloads.
Here are a few of the most famous ones from food delivery, and home services.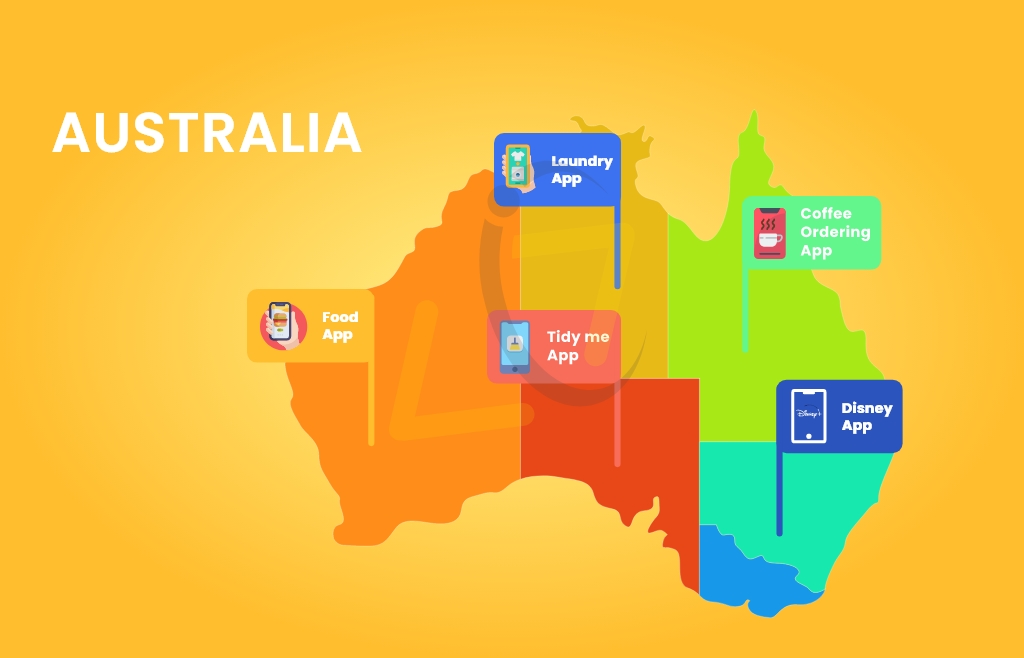 A lot of food delivery apps are working across Melbourne, Sydney, and other capital cities. Menulog is one of the most popular ones.
With headquarters in Sydney, Menulog lets you order new dishes from 11,000 plus restaurants covering 70 different cuisines. On the first order, many restaurants give 25% off.
Here is an amazing offer. Order at Menulog, and find the same item delivered by the same restaurant at a better price within 24 hours. They will credit you the difference plus an additional $10.
Food comes to your door in 30 minutes with Deliveroo. A lot of features are similar to America's popular Postmates. It is very easy to order comfort food, health food, or local favourites. Thanks to the extensive range of restaurants Deliveroo provides. They also deliver alcohol if it's part of your order.
One of the best pros is catering options for work functions.
Deliveroo provides its users Qantas points. You win 100 qantas points on your first order. Order four or more times in a month and win 200 qantas points.
This is the most famous coffee ordering app in Australia. Hey You lets you discover local cafes, browse their menus and order what you like. Moreover, you can discover new places to eat or drink in your area.
Available: Web
Aiming to raise millions, they launched their on-demand services in Melbourne. Laundry Run partners with dry cleaners to pick and drop laundry free of cost.
The target audience is busy parents. They struggle for work-life balance. Laundry Run promises to make Laundry chore a thing from the past.
Available: iOS
Are you looking for the best home cleaners in Australia? Try TidyMe.
The Sydney-based services connect customers with cleaners. During their first year, they managed to grow their client base up to 200.
The business model is nothing but beer and let the beer reach the consumer as quickly as possible. LiquorRun is the venture of former AFL player Joel MacDonald. The app is taking the advantage of the Sydney food & beverage delivery market with its on-demand services app.
We have talked about Disney+, Australia's most downloaded video on-demand app of February 2021. This app was created by the Walt Disney Company and is available in many other countries as well. Consumers love this ad-free streaming service
Subscribers can watch thousands of Disney movies on the list of devices. Enjoy the content from the biggest names of Walt Disney Television such as Pixar, Marvel, 20th Century Fox, Star Wars, and National Geographic.
Australian merchants love the print-on-demand solutions of Printify. Designing is possible on a wide range of products such as clothing, accessories, home living products, and gift items.
300,000 marketers sell thousands of products daily on Printify. The app has a user-friendly interface. The mockup creator allows you to create stunning designs.
Available: Web
Being the largest continent both in terms of population and land area, Asia makes the biggest consumer market. Some of the world's biggest countries (population wise) India, China, and Pakistan are in Asia.
Let's find out how much businesses are making out of these opportunities.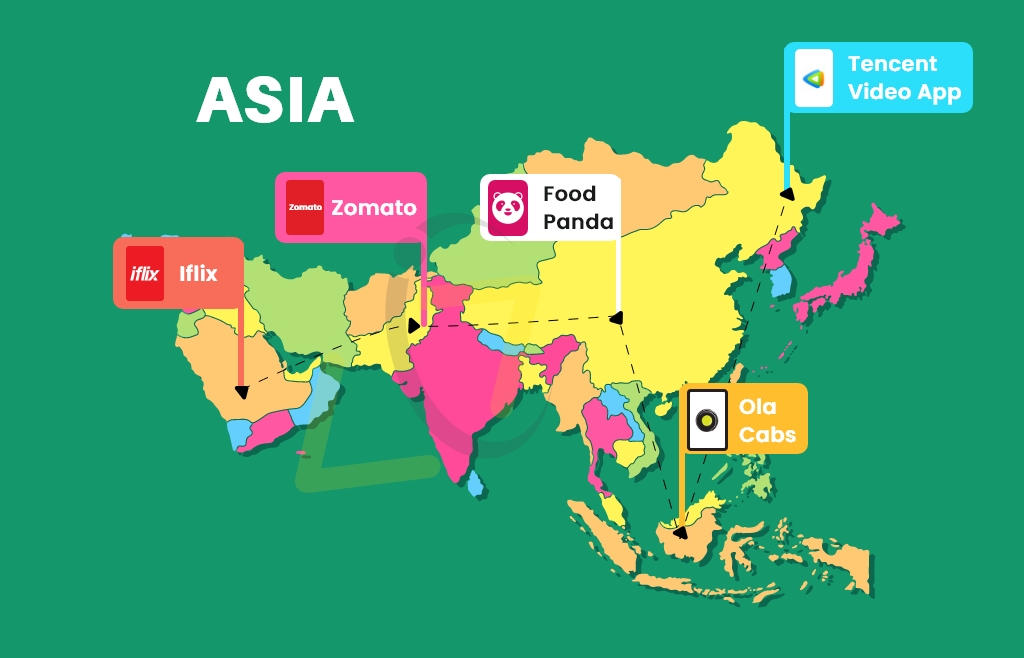 Founded in 2019, they have managed to make their place in Malaysian and Thai markets. Dahmakan aims to take over Singapore and Indonesia shortly. The headquarters of Dahmakan are in Kuala Lumpur and Malaysia.
Dahmakan offers ready-to-eat meals. The services are cost-effective and fast. They are trying their level best to minimize the customer's waiting time.
Offering their services in more than 40 countries, FoodPanda is extremely famous across Asia. However, headquarters are in Berlin.
FoodPanda dominates the Thailand market and also has a stronghold in Asian countries of Pakistan, India, the Philippines, Singapore, Hong Kong, and Malaysia.
To further strengthen their hold in SouthEast Asia, they have introduced Street Panda. That app delivers street food on-demand to customers. Street food culture dominates southeast Asia. Why not grab the golden opportunity.
Founded in 2012, the motive was to make food home delivery a luxurious experience. Now as of 2020, the firm has partnered with more than 115,000 restaurants. The number of cities they operate in is more than 230.
Food Panda's number of downloads, as of 2020 is 50M+ on Google Playstore, and 20M+ on apple store.
They provide different app versions for restaurants, drivers, and customers. More than 80,000 delivery riders work for Food Panda.
This food on-demand app is the backbone of India. Back in 2008, it was founded as Foodie Boy. Later in 2010, it was named Zomato.
The popular food delivery giant takes pride in 50M+ app downloads on the iOS store and 100M+ downloads on the Google Play store. Referring to it as the oldest food on-demand player would make perfect sense.
Distinct driver, restaurant, and customer modules are available just like FoodPanda. Zomato operates in more than 24 countries and 10k cities, as of 2019.
Zomato Treats and Zomato golds are popular loyalty programs. Zomato Kitchens is the latest venture.
Youku Tudou is one of the most popular video-on-demand platforms in China.
China makes up 47% of the video-on-demand market. Rather than using international platforms such as YouTube and Netflix, Chinese people like to stream local video sharing and on-demand streaming websites.
Youku Tudou is the rising star of that list. Customers can see it on Web, iOS, Android, PC, and Smart TV.
It started as the Chinese version of YouTube in 2005. Later in 2016, eCommerce giant Alibaba acquired the company.
Users can view, search, and share videos through many devices. There is a vast library of TV dramas, music videos, interviews, and the like. Subscription services for video content are also available just like Netflix.
iFlix, perhaps, is the most widely used video-on-demand platform in Asia. It is available in Indonesia, the Philippines, Brunei, Thailand, Vietnam, Cambodia, Myanmar, Pakistan, Nepal, Bangladesh, Sri Lanka, Maldives, and Malaysia.
Like many Asian VOD platforms, iFlix has got a wide consumer base among middle-class people. They have almost 15 million subscribers. A huge variety of local and international entertainment is available on the platform.
Indian video-on-demand services are now available worldwide. You can view it on Web, iOS, Android, Smart TV.
Eros Now is an old player. It has been India's go-to video platform since 2004. The platform has the widest range of entertainment in several regional Indian languages. They have 100 million registered users and 7.9 million paying subscribers.
China's most successful ride-sharing app is available in English and Mandarin Chinese. Didi Dache also operates in six Australian cities.
The app integrates with the famous chat app WeChat. The WeChat users can find the ride within cities and pay with the help of WeChat. Available on both Android and iOS, the app makes almost five million rides every day.
Are you tired after a party and don't want to drive your own car to return home? Edaija has your back.
The core concept was much different from usual taxis. To be precise, it was to avoid drunk drivers. The car owners could hook up with a designated driver. Users can make reservations for designated drivers in closest proximity if they feel tired to drive by themself.
Ola cabs are tremendously popular in India. Currently, they provide cover taxis and private car fleets in Mumbai, Delhi, Pune, Goa, Jaipur, and Bangalore. The network has 9000 vehicles. The most recent investment was $20 million in series B funding last November. Apps for both Android and iOS.
Available on Web, iOS, and Android, Tencent Video is the leading name in the Chinese Video On-demand market. The number of subscribers is 62.59 million, as of 2018. They are committed to providing high-quality video content, including TV dramas, movies, and several reality shows.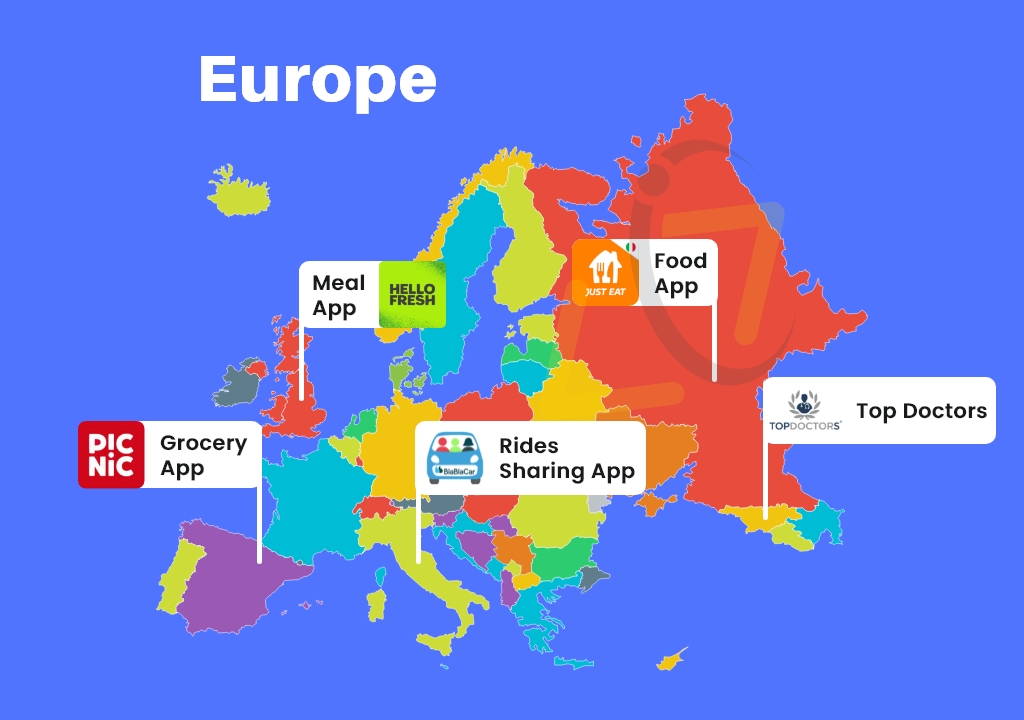 One of the most renowned food on-demand apps in Europe has been operating since 2001. They provide food services across Europe and South America and plan to expand in the future. JustEat has been downloaded more than 10 million times on the Google play store and more than 7 million on the Apple store.
The app comes with different modules for customers, delivery staff, restaurants, and admins.
HelloFresh is a berlin-based (Germany) meal kit company app. They say that their mission is to transform the way people eat. The food subscription company sends pre-portioned ingredients every week at the user's footstep.
They provide groceries, fruits, vegetables, and other ingredients so consumers can make sumptuous meals. A thirteen per cent increase was witnessed in the app download in March 2020 when the lockdown was imposed.
The app is available on both Android and iOS.
Picnic is a grocery on-demand app, from the Netherlands. They receive all orders from the users for the next day through its platform and forward the applications to bakers, greengrocers, and other suppliers.
It is an Italian grocery delivery platform. Consumers can directly place orders from farmers and artisans through the app or web. The company delivers within 24 hours.
BlaBlaCars is one of the world's largest ridesharing apps. Nicolas Brusson founded it in 2006. Ever since it has grown to €1.4 billion valuations. Users can book rideshares with reputable drivers for long-haul drives. BlaBlaCars is incredibly famous in France, Germany, Italy, and Spain alone.
BlaBlaCar has offered many perks over the years. The vision is to move away from the traditional car ownership model and switch society to a more sustainable car-as-a-service model.
GetYourGuide is a unique post-travel app based in Berlin. Get thousands of tours, tickets, and activities in your destination of choice. Book them online at low prices. The company removes the guest work for travellers by partnering with the most reputable local touring and sightseeing firms.
TopDoctors is a globally recognized name in private healthcare. They have high-level leading professionals across Europe, Latin America, and the USA. There are both doctor and patient apps available. Find top doctors in your city and book appointments with the app easily.
In case you have medical insurance, you can use the filter app to discover specialists, clinics, and hospitals that are included in your health insurance plan.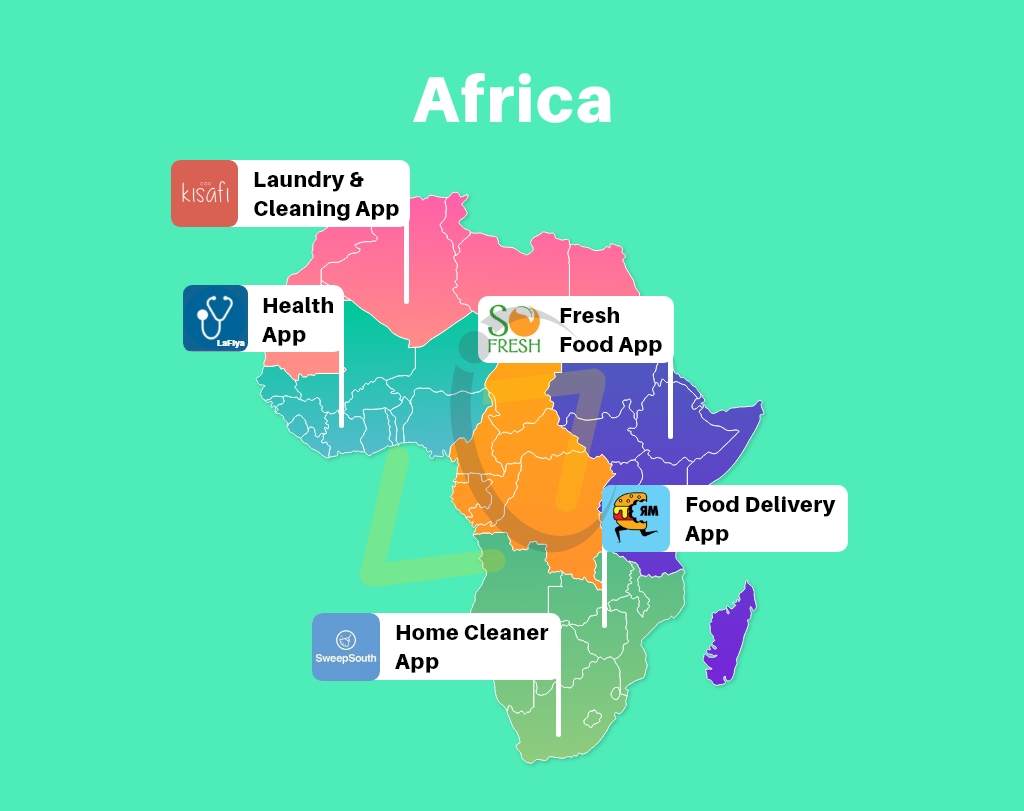 This is a digital healthcare platform providing services in Nigeria. Instantly connect with a certified doctor online. From video calls to online appointment booking and prosecution delivery, various kinds of medical facilities are available.
SoFresh is the pioneer of food on demand in Nigeria. Users can order the best food with some taps. Enjoy fresh, nutritious, and healthy meals. The company's logic is simple. Fresh is best.
A popular food delivery app in South Africa. Mr. D Food partners with 1000 different restaurants in 53 different cities. In the first six months, the app received almost 200,000 downloads.
This is the best option to enjoy the best food on-demand services in Nairobi from the best restaurants. Browse from the range of menus before placing the order.
If you want to avail the best home services in South Africa? SweepSouth is one of the best home on-demand apps in the region. It was launched in 2014 to allow ​users to book home cleaning services online from their ​phones.
In the first six months, SweepSouth reached an operational break-even.
Kisafi is an East African home service on-demand app launched in 2016. They have partnerships with two of the top laundry and dry cleaning service providers in Nairobi. Moreover, they even have body cameras to capture before and after shots of clothes. They plan to extend their services in Tanzania, Rwanda, and Uganda.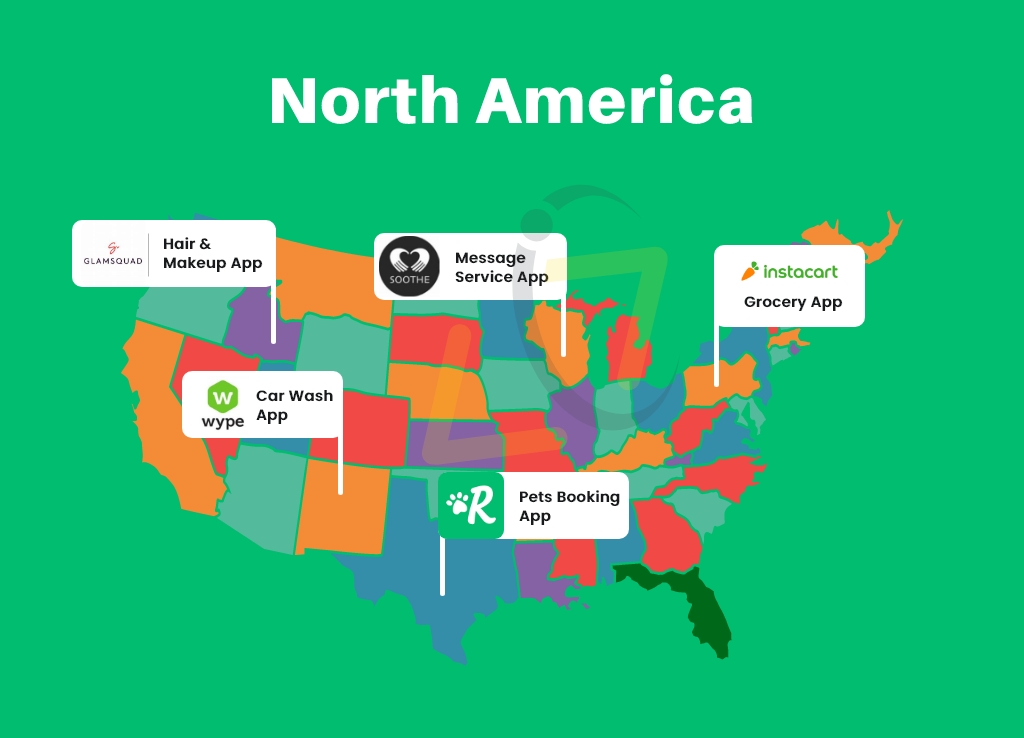 86.5 million people in the United States use on-demand mobile apps every day. So is the popularity of on-demand trends in America.
Glamsquad is one of those thousands of apps. Its niche is beauty and fashion. The app was founded by Victoria Elsner in 2014. When beauty professionals accept the user's requests they arrive at the user's location to provide the ordered beauty service.
Soothe is a multinational on-demand massage service provider from California. Enjoy a variety of massage services at the comfort of your home. Other than the USA services are available in Australia, Germany, Canada, and the United Kingdom.
Rinse is where Americans turn to when they cannot find time for laundry from their busy schedules. The app provides convenient laundry service to users and liberates them to set the laundry pickup time that suits them.
Experts clean the clothes according to the services opted for by the user. America's most popular on-demand laundry app was founded in 2013.
Founded in 2102, Handy is a New York based on-demand handyman service company. Customers get to connect with the cleaning professionals, installation professionals etc at a fixed price. Move things or get your furniture fixed on an affordable budget.
Available: Web
Instacart has been there since 2012 and has revolutionized the grocery delivery industry.
If you are looking for on-demand car wash services in Los Angeles, Wype is the best choice. Book a car cleaning service that is affordable and convenient.
Pet loving nations like America would definitely buy pet on-demand services. Rover fulfils this need by providing nearly 65,000 dog walkers and also sitters across the country. Dog owners can register, find nearby pet sitters, and book immediately or on a scheduled basis.
Back in 2011, Rover was founded in Seattle.
Medicast has made significant changes in the on-demand healthcare industry of America in a very short time. Send a request with some taps and discuss your case with highly qualified medical specialists within 15 minutes.
While medicast is not so budget-friendly, the quality of services is worth spending. In urgent cases, physicians can even visit patients in their homes and provide emergency medical services.
Available: iOS
This is really a unique on-demand app. Do you want to surprise any of your loved ones with roses and gifts? Express your love and good wishes in a memorable way with the help of BloomThat.
The simple interface allows you to select from a range of seasonal items and gifts, and pick the desired delivery date.
Initially, it was a household service providing company. But later on, morphed into America's most popular on-demand food business. They have been in the market since 2011.
PostMates was one of the pioneers. They were among the first ones to start a food on-demand business.
One of the biggest pains for Canadians is to shovel the driveway before they head to work in the morning.
Snowmowr is an Ottawa based app that shares your burden and plows your driveway for you. The app handles all your scheduling, communications, and payments. Customers do not have to mail in cheques or take out cash.
Available: Android
Finding trustworthy and reliable babysitters is a daunting task. Launched in 2014, Datenight is a Toronto based on-demand babysitter providing service that lets parents connect with professional babysitters in their neighborhood quickly.
Canadians ordered $4.3 billion worth of meals in 2018. Out of which, $1 billion was on meal delivery apps. SkipTheDishes is one of those food delivery apps.
The app was launched in 2012 in Winnipeg, Manitoba, Canada. They started from Canadian cities but now also serve in the United States. The app has received a total funding of CA$8.5M, according to CrunchBase. The number of downloads is more than 100k.
Users can reorder their favorite dishes using history.
The on-demand industry of South America has become a giant market in the last decade, valued at $6.5 billion. Talking specifically about ridesharing, its revenue is estimated to reach as high as US$1 billion by 2023.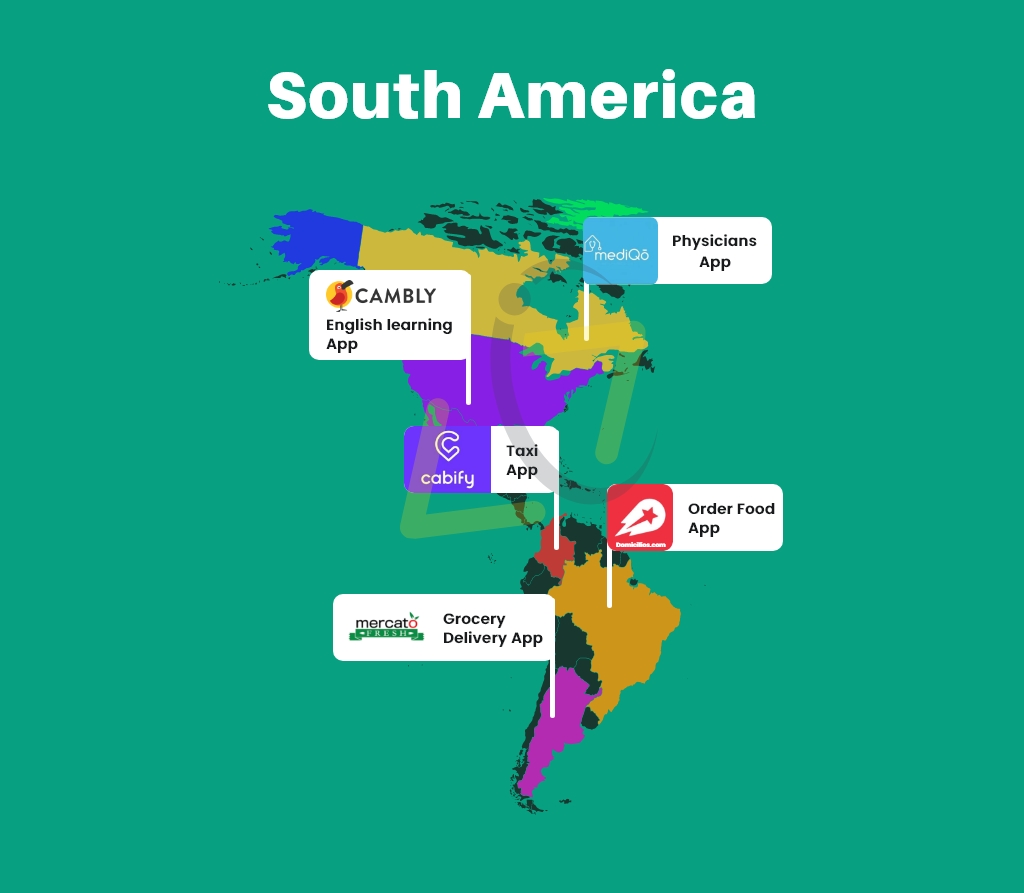 It is basically a Mexican startup. It connects the users with the nearby physicians in 30 minutes, in Latina America. In case your inquiry is not urgent, you can schedule the visit at your convenience.
Rappi is the highest on-demand delivery startup in Latin America. It has broadly penetrated into the region offering services in Colombia, Argentina, Brazil, Chile, México, Perú, Ecuador, Costa Rica, and Uruguay.
Though Rappi is famous as a food on-demand app, they have gone a couple of steps further. "Rappi Pay" is a virtual wallet that allows you to pay for extra services. Gamble on sports and casinos with "Rappi Bets".
Founded in Brazil in 2011, iFood is now a subsidiary of tech giant Movile. Movile raised $400 million for iFood, back in 2018. It was the largest amount ever recorded for a Latina American startup.
The operations are mainly focused on Brazil, Mexico, and Colombia. Here is a fun fact. Between January and mid-December 2019, 26 million hamburgers were ordered through iFood.
If you are a Latin American struggling with learning English, download Cambly and connect with the best English tutor online.
Save your time by having goods delivered to your doorstep in Brazil with this amazing on-demand grocery delivery app. From the comfort of your home shop from supermarkets, organic shops, pet shops, grocers, butchers, and liquor stores.
The Spanish on-demand app is surely giving some tough times to Uber in Latin America. Enjoy safe rides as a customer, or become a driver to start making handsome money.
The beginning of one of the top food delivery startups of Latin America can be traced back to 2007. A couple of visionary entrepreneurs saw the market gap and decided to fill it by digitizing the service.
They broke into the market by creating a digital directory that had the names of all restaurants in Bogota, Colombia. Hereafter, they added an online ordering platform to attract customers.
In 2014, Delivery Hero from Germany acquired it.
After this world tour, it should be evident that on-demand apps have a good consumer market all around the globe. Also, we saw that the applications are wide enough that they have penetrated almost every industry. The model has successfully been implemented in entertainment, education, medical, travel, fashion & beauty, pets, food, grocery, household services (plumber, carpenter, washing dishes, moving furniture), and even lifestyle.
So, if you have a practical idea for an on-demand business that has a customer base in your region, go for it as soon as possible.