In the vibrant landscape of Saudi Arabia's technology industry, mobile app development has emerged as a key player in transforming businesses and enhancing user experiences. As the demand for innovative and user-friendly mobile applications continues to surge, the need for proficient mobile app development companies becomes paramount.
In this blog post, we will explore the top 16 mobile app development companies in Saudi Arabia, with CodesOrbit standing out as the frontrunner. Each of these companies excels in delivering cutting-edge solutions tailored to the unique requirements of their clients.
We will provide detailed information about their key services, the hourly rates of their app developers, and a comprehensive comparison table. Whether you're looking for an app development partner in Riyadh, Jeddah, or elsewhere in Saudi Arabia, this guide will help you make an informed decision.
Exploring the App Development Leaders: Fascinating Stats and Insights on Saudi Arabia's Best!
The mobile app market in Saudi Arabia is experiencing rapid growth, with the country's smartphone penetration rate exceeding 80% (Statista).
According to Arabian Business, Saudi Arabia's app downloads have surged by 25% in recent years, indicating a high demand for mobile apps.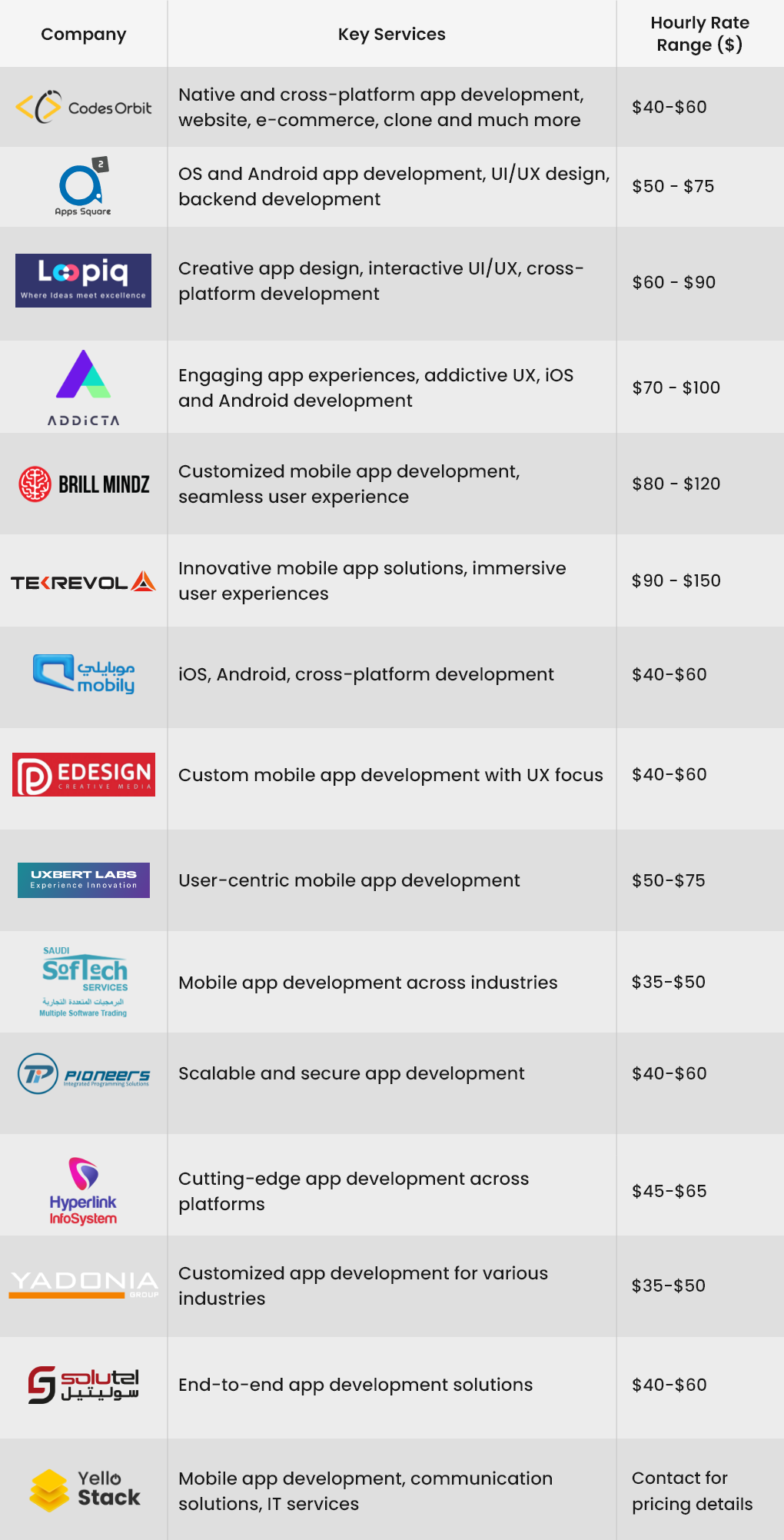 1. CodesOrbit
Website: www.codesorbit.com
Location: Orchid center-office 84 Riyadh, RD 11543, Saudi Arabia
CodesOrbit specializes in mobile app development, providing innovative solutions to businesses of all sizes, with expertise in both native and cross-platform development.
With a talented team of in-house developers and designers, it stands tall as the premier mobile app development company in Saudi Arabia, renowned for its unmatched expertise and dedication to client satisfaction.
From developing bespoke mobile applications across various platforms to their comprehensive services encompassing app ideation, UI/UX design, mobile and web development, quality assurance, and round-the-clock maintenance and support services. 
2. Apps Square
Location: Riyadh, Saudi Arabia
Apps Square is a leading mobile app development company in Saudi Arabia. They specialize in creating innovative and user-friendly apps for various platforms, including iOS and Android. With their UI/UX design expertise and robust backend development, Apps Square delivers high-quality apps that engage and delight users.
They work closely with clients to understand their goals and requirements, ensuring that the final product aligns with their vision.
Apps Square's commitment to quality, creativity, and customer satisfaction makes them a trusted choice for businesses seeking top-notch app development solutions.
3. Loopiq Studio
Location: Jeddah, Saudi Arabia
Loopiq Studio is a dynamic mobile app development company in Jeddah that brings creativity and technical expertise to every project. They focus on creating visually stunning and interactive apps that leave a lasting impression on users.
Loopiq Studio's team of talented designers and developers work collaboratively to craft seamless user experiences, incorporating the latest design trends and technologies.
Whether it's a consumer-facing app or a business productivity tool, Loopiq Studio leverages its skills and innovation to deliver exceptional results
4. Addicta
Location: Riyadh, Saudi Arabia
Addicta is a prominent mobile app development company in KSA known for its cutting-edge solutions. They specialize in creating addictive and engaging mobile apps that captivate users and drive business growth.
With a strong focus on user experience and performance, Addicta builds apps that seamlessly blend functionality and aesthetics. Their skilled developers and designers stay updated with the latest industry trends to deliver innovative solutions.
Addicta's commitment to excellence and its ability to create addictive user experiences set them apart in the competitive mobile app development landscape
5. Yellostack for Communication & IT Services
Location: Al Khobar, SA
Yellostack offers a range of services, including mobile app development, communication solutions, and IT services.
They provide comprehensive solutions to businesses of various niches, including health care, education, food and restaurants and more. Helping them streamline their communication and IT infrastructure.
6. Mobily Infotech
Location: Riyadh, Saudi Arabia Mobily
Infotech is a leading mobile app development company in Saudi Arabia, offering end-to-end app development services, including iOS, Android, and cross-platform app development.
They create sleek and user-friendly mobile apps that enhance businesses' digital presence across various industries.
7. Brillmindz
Location: Riyadh, Saudi Arabia
A mobile app development company based in Riyadh, Saudi Arabia. They specialize in creating innovative and robust mobile applications for iOS and Android platforms.
With a commitment to quality and client satisfaction, Brillmindz combines technical expertise with creative thinking to deliver seamless and engaging user experiences.
8. Tekrevol
Location: United Arab Emirates
Tekrevol is a renowned mobile app development company that offers cutting-edge solutions to businesses worldwide.
Focusing on innovation and technology, Tekrevol creates exceptional mobile applications catering to various industries and user needs. Their team of skilled professionals excels in crafting user-friendly interfaces, robust functionalities, and immersive user experiences
9. EDESIGN
Location: Jeddah, Saudi Arabia
EDESIGN focuses on creating custom mobile apps with a strong emphasis on user experience and seamless functionality.
They create apps that not only look great but also provide intuitive and engaging interactions for users.
10. UXBERT Labs
Location: Riyadh, Saudi Arabia
UXBERT Labs is an award-winning mobile app development agency known for its user-centric approach, creating aesthetically pleasing and highly functional apps.
Their team conducts extensive user research and usability testing to create apps that prioritize user needs, resulting in highly intuitive and user-friendly experiences.
11. Saudi Softech
Location: Riyadh, Saudi Arabia
Saudi Softech specializes in mobile app development, catering to a diverse range of industries with its innovative and scalable solutions. Their team possesses in-depth industry knowledge, allowing them to create tailored apps that address various sectors' specific needs and challenges.
12. DigiMantra Labs
Location: Jeddah, Saudi Arabia
DigiMantra Labs provides end-to-end app development solutions. From concept to deployment, they guide clients through every step of the development process, delivering high-quality and scalable apps.
13. Pioneers Solutions 
Location: Riyadh, Saudi Arabia
Pioneers Solutions specializes in developing scalable and secure mobile apps, utilizing the latest technologies and industry best practices.
They prioritize data protection and robust security measures, ensuring that their apps meet the highest standards of reliability and privacy.
14. Hyperlink InfoSystem
Location: Riyadh, Saudi Arabia
Hyperlink InfoSystem is a global mobile app development company with a strong presence in Saudi Arabia, delivering cutting-edge apps across various platforms.
Their expertise spans iOS, Android, Windows, enterprise solutions, IoT integration, AI-powered apps and more, ensuring a wide reach for their clients' apps.
15. Yadonia
Location: Jeddah, Saudi Arabia
Yadonia specializes in mobile app development, providing customized solutions that align with the client's business objectives and target audience.
In addition to mobile app development, team Yadonia offers intuitive website design, social media marketing, managed hosting, SEO, Graphic Designing, Video Animation, and Consulting Services across the globe.
16. Solutel 
Location: Riyadh, Saudi Arabia
Solutel offers end-to-end mobile app development services, focusing on delivering high-quality apps that drive user engagement and business growth.
Leveraging Machine learning and other latest technologies, their comprehensive approach covers every aspect of app development, from ideation and design to coding,
Final Words
Saudi Arabia boasts a vibrant and competitive mobile app development industry. The top 16 companies mentioned in this blog have proven their prowess in delivering innovative and high-quality mobile applications.
From Riyadh to Jeddah, these companies offer a wide range of services, catering to diverse industries and client requirements. Whether it's custom app development, seamless user experiences, addictive designs, or cross-platform compatibility, these companies have demonstrated their ability to meet the ever-evolving digital world demands.
With their technical expertise, creative thinking, and commitment to client satisfaction, these app development firms play a vital role in driving the digital revolution forward in Saudi Arabia and beyond.
If you are a young entrepreneur or a new venture seeking exceptional mobile app solutions. You can definitely turn to CodesOrbit or any of these industry leaders for their expertise and make a mark in the digital landscape.
Contact us to start your journey towards innovation and be digital!