Imagine yourself suffering from a high fever or severe headache. What if you don't have to wait for someone to come and take you to the doctor. You can find the best and nearest doctor online and he/she visits you at your home within hours.
Well, that's what healthcare on demand is.
Healthcare on-demand apps sound fascinating and somewhat like a fairytale, right? Yes, it is fascinating, but not a fairytale. The convenience and beauty of on-demand healthcare apps are reality.
Doctor on Demand is one such example. It is an online platform where patients can consult healthcare providers for urgent care. Back in 2019, they received a funding of $74 million.
Let's move one step further. You have no problem visiting the clinic, but you find out that your family doctor is not in town. Why can't you have a zoom meeting with him/her?
The Amwell app lets you book on-demand video visits with doctors, therapists, psychologists, and other healthcare providers. It even allows you to send prescriptions to the pharmacy you want.
If you have been following the trend, you must have listened to things like:
On-demand healthcare services are on-rise not only in the United States but throughout the globe.

The healthcare industry needs more on-demand services.

Investment in on-demand healthcare apps is worth it.
Let's see what some of these facts and statistics suggest.
The Rise of On-demand Healthcare
The Situation in the United States
"More than 60% of Americans are open to virtual healthcare, says a Wall Street Journal report from 2016. The report also suggests that 1.2 million American patients received virtual health care in the same year."
It shows that even before the global pandemic, the United States was a mature market for on-demand health care services.
Now the novel coronavirus has escalated the adoption of the trend. More and more people are using digital healthcare technologies. While the health industry was reluctant to adopt the trend, the pandemic proved the point that this sector needs to integrate the on-demand business model more than any other sector.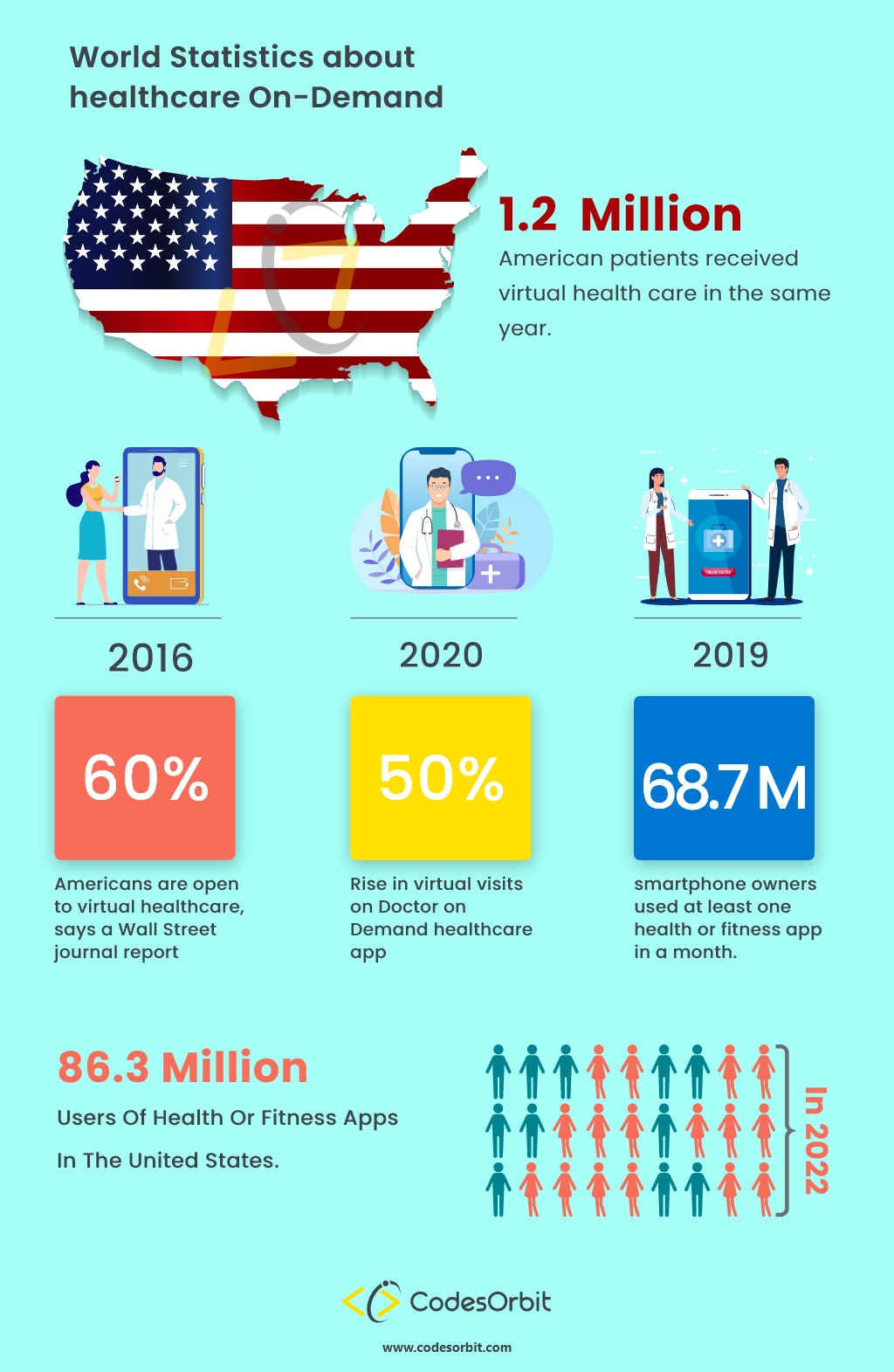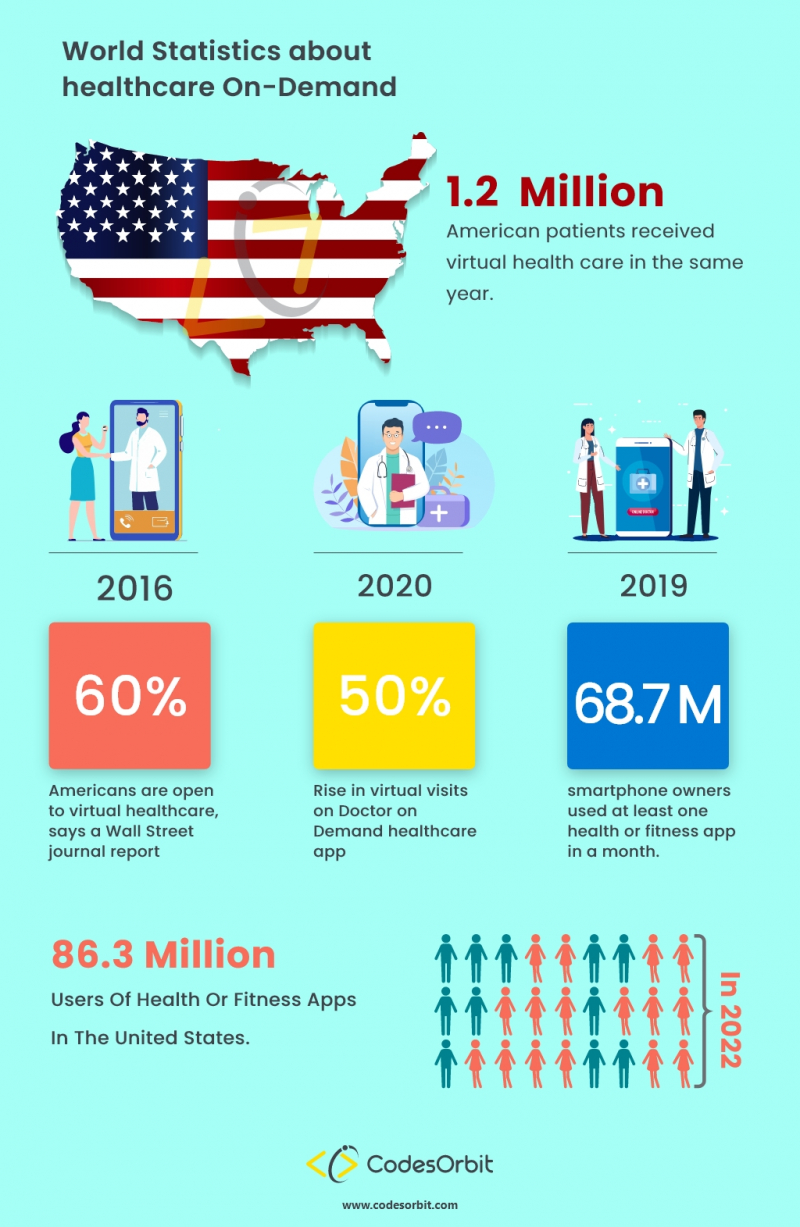 This also changes the consumer mindset that hospitals are not de facto to receive medical care.
Business owners are also looking at the situation as a profitable opportunity. The healthcare start-ups that were scaling slowly, are now at the point of hyper-growth, not only in the United States but also in the Middle East and Europe. The aforementioned Doctor on Demand healthcare app, based in San Francisco, witnessed a 50% rise in virtual visits in March 2020.
In 2019, there were 68.7 million smartphone owners in the United States who used at least one health or fitness app at least once per month. It is forecasted that in 2022, there will be 86.3 million users of health or fitness apps in the United States.

The Telemedicine market of the Netherlands is expected to reach 670 million euros by 2022. In Britain's National Health services, video appointments only made up 1% of the 340 million annual visits, before the virus. Thousands of clinics have shifted to remote consultation.
Back in 2019, Digital Healthcare Act (DVG) and various legislative changes created DiGA Fast-Track. Apps could be prescribed by doctors and costs are reimbursed through German health insurance. After 11 months of the German federal government passing the DVG, two health apps became officially available on 5 October.
According to STAT, a medical news site, a telemedicine session costs less than €50, while a visit to the ER costs around €2000.
Cleveland Clinic Abu Dhabi has completed more than 10,700 virtual consultations since March 2020, according to Gulf news.
Hamad Medical Corporation in Qatar has received 197,000 calls in 2020. Also, they provide more than 27,000 telephone consultations each week.
UAE Telehealth report shows that even before covid-19, 78% of the patients were happy to leave traditional ways and move to video consultation.
So how long has it been there? Did on-demand healthcare models emerge right after covid-19? Let's dig deeper into the history.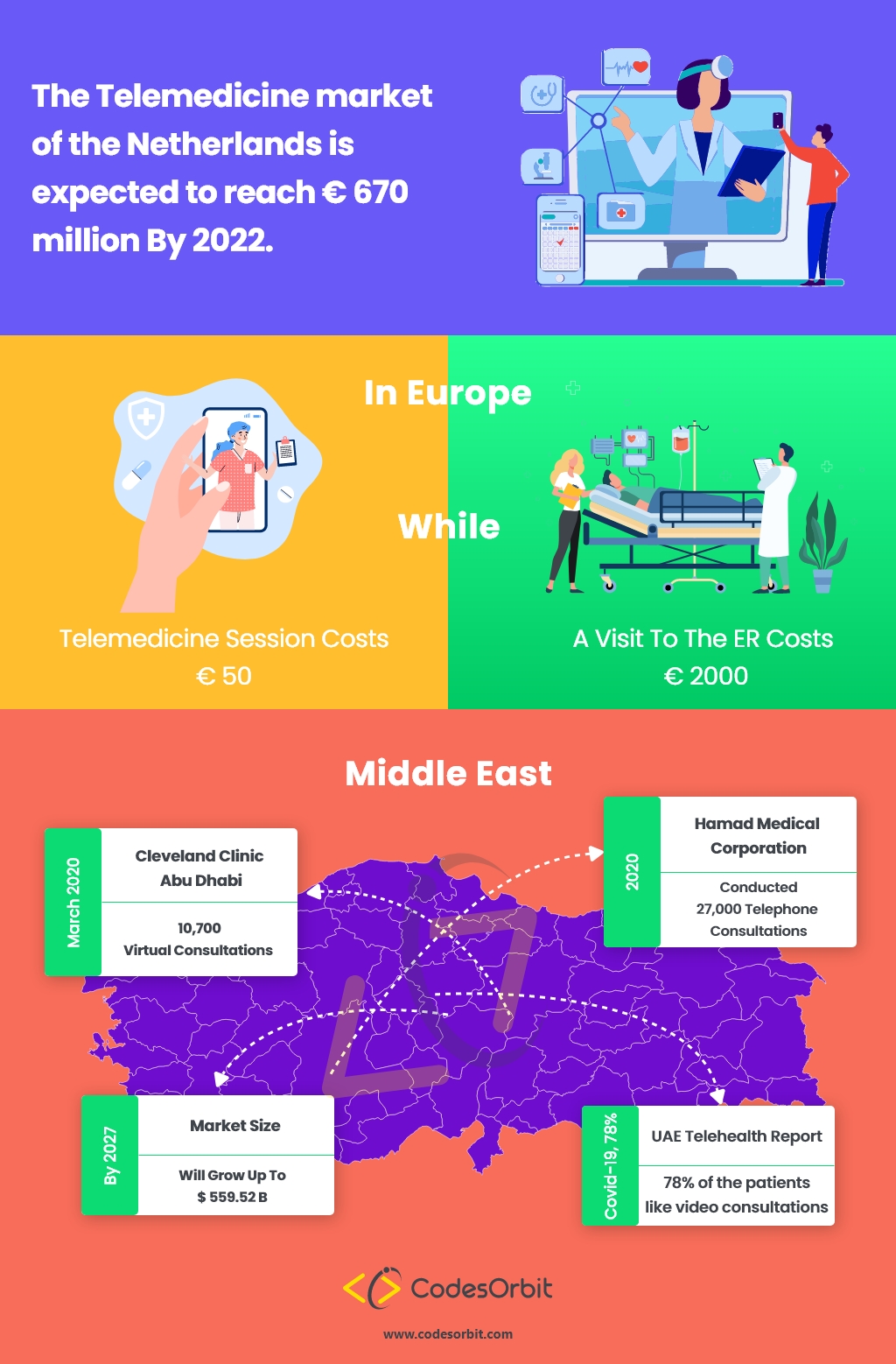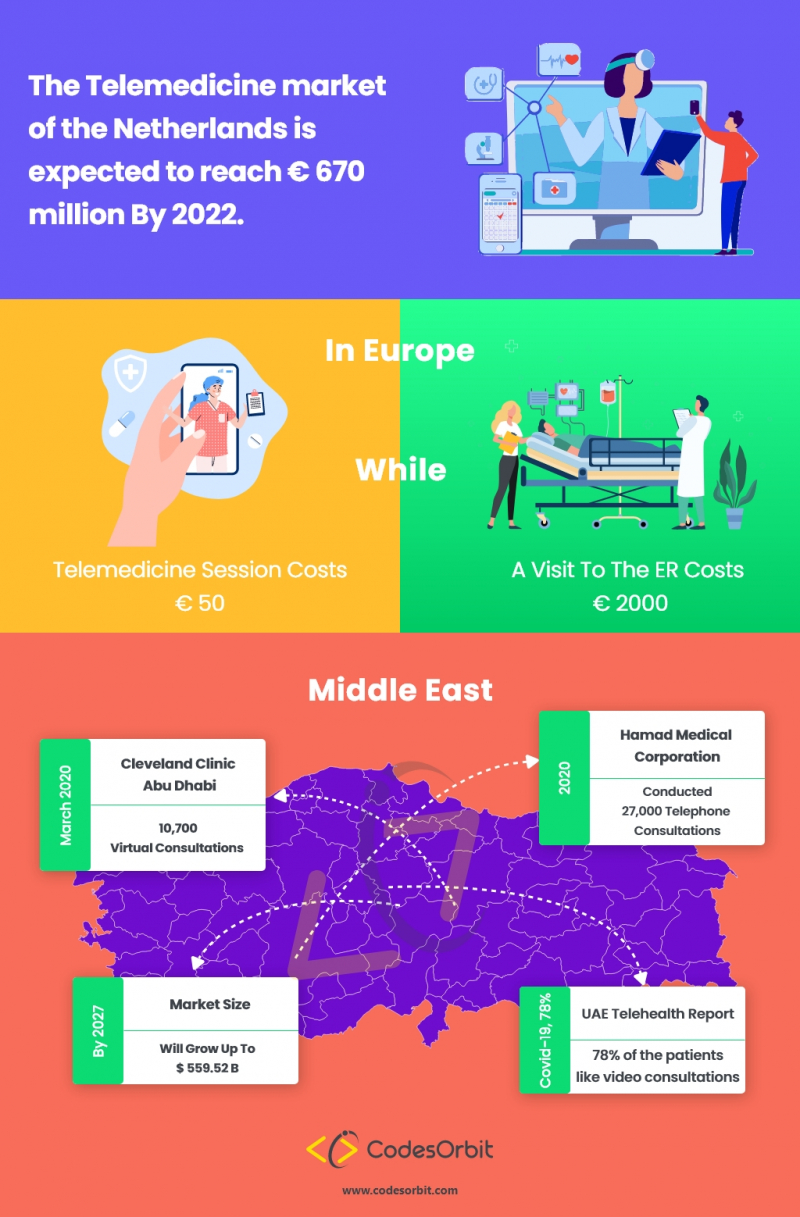 On-Demand Healthcare Has Been There For Decades
Telemedicine is caring for patients remotely, i.e patient and doctor are not at the same location physically. That also includes sharing patient information or any medical data via computers. Remote patient monitoring falls under the same category. While on-demand apps are relatively new, telemedicine is decades old.
Yes, you read it right. The concept of what we call 'telemedicine' has been there for a long time.
In fact, the early fantasies date back to the first half of the 20th century, when the radio was invented. They revolutionized the communication industry.
A Radio News Magazine from 1924 features the picture of a doctor attending to a patient via video call. The headline said, "The Radio Doctor–Maybe!". The dreams came true after almost nine decades. What started as some hospitals looking for ways to reach remote patients led to today's latest on-demand apps.
The world's first example of electronic medical record transfer comes from 1940 Pennsylvania. The distance was 24 miles. Radiology images were sent between two townships via the telephone line.
Upon this technology, a Canadian doctor built a teleradiology system. As time went on, motion pictures became the new normal. With the advent of modern film technology, serious plans for video medicine were also conceived. In 1959, the University of Nebraska established a two-way television setup. It could transmit the information to medical students across the campuses.
Finally, by the 1970s, Telemedicine had become pretty popular, specifically in rural areas. The population there did not have enough medical facilities but telemedicine allowed them to reach specialists that were far away.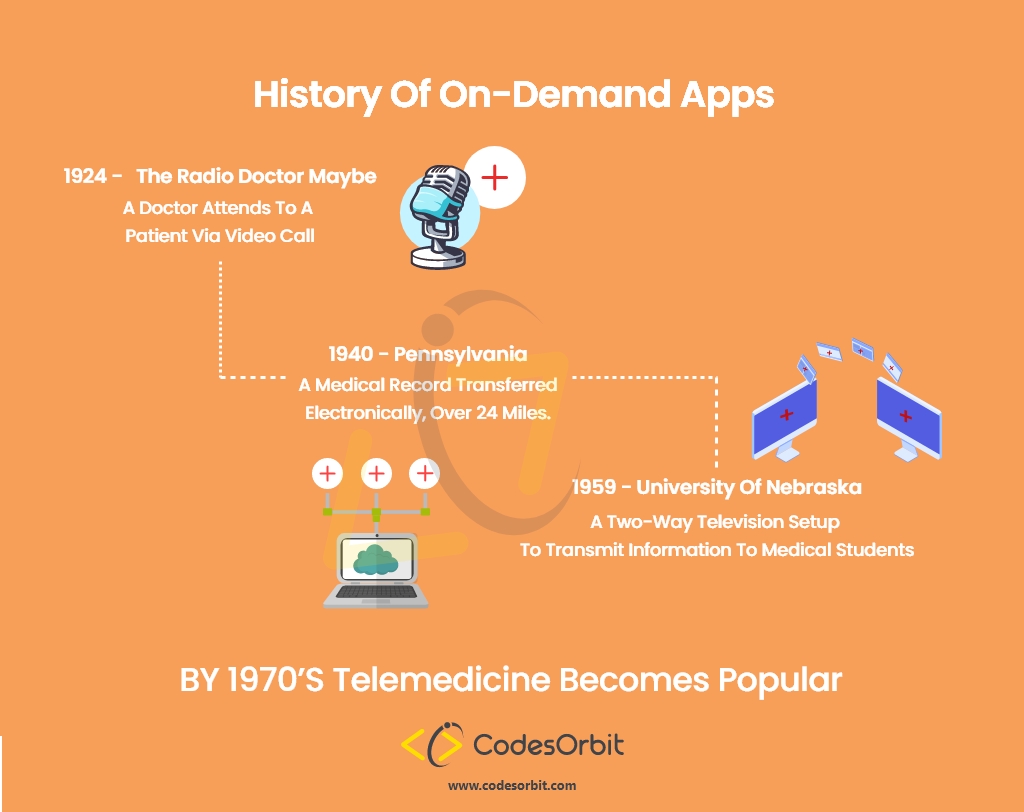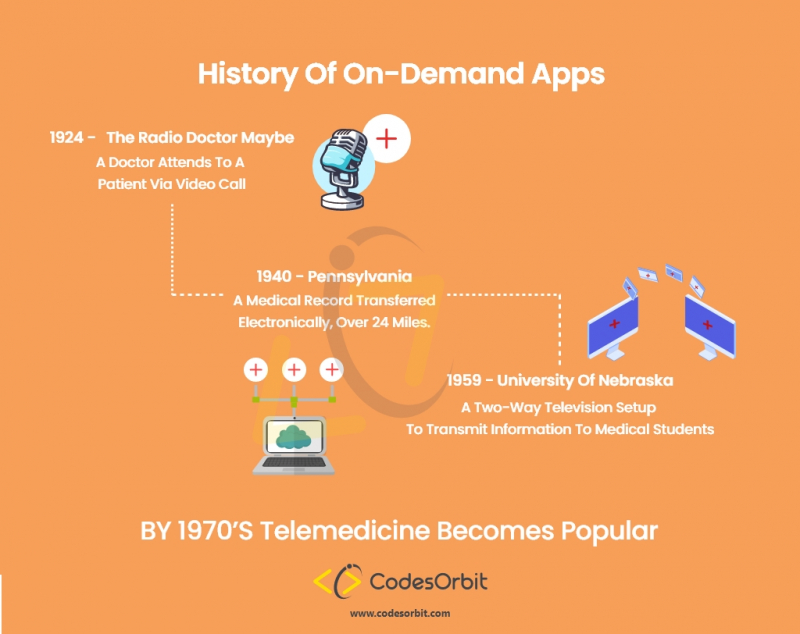 In the early days, telemedicine served to connect doctors working with a patient in one location to specialists somewhere else. That was great for rural areas where specialists were not available.
Telemedicine is the alternative to in-person visits, providing unarguable benefits to both patients and doctors.
Patients could save on travel expenses.

They didn't have to take a leave from work.

Both patients and healthcare professionals could avoid contagious diseases.

Providers could enjoy more revenue.

More efficiency in processes.

Fewer missed appointments.
So you see, the world of telehealth is big. Expectations are that the market size will grow up to USD 559.52 Billion by 2027 with a CAGR of 25.2%.
Today we have advanced health tech devices, such as wearable medical equipment. We have fitness wristbands and heart rate monitors that can track patients' vital data in real-time. With the advent of mobile and the internet, software engineers collaborate with medical specialists to build healthcare apps for desktop, mobile, and other platforms.
Sleep fitness is an app developed by sleep expert, Dr Allison Siebern. It is more like a 6-week, self-guided insomnia program based on Cognitive Behavioral Treatment for Insomnia (CBTi). Users can log in and enter their sleep information to calculate variables.
With the help of computers and mobile, patients can connect with care providers anytime they want. Any clear fact why Healthcare would need on-demand services?
Why Does the Healthcare Industry Need On-Demand Services?
With mobile healthcare going mainstream swiftly, on-demand healthcare seems to be a rewarding business. They may not be able to replace each and every type of medical care, but offer so much more.
Here are some reasons supporting this argument.
1. They Provide Extra Level of Comfort & Convenience
Such apps hold great potential to comfort patients. They do not have to take off from work and spend on travelling. All they have to do is book an appointment and wait.
2. They Cut Healthcare Costs & Hospitalization Costs
Thousands of patients visit emergency rooms every day. These visits will reduce when customers will see doctors at their place. Hence, hospitals would have more room for patients who need more intensive care. If there are no unnecessary ER visits, the cost of medical care will also reduce.
3. Efficient Doctor-Patient Interaction
Doctors can spend more time on in-house visits. Due to other patients waiting outside, they barely get 10 to 15 minutes with one patient at the clinic. That time span is too little to have a thorough discussion on the patient's condition. In-house visits provide enough time for proper diagnosis and the best care possible. Research proves that doctors spending more time with patients brings better medical outcomes.
Two-thirds of a doctor's time is spent on paperwork, according to a Forbes article. The burden of in-office paperwork cuts down when you use on-demand healthcare apps. Doctors can save time and focus more on their core operation, which for sure is patient care.
5. Supplemental Work for Doctors
The flexibility to work for supplemental hours is the best plus for physicians and general practitioners. Based on their own schedule they can work full-time or part-time for on-demand healthcare platforms.
6. Patients Can Connect With World-Renowned Doctors
Gone are the days when patients had to rely on word of mouth to reach the best doctors, and that too in the limited geographical boundary. On-demand apps allow them to reach out to renowned doctors and clinics anywhere in the world.
Market Classification of On-Demand Healthcare
We can classify the global on-demand healthcare market on the basis of product, end user, region and country level, and the type of service. Apps, websites, and home visits are the products. End users could be professionals, individuals, and hospitals. Types of service are testing, screening and monitoring, therapeutic, mobility care.
What Do These On-Demand Healthcare Apps Offer Generally?
The possibilities could be endless. Even now, we have unprecedented healthcare services offered on-demand. Some of those services include.
Blood and various lab tests
Flu shots
Virtual assistance for colds, ear infections, headaches
Annual physical exams
Family health assessments
Consultations
On-demand healthcare is a versatile industry now, with a variety of business models. They provide doctors on-demand, nurses on-demand, and even ambulances on-demand. Regarding the sensitivity of health issues and the value of human lives, we can conclude that no other industry needs on-demand services more than healthcare.
It cuts down on costs, strengthens doctor-patient connections, lets patients connect with world-renowned doctors, and increases the earning opportunities for doctors.
While not all of us are doctors or physicians, all of us are patients at any stage of life. That is why everyone should keep abreast of the latest on-demand trends and applications.