Are you hungry to start your own on-demand food delivery venture in KSA? Look no further than these 12 inspiring apps that have revolutionized the industry. They've not only satisfied countless cravings but have also become the gold standard for success.
In the vibrant culinary landscape of Saudi Arabia, these apps shine bright, serving as beacons of inspiration for aspiring entrepreneurs. With their user-friendly interfaces and mouthwatering menus, they've cracked the code to culinary triumph. You can embark on your own flavorful journey by learning from their strategies and following their proven business models.
Join us as we uncover the secrets behind their achievements, explore their standout features, and discover how they've transformed how we dine. From simple ordering processes to speedy deliveries, these apps have mastered the art of customer satisfaction.
So, if you're eager to satisfy customers' appetites and make your mark like these top-notch delivery giants, let these 12 food delivery apps of Saudi Arabia be your guiding light. Embrace their wisdom, add your unique flavor, and create a thriving on-demand food delivery venture that captivates your audience. Get ready to tantalize taste buds, win over customers, and make waves in the industry. It's time to unleash your entrepreneurial spirit and savor the sweet taste of success. Bon appétit!
The Rise of Food Delivery Apps in Saudi Arabia: A Booming Market
With the convenience of ordering food at the touch of a button, these apps have experienced tremendous growth and popularity in recent years. Let's delve into the market statistics to get a better understanding of the landscape and the key players in the industry.
Market Size: The food delivery market in Saudi Arabia is estimated to be worth over $2 billion.

Rapid Growth: The market has witnessed significant growth in recent years, with a CAGR (Compound Annual Growth Rate) of approximately 11.8%.

Increased Penetration: The penetration rate of food delivery apps in Saudi Arabia is projected to reach 35.9% by 2023.

User Base: The number of users actively using food delivery apps in the Kingdom exceeds 6 million.

Mobile App Downloads: Popular food delivery apps in Saudi Arabia have recorded millions of downloads, with HungerStation alone surpassing 10 million downloads on the Google Play Store.

Revenue: The revenue generated by food delivery apps in Saudi Arabia is expected to reach $1.9 billion by 2023.
Online Food Ordering App: The Future of Dining
In today's fast-paced world, online food ordering apps have become an integral part of our daily lives. Let's explore why these apps have gained such popularity:
Online food ordering apps offer unparalleled convenience, allowing users to browse menus, place orders, and track deliveries all from the comfort of their homes.
These apps provide access to an extensive selection of restaurants and cuisines, allowing customers to explore various options and discover new flavors.
Online food ordering apps save time and transportation costs by eliminating the need to travel to a restaurant. They also often offer exclusive deals and discounts, making dining more affordable.
Contactless delivery has become crucial with the virus outbreaks like the COVID-19 pandemic. Online food ordering apps facilitate safe and hygienic deliveries, minimizing physical contact.
Food Delivery Apps in Saudi Arabia
Saudi Arabia's food delivery industry has experienced rapid growth in recent years, catering to the needs of the country's diverse population. Here are some top food delivery apps that have revolutionized how people order food.
Before diving into the detailed explanation of each application, let's take a look at the table highlighting the key differences between the top food delivery apps in Saudi Arabia: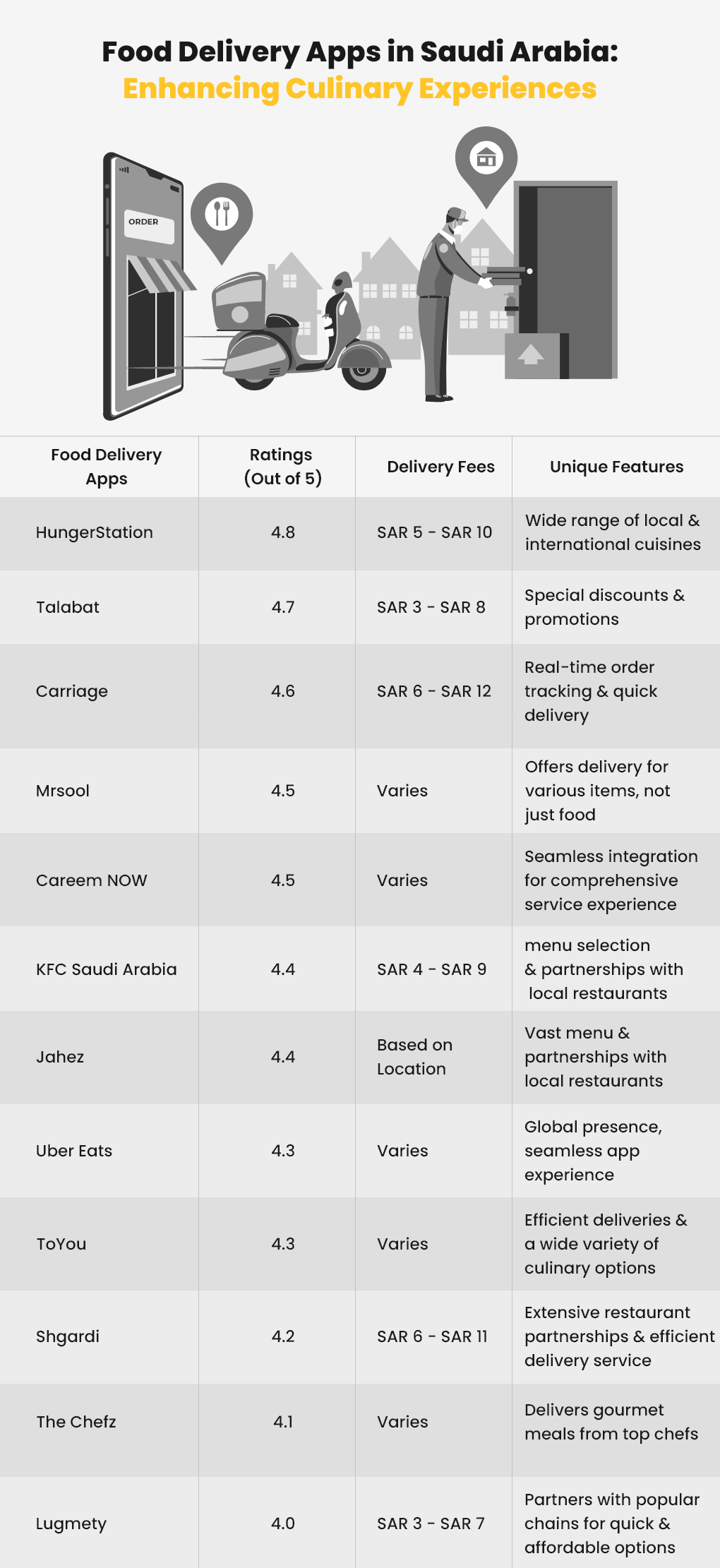 Note: Please note that the delivery fees mentioned in the table are approximate values and may vary based on factors such as location and order size. Additionally, ratings are based on user reviews and can fluctuate over time.
1. HungerStation
HungerStation takes the lead in the Saudi Arabian food delivery scene with its extensive restaurant partnerships and an impressive array of local and international cuisines. Whether craving traditional Saudi dishes, indulging in Italian pasta, or exploring Asian flavors, HungerStation has you covered. 
With a user-friendly interface and seamless ordering process, this app ensures you can easily navigate its vast menu and place your order with just a few taps. HungerStation's commitment to timely deliveries and exceptional customer service has earned it high ratings and praise from satisfied users.
2. Talabat
Talabat is another prominent player in the Saudi food delivery market, known for its excellent customer service and attractive discounts. This app offers a wide selection of restaurants and cuisines, from local favorites to international chains. 
What sets Talabat apart is its special promotions, allowing users to enjoy their favorite meals at discounted prices. Whether looking for a quick bite or a sumptuous feast, Talabat ensures a hassle-free ordering experience and delivers your meals efficiently and accurately.
Want to experience the success that Talabat had? Get a customized clone app like Talabat now! 
3. Carriage
When it comes to fast and reliable food delivery, Carriage is a top choice in Saudi Arabia. The app prides itself on its real-time order tracking, which lets you follow the progress of your meal from the restaurant to your doorstep. 
Carriage partners with numerous local restaurants, offering a diverse range of cuisines to cater to every taste. Whether you're craving Arabic delicacies, continental dishes, or fusion cuisine, Carriage ensures prompt deliveries and excellent customer service. With just a few taps, you can enjoy a satisfying meal without leaving the comfort of your home.
4. MrSool
MrSool stands out among food delivery apps in Saudi Arabia by expanding its services beyond food. While it excels in delivering delicious meals from a variety of restaurants, it also offers delivery for various items, including groceries, medicines, and other essentials.
This versatility has made MrSool a preferred app for those seeking more than just food delivery. With a dedicated fleet of drivers and a user-friendly interface, MrSool ensures a seamless experience, making it a go-to option for a wide range of delivery needs.
5. Jahez
Jahez is a popular food delivery app in Saudi Arabia, known for its extensive menu selection and strategic partnerships with local restaurants. With Jahez, you can explore a diverse range of cuisines, from traditional Saudi dishes to international flavors. 
The app's strong partnerships enable users to access exclusive menus, discounts, and promotions from their favorite restaurants. Jahez offers a user-friendly interface, making it easy to customize your order, track deliveries in real-time, and enjoy a satisfying dining experience right at home.
6. Uber Eats
Uber Eats, a global leader in food delivery, brings its seamless app experience to Saudi Arabia, allowing users to explore a wide range of culinary options from local and international restaurants. With Uber Eats, you can satisfy your cravings with just a few taps and track your order in real time to know exactly when your meal will arrive. 
The app's user-friendly interface and intuitive design make ordering easy and convenient. Uber Eats' extensive delivery network ensures you can enjoy your favorite dishes from renowned restaurants in the comfort of your home.
7. Careem NOW
Careem NOW is a prominent player in the food delivery market in Saudi Arabia. Born from the popular ride-hailing service Careem, Careem NOW offers a seamless and convenient food delivery experience. Its user-friendly interface allows users to browse menus, customize orders, and track deliveries. 
One of the standout features of Careem NOW is its integration with the Careem Super App, offering users the convenience of accessing both ride-hailing and food delivery services in one platform. With a focus on quality service, timely deliveries, and a diverse selection of culinary delights, Careem NOW has become a preferred choice for many food enthusiasts in Saudi Arabia.
8. KFC Saudi Arabia
KFC, a global fast-food chain known for its finger-licking good fried chicken, has made its mark in the food delivery landscape of Saudi Arabia. With its dedicated app and website, KFC Saudi Arabia offers customers the convenience of ordering their favorite KFC meals for delivery. 
KFC Saudi Arabia's commitment to quality ingredients and consistent taste has made it a popular choice among fried chicken enthusiasts across the Kingdom. From the classic Original Recipe chicken to their signature Zinger sandwich, KFC Saudi Arabia ensures that customers can enjoy their beloved KFC flavors in the comfort of their homes. The app provides a seamless ordering experience, allowing users to customize their meals, add sides, and select their preferred delivery location.
With the addition of KFC Saudi Arabia, food lovers now have another delectable option to choose from when it comes to satisfying their cravings through food delivery apps.
9. ToYou
ToYou app joins the thriving food delivery landscape in Saudi Arabia, promising efficient deliveries and a delightful culinary experience. With ToYou, you can discover various restaurants and cuisines, offering a wide selection of dishes to suit your preferences. The app's intuitive interface makes browsing menus, customizing orders, and tracking deliveries easy. 
ToYou is committed to providing exceptional service, ensuring your meals are delivered promptly and with care.
10. Shgardi
It is a popular food delivery app in Saudi Arabia known for its extensive restaurant partnerships and efficient delivery service. With a user-friendly interface, Shgardi offers a seamless ordering experience, allowing customers to browse various cuisines and easily place their orders. 
The app provides real-time order tracking, ensuring that users can monitor their deliveries every step of the way. Shgardi is recognized for its commitment to customer satisfaction and timely delivery, making it a preferred choice among food enthusiasts in Saudi Arabia.
11. The Chefz
A unique food delivery app that focuses on delivering high-quality gourmet meals from top chefs directly to customers' doorsteps. With a curated selection of exclusive dishes, The Chefz offers a fine dining experience in the comfort of one's home. 
The app showcases a rotating menu of signature creations by renowned chefs, allowing users to explore new flavors and indulge in culinary delights. The Chefz prides itself on meticulous attention to detail, ensuring that each meal is prepared with precision and delivered with care.
12. Lugmety
A local food delivery app in Saudi Arabia that caters to the cravings of fast food lovers. It partners with popular fast-food chains and quick-service restaurants to offer a wide range of delicious and affordable options. 
Lugmety focuses on delivering meals quickly and efficiently, making it convenient for those seeking a quick bite or satisfying their fast food cravings. With a simple and user-friendly interface, Lugmety ensures a seamless ordering experience and timely deliveries, making it a go-to app for fast-food enthusiasts in Saudi Arabia.
On-Demand Food Delivery App Development in KSA: Tapping into the Market Potential
With the increasing demand for food delivery services, many entrepreneurs and businesses are venturing into app development. If you're considering building your food delivery app in Saudi Arabia, here are some key points to keep in mind: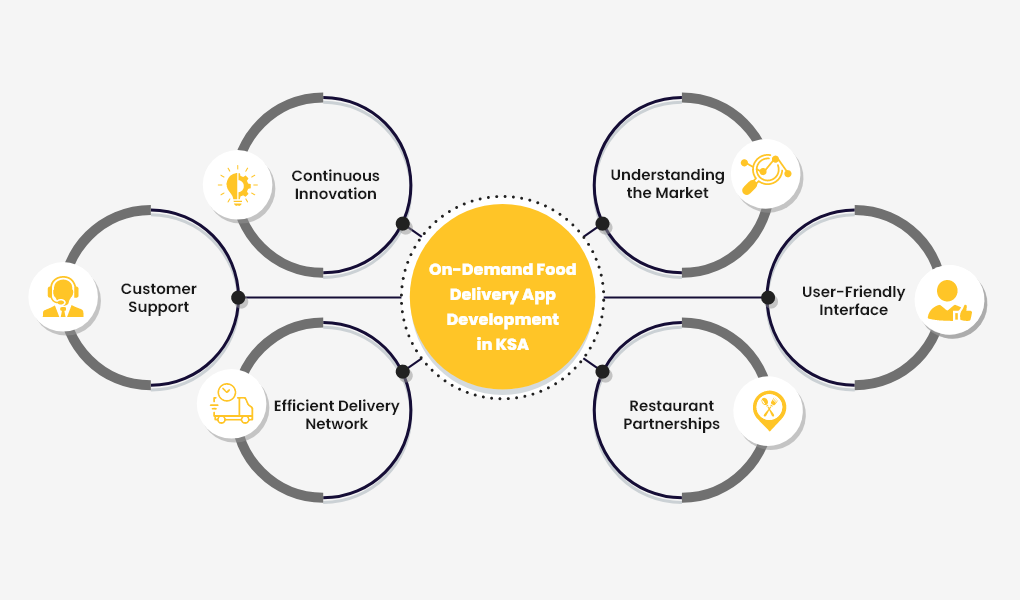 1. Understanding the Market
Before developing your app, conduct thorough market research to identify gaps, customer preferences, and potential competitors. This will help you tailor your app to meet the specific needs of Saudi users.
2. User-Friendly Interface
Design a user-friendly and intuitive interface to ensure seamless navigation and an enjoyable ordering experience. Incorporate features like real-time order tracking, personalized recommendations, and secure payment options.
3. Restaurant Partnerships
Forge partnerships with a wide range of local restaurants and international chains to offer customers a diverse selection of cuisines. Building strong relationships with restaurant owners will be crucial to the success of your app.
4. Efficient Delivery Network
Establish a robust delivery network to ensure timely and reliable food delivery. Invest in logistics infrastructure and employ efficient delivery personnel to fulfill customer expectations.
5. Customer Support
Offer exceptional customer support to address any issues or concerns promptly. Provide multiple communication channels, such as chat support and helpline numbers, to assist users throughout their ordering journey.
6. Continuous Innovation
Keep up with the evolving trends and demands of the food delivery industry. Introduce new features, promotions, and loyalty programs to engage customers and stay ahead of the competition.
If you are looking for the top on-demand apps in the world, Go through these 52 best on-demand applications available across the globe.
Creating a Food Delivery App in KSA: Steps to Success
If you're ready to embark on your journey of creating a food delivery app in Saudi Arabia, here are the key steps you should follow: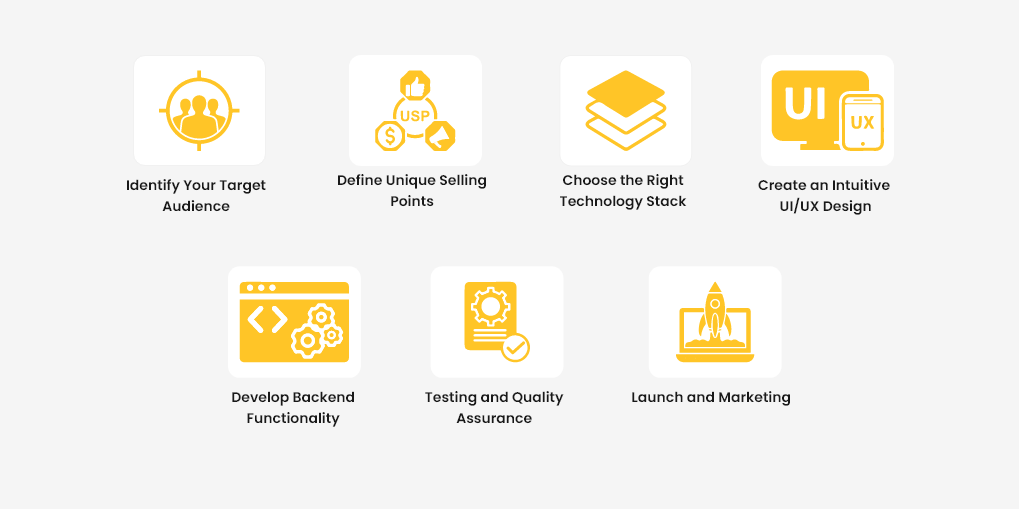 Identify Your Target Audience: Determine the demographics and preferences of your target audience to customize your app accordingly.

Define Unique Selling Points: Analyze the existing apps in the market and identify the features that set your app apart. It could be faster delivery, a unique cuisine selection, or exceptional customer service.

Choose the Right Technology Stack: Select the appropriate technology stack to develop your app, ensuring scalability, security, and optimal performance.

Create an Intuitive UI/UX Design: Invest in creating an intuitive and visually appealing user interface to enhance the overall user experience.

Develop Backend Functionality: Implement robust backend systems to manage orders, payments, restaurant partnerships, and delivery logistics.

Testing and Quality Assurance: Conduct rigorous testing to ensure the app functions seamlessly and meets user expectations.

Launch and Marketing: Strategize an effective marketing campaign to generate awareness and drive app downloads. Utilize social media, digital marketing, and partnerships with influencers or restaurants.
Food Delivery App Developers: How We Help In Bringing Ideas to Life
Developing a successful food delivery app requires the expertise of skilled app developers. 
At CodesOrbit, we offer tailored solutions for startups and established businesses alike. From turning your on-demand food delivery app ideas into reality and customization to ongoing support, we've got you covered. But that's not all – we take it a step further.
Introducing our customized clone app solutions. We understand the immense success of platforms like Talabat and DoorDash and can help you achieve that same level of greatness. Our team excels in developing high-quality clone apps that mirror the features of these industry giants while incorporating your unique branding and requirements.
With CodesOrbit, you can unlock the potential for the success enjoyed by top food delivery platforms. By leveraging our clone app service, you can enter the market with a proven business model, saving time and resources in the process. Let us bring your vision to life with our captivating clone app solutions.
Together, let's revolutionize the food delivery industry and make your mark. Contact us today!
Wrapping Up
The food delivery apps in Saudi Arabia have opened up a world of culinary convenience and possibilities. From the top-rated apps that have captured customers' hearts and taste buds to the innovative business models that have redefined the industry, there is no shortage of inspiration for aspiring entrepreneurs.
We have gained insights into the key ingredients for a thriving on-demand food delivery venture by exploring these leading apps' unique features and successes. From seamless user experiences to efficient logistics, these apps have set the bar high and showcased immense potential within the market.
Whether you're a seasoned business owner or a budding entrepreneur, the lessons learned from these apps can guide you on your path to success. Embrace their strategies, infuse your creativity, and craft a food delivery app that satisfies cravings and leaves a lasting impression on customers.
So, let the flavors of innovation, convenience, and customer satisfaction inspire you as you embark on your culinary journey. The possibilities are endless, and with the right ingredients, your food delivery app can become the next big sensation in Saudi Arabia's vibrant dining scene. Don't wait; seize the opportunity and make your mark.
Frequently Asked Questions 
Q: Are there any food delivery apps in Saudi Arabia that offer free delivery?
Yes, some food delivery apps occasionally offer free delivery promotions. However, it may vary depending on specific restaurants and ongoing campaigns.
Q: Can I customize my order through these food delivery apps?
Absolutely! Most food delivery apps allow users to customize their orders, catering to individual preferences and dietary restrictions.
Q: How do I pay for my food orders through these apps?
Food delivery apps typically offer multiple payment options, including credit/debit cards, digital wallets, and cash on delivery.
Q: Can I track the status of my order in real time?
Yes, many food delivery apps provide real-time order tracking, allowing users to monitor the progress of their deliveries.
Q: Are these apps available in multiple languages?
Yes, several food delivery apps in Saudi Arabia offer multilingual support, including Arabic and English, to cater to a diverse user base.
Q: Can I rate and provide feedback on the app and delivery service?
Most food delivery apps allow users to rate restaurants and delivery drivers and provide feedback on their overall experience.