There were times when ordering your favourite food was a problem, but not anymore with several food delivery apps around you. It is an all-time active market, but Covid Pandemic has increased the graph to the next level.
Continuous practice of social distancing and isolation has increased the demand for piping hot food right at the doorstep. However, not every food delivery app satisfies consumer needs.
We understand the layman's needs and problems; therefore, we curated a list of the best food delivery apps operating in the USA, UK, and Canada.
This guide will give you a deep insight into the food ordering apps that allow you to enjoy your favourite meal from restaurants without moving an inch.
The Online Food Ordering Market Is Growing!!
Food is a necessity, and the graph of craving for your favourite foods can never go down. These undefined cravings are proportionally giving rise to the food delivery business.
According to the Statista analysis report, the projected revenue for the year 2022 is US$339,257m, which will increase to US$466,472m by 2026.
The food delivery service works with two significant models: platform-to-customer and restaurant-to-customer. At the same time, the projected user penetration value in the online food ordering system will reach 49.9% in 2022.
Best Food Delivery Applications in 2022
You might have tasted so many apps for ordering lip-smacking food for yourself or your loved ones. There is, however, a chance that you had a bad experience, and to make your experience even better, we are here to help you.
We have conducted extensive research to pick the best food delivery services operating in the USA, UK, and Canada. Here is the list of best food delivery apps you can count on.
1. Grubhub
Grubhub, earlier known as Eat24, is the most popular choice among the customers when they need to order yummilicious food from their favourite restaurants.
One of the reasons for their immense user engagement is that they have almost every restaurant onboard. They deal in all the menu items from top-level international restaurant chains to the local eateries around you. Grubhub helps you satisfy your cravings by ordering anything you want with just a few clicks.
Another privilege they have is a user-friendly interface that allows ordering easily, but you can also look up the restaurants by location, specific dish or cuisine. In addition, you can enjoy in-app deals on your favourite food, save different types of addresses, and enjoy contactless delivery.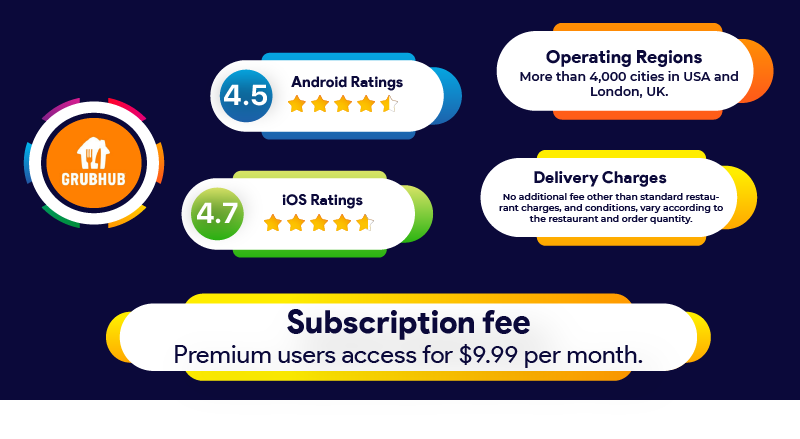 Why Grubhub Food Delivery Service?
Huge restaurant connectivity

Multiple payment gateways

24/7 customer care

In-app deals and restaurant oriented rewards

contact-less delivery
Why Not Grubhub?
Service fees of restaurants included in the orders vary from restaurant to restaurant
2. DoorDash
DoorDash has received a tremendous response from the audience since its inception in 2013. It is a famous food delivery service with the facility of ordering ready to eat foods from local and national eateries. The story does not end here, as they also allow you to order food essentials, groceries, alcohol, snacks and several other items at the doorstep.
The app is famous for giving helpful instructions to its customers regarding finding cuisine-specific restaurants, scheduling and ordering the food. You can order anything from sushi to any other renowned food item from local and national eateries with an easy to order system.
Besides all this, you can also help the owners know about your food and restaurant delivery service experience through "Yum Score". This rating system allows you to enjoy your mouth-watering food, fresh and hot, without effort.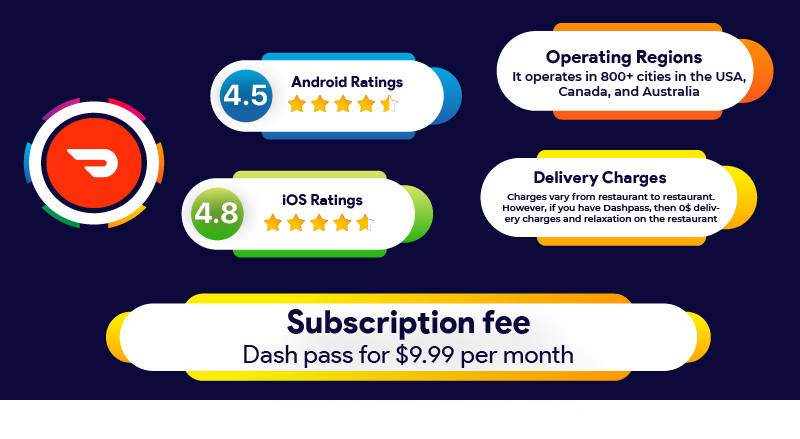 Why DoorDash Food Delivery Service?
User-Friendly Interface

Providing services in different countries

Multiple fast and easy payment options, including ApplePay

Real-time order tracking

Subsidies for premium members 

Contact-less delivery
Why Not DoorDash?
Delivery charges along with restaurant taxes and tips

As compared to Grubhub, it has a less targeted audience
3. UberEats
All of you must be familiar with Uber, a riding app for travelling around the city. UberEats is its delivery service making it more convenient and easy to enjoy your favourite food at home.
Through their app, you can quickly look up the restaurants available in your surroundings. UberEats allows its users to enjoy cashless delivery by offering multiple online payment options, including credit cards, uber credits etc. Contactless and real-time tracking of your order delivery make this app worth experiencing.
The company's decision to get in touch with on-demand delivery services was quite fruitful in acquiring new customers. Eat-pass allows customers to enjoy free deliveries and an additional 5% off on orders above 15$.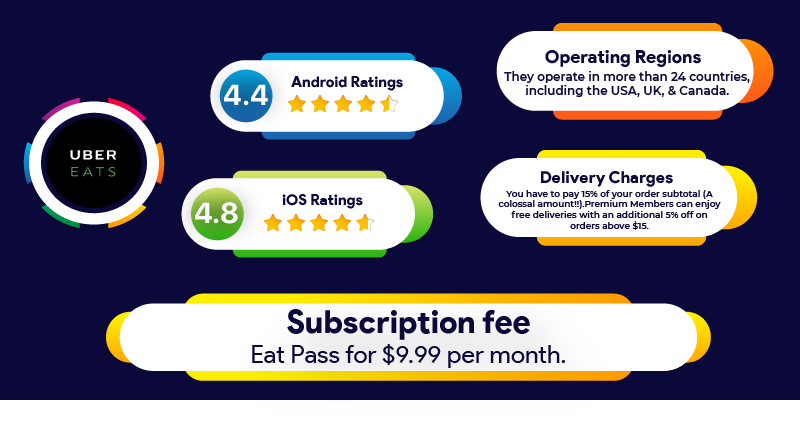 Why UberEats Food Delivery Service?
User-Friendly Interface and integrated with Uber App as well

Providing services in different countries

Cashless deliveries

Real-time order tracking.

Free deliveries and discounts for Premium members
Why Not UberEats?
You might not want to pay an extraordinary service fee of 15% of your order total
4. Seamless
Seamless and Grubhub are working under the same banner, making seamless a child company of Grubhub. It is one of the best food delivery apps, providing access to local and national restaurant chains and their whole menus as well, that too without any extra service charges.
They offer contactless delivery with no extra delivery charges of ordering through the app. You can get your orders delivered at your doorstep or office and schedule the pick-up orders in advance.
Seamless is a food delivery service working in the United States and the United Kingdom for years, and if you live in New York, Seamless is the best you can count on.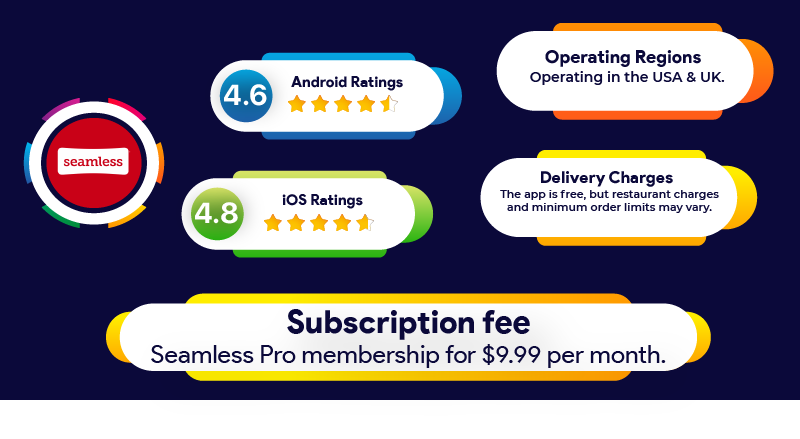 Why Seamless Food Delivery Service?
Extensive restaurant connectivity

Multiple payment options for easy payments

contact-less delivery
Why Not Seamless?
They have extra delivery fees linked with restaurants and order limits
5. Postmates
Are you a foodie person who has timeless cravings or a person who might need essentials at any hour of the day? Then Postmates is the delivery app designed to satisfy your cravings round the clock. Currently owned by Uber, the company delivers anything you need at your doorstep.
Postmates deliver everything from local stores and restaurants to your delivery address. Whether you need a yummilicious burger or mouth-watering cheesy pizza, or a cell phone charger, you have to search, select, and place the order.
They have delivery charges along with peak factors rate inflation for free users. However, Premium postmates users can enjoy relief of free deliveries without any peak factors implementation on orders above $15.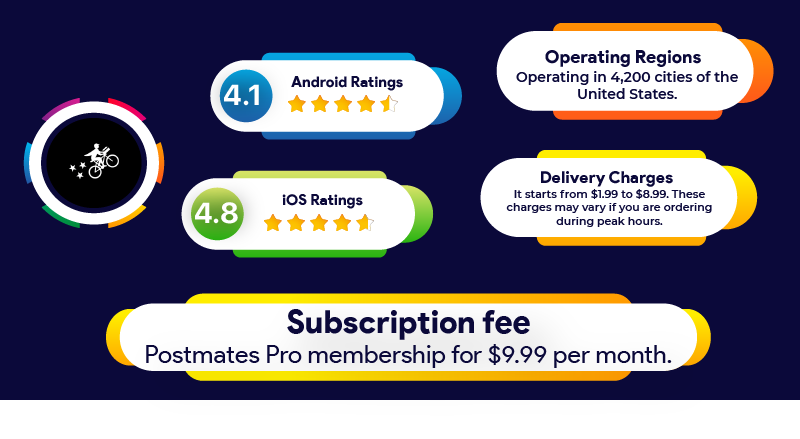 Why Postmates Food Delivery Service?
Can deliver anything from anywhere at your doorstep

24/7 deliveries

Extensive Items and stores coverage
Why Not Postmates?
They have extraordinary delivery charges along with peak factor issues
6. Zomato
Zomato was started in India in 2008 and is now extended worldwide, including USA, UK, & Canada. A food delivery app that delivers the best food at your doorstep and helps you find the best place to dine in.
In addition, Zomato can help you satisfy different food cravings, from desi to fast food to a balanced and healthy diet with contactless delivery options.
However, if you want to go out with your family or friends, you can pick the best eateries available around you by checking the reviews, photos and other details through the application. They also allow you to reserve a table for yourself through their website or application.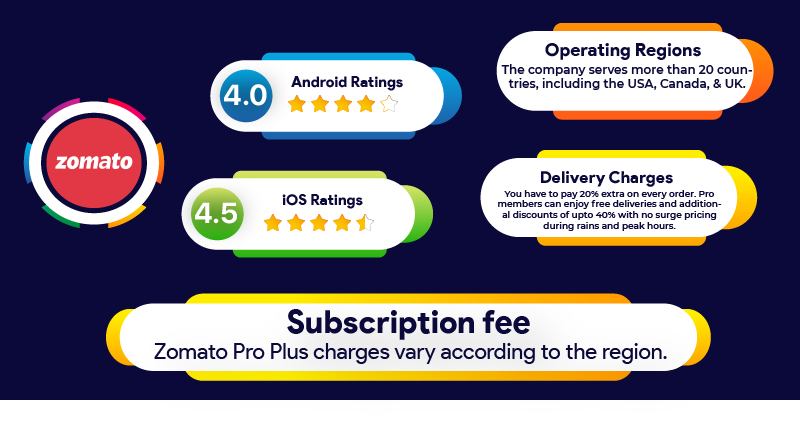 Why Zomato Food Delivery Service?
Various services are offered, from ordering food to booking tables, etc.

Easy to use application

Promo codes for new and regular customers

Can review restaurants along with sharing your pictures 

Several payment methods
Why Not Zomato?
They have pretty considerable delivery charges and surge pricing during peak factors
7. Skip the Dishes
Skip the Dishes is one of Canada's best online food delivery services, now extending itself to the United States and other countries.
They have successfully built a platform through which customers can order food from more than 30,000 local eateries in Canada.
Customers can browse their favourite item and place an order to get it delivered to your doorstep. They can also decide to either pay online through credit cards or via cash when receiving the food.
Feedback matters; therefore, SkipTheDishes allows you to leave valuable feedback on the app. This feedback helps to evaluate the restaurant services and the business model.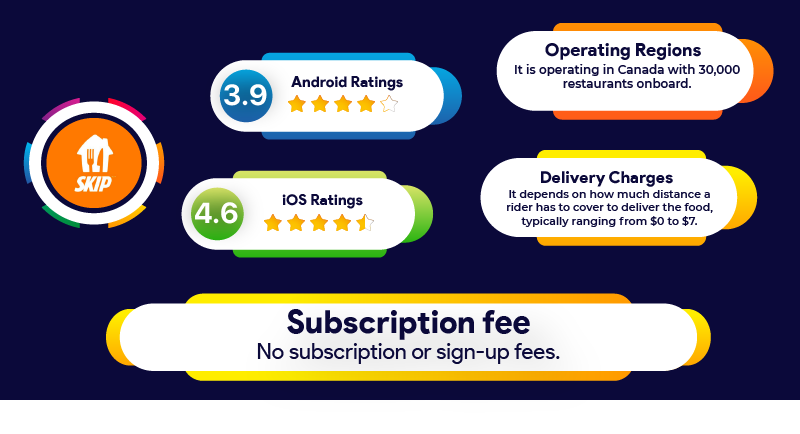 Why SkipTheDishes Food Delivery Service?
Order Tracking through GPS

Users can easily reorder their previous orders

Can choose restaurants according to the budget, even with $0 delivery charges 

Users can accrue reward points with each order for ordering free food
Why Not SkipTheDishes?
Refunds are only available as SkipCredit, which puts pressure on your side for the following order
Final Words
To select the best food delivery service for yourself, you need to look at specific key points. Look for apps with extensive restaurant coverage and targeted areas. Delivery charges, membership fees and customer reviews are a few other key factors you must check before going for any application.
The online food delivery marketplace is rapidly growing, and one can engage more audiences by getting full-service food ordering applications for the business.
If you want a custom-designed food ordering app for your business or want one for a specific region, we can help you. We have helped restaurant aggregators, single restaurant owners, and startups make their mark on the digital world alongside pumping up their sales.
Learn more about CodesOrbit food delivery app development, and let us build you one!