"There's no consumer product more important than a cell phone today". Mary Dillon
We may not defy this statement, mobile phones have entirely changed the landscape of our interactions with other human beings. Communication is revolutionized over time. We prefer calling or texting our clan instead of arranging meetups and social gatherings. Video calls have replaced in-person meetings.
You want to avail a service or buy a product, dozens of apps are already there on the app store for your ease. Be it ordering food online, booking an appointment, calling a cab, or tracking your parcel, on-demand apps have made everything available at your fingertips.
The hike in smartphone penetration rate has pushed every industry to adopt mobile apps as a core medium of growing their businesses. You will find millennials glued to their smartphones, it is becoming a serious addiction. We spend a major portion of our day surfing the internet, downloading new apps including games and service-based apps.
The entire mobile app industry is expected to increase at a steady pace, reaching a remarkable $935 billion in sales in 2023. In the first quarter of 2021, sales on Google Play were $36.7 billion, while sales on the Apple App Store totalled $31.8 billion.
In 2017, mobile users accounted for over 57 percent of global online traffic. In 2018, however, the ratio increased to 70%. By 2025, mobile devices are expected to account for more than 80% of all online traffic.
A survey was conducted in February 2021 to observe the maximum time spent by an average American on his/her cellphones. 50% of respondents stated an average of five to six hours daily while the other 22% spend three to four hours. This does not include the work-related usage of devices, instead, it comprises scrolling through all social media apps.
What is mobile app development?
Mobile app development is the process of writing software that runs across mobile devices. There are usually three types of development that include, hybrid, native, and web applications. Every type caters to its purpose of usage in our daily lives.
If you are a novice who has not even got a slight idea of what mobile app development is, no worries, we will share our knowledge and on-hands experience on how you can start developing a mobile app from scratch, market it on the app store and boost its optimization for maximum downloads.
We will walk you through each step of creating a great mobile application, from research and planning to an idea, market validation to audience persona identification, carving an incredible design to writing a clean code, building a robust development architecture, and how to create your marketing plan so you can get the ball rolling and pull off your product release on App store.
Your brilliant idea and heavy investment are of no use if you are not going in the right direction. A smooth sail is only guaranteed with a definite plan and sound strategy. People usually waste millions of dollars and invest a lot of time in poorly designed apps which result in defective products. I am sure you wouldn't want to be among those folks.
If you want to learn and apply the intuitive and user-friendly techniques that have always worked wonders for us then this article is a great read. If you want to crack the code and develop a knack for making a customer-centric product, hear me out, take your time and read it till the end to get in the right frame of mind for developing the app of your imagination.
Will my mobile app sell like hotcakes?
According to Statista, there are currently 6.378 billion smartphone users in the world, which equates to 80.69 percent of the global population owning a cellphone. This is a significant increase from 2016, when there were just 3.668 billion users, accounting for 49.40 percent of the world population at the time.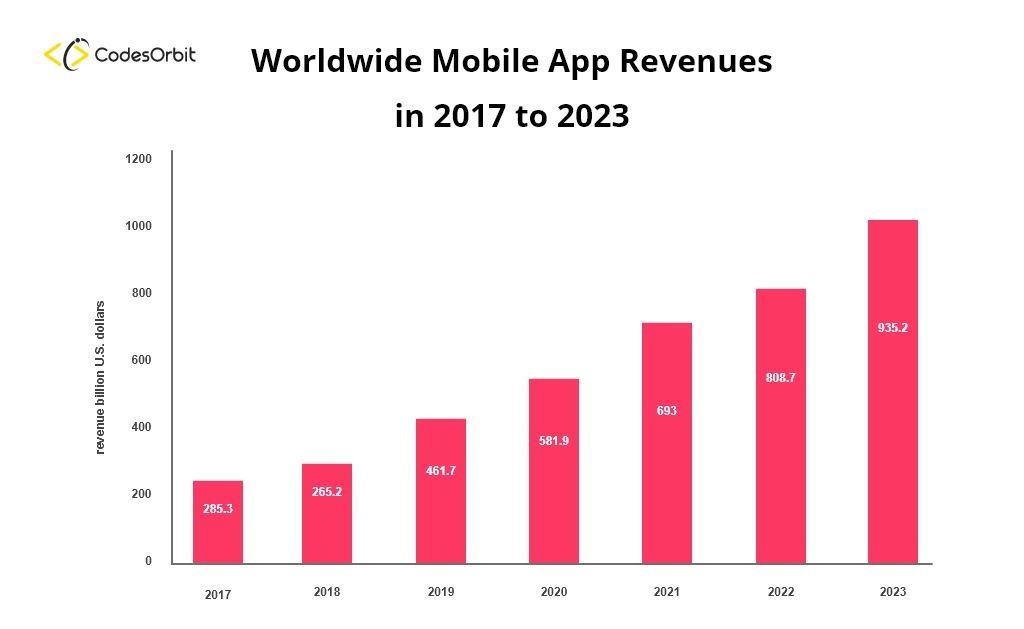 There are 1.96 million applications available for download on the Apple App Store while the Google Play Store has 2.87 million applications. This infers that 21% of millennials open an app 50 times or more every day.
By 2024, global consumer expenditure on mobile applications is expected to reach $171 billion, more than double the $85 billion spent in 2019.
Why should you develop a mobile app for your business?
The demand for mobile apps is booming; the above-mentioned stats are already speaking volumes. It's high time you start making a career around it and make handsome bucks.
Why do we develop software? What good purpose do they serve in our daily lives?
The answer my friends is Automation! Tell me what would you prefer – cleaning your clothes with a few clicks or actually going through the labor of doing everything yourself?
Automating labor-intensive tasks for a delightful and time-saving experience is the driving force behind software development.
For instance, we developed an on-demand laundry service app for dry cleaning, washing, and ironing services to skip your trip to the laundry shop. You don't have to leave the comfort of your home, your clothes would be picked, cleaned, washed, and delivered to your house.
This is just one routine chore that piqued our curiosity and led us on a journey to transform it into an app.
Take a look around you, you will find plenty of examples yet to be turned into effective use cases.
The stark reality of mobile app failures
You have a slew of wild ideas for turning your ideas into reality, Great!
You have got that spark and verve to move mountains, Awesome!
You have time, money, and energy to start this new venture! …Quite admirable.
But have you ever wondered, why only one out of every 10,000 mobile apps succeed while the other 9,999 go in vain?
Stats reveal that the odds are highly against budding entrepreneurs in the app development industry. We are not setting a trap to demotivate you, instead, it's the ill planning and poor strategy that results in executing the idea, hence causing failure.
You need to understand that industry knowledge and a sound go-to-market plan are essential for starting app development. No matter what, you should know your target audience before making any software. Your perception about the demand for a certain product or service is the prudent way to survive in this saturated market. The demand for a product already exists in the market, you need to have a keen eye to look for it and apply it to your marketing strategy for a successful app launch.
We have outlined two major issues that are responsible for mobile app failure. You can take notes for your upcoming start-up. They would serve as key takeaways for you, after all, it's a good approach to learn from others' mistakes. We will shed some light on pitfalls and their suitable solutions to give you a heads up for future endeavors.
Define a workable strategy
A great strategy is a secret sauce behind any successful project. Likewise, when you set off on a journey of making people's lives easier through mobile app development, you need to list down the consumer needs that can be efficiently fulfilled by your idea of automation.
The objective behind defining a workable strategy is to get an overview of what your product is about, what would be its key features, which functionalities will deliver a seamless service, and how it will be handy for your end-users.
You will be on the verge of failure if you overlook well-researched and well-designed strategies at every phase of development. This is equally true for newbies who want to kickstart their career in app development.
It is no surprise why most apps go down the drain due to poor strategic skills.
So now you have outlined a definite strategy for your new application. But, do you know your target audience, who are your end users who will be downloading your application on their phones?
If you lack clarity in squeezing down your target market, your app won't get the desired attention, and probably it won't be downloaded and utilized for the specified purpose.
Research says that 25% of people abandon the apps after one-time usage. It could be due to the reason that your app was not aligned with user needs. It did not serve a good purpose and it bored the end user to an extent that he decided to immediately uninstall that software. Audience research is as necessary as drawing a clear strategy. You won't be able to reap the fruit from your market campaigns if you have not figured out your audience persona.
Comprehensive market research and a deep dive into market dynamics will eventually help you collect your audience's needs, demands, preferences, tastes, and behavioral traits. If you are well versed with the psychology of your user, you will be able to make a successful app that incorporates eye-catching colors and aesthetic user interfaces.
You can get a holistic view of the market by carrying out a competitor analysis. How your rivals have used color psychology in their mobile apps to make customers hooked to their phones. You can also evaluate their well-informed app development strategy that entails extensive analysis of audience emotions and experiences while using a mobile application.
How to find the right mobile app development company?
After defining a proper strategy and carrying out thorough market research including competitor analysis, you are now ready to start your quest on finding a dependable mobile app development company. This journey can often sound tedious as the client is usually a novice to this industry hunt.
He may have a superb idea to launch that may pick up steam in the market. But, if he can't manage to pick the right company that can understand his requirements and aligns with his frame of mind to deliver the app of his imagination, he won't be able to make most of his time and investment. That's why it's crucial to pick and choose the appropriate firm.
Here are some best tips that will be helpful for the client in selecting the relevant mobile app development company: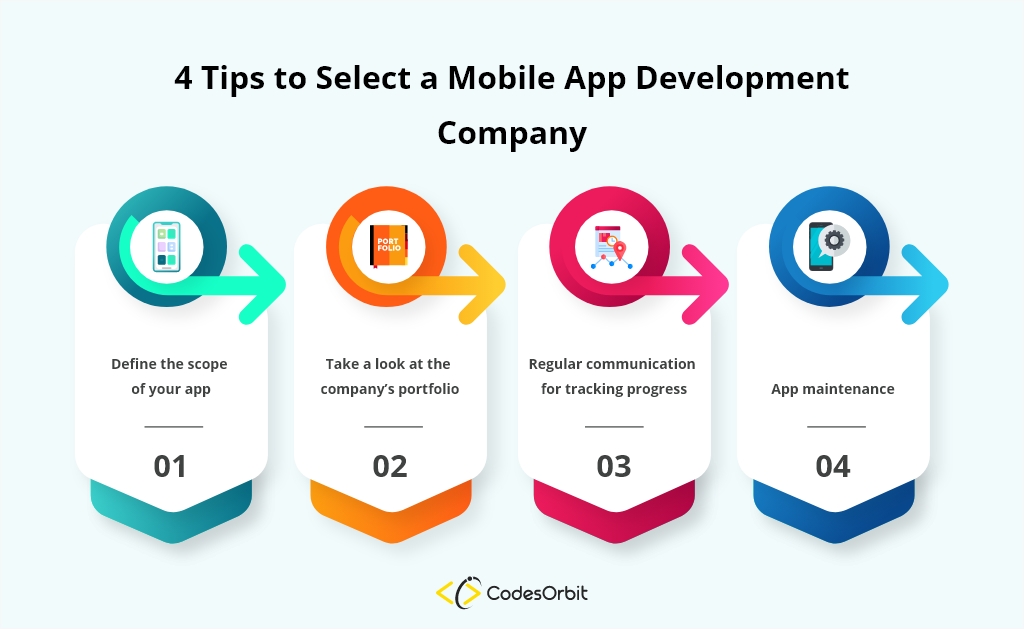 Define the scope of your app
This initial step of defining scope is the backbone of a successful app. When you are clear about what you want from an app, you are already geared towards a smooth and seamless process. You will be able to share your ideas with the relevant development team in an effective way. Eventually, you will start your search in the right dimension.
Take a look at the company's portfolio
It is necessary to check the portfolio and work samples of the company with whom you are going to sign the contract. You can ask questions about the technical expertise of the developers. A notable portfolio speaks volumes about the sound domain knowledge of an organization. It will give the client a holistic view of the work culture and ethics of the company. He will develop a better understanding of the proficiency of certain genre of app development.
You should be clear and upfront while searching for a well-reputed mobile app company. Your right set of questions will help you analyze the market standing and reputation of the firm. Nonetheless, it's not an easy process and comes with its challenges. So, to avoid the massive setbacks and roadblocks, a reliable, choose a top-notch firm that will bring your ideas to life.
Here we have jotted down some frequently asked questions by the new clients:
Is your company recognized by an authorized body?
What is the estimated time of delivery of the project?
Total work experience of the mobile app development company
Do you have dedicated developers or general software engineers?
Is your company agile-driven?
How do you manage complex app development?
Is the workforce well equipped with the latest tools and technologies?
Regular communication for tracking progress
Once you are satisfied with the past projects and company standing in the industry, you can outsource your app development to the company of your choice. The client and development team must stay on the same page throughout the development process. The client should contact the project manager regularly, it will help him track the progress of the product. He can also get updates about every stage and check if his requirements are met or not.
If you are facing a delay in communication or the team is not actively participating in giving you a regular update about the product, they may not be the best team for your project. A good team will be transparent in their communication, to foster trust and cement loyalty in their existing customers. It's necessary to be clear and straightforward about sharing product progress.
It is the client's right to know about app maintenance and post-product delivery services of the mobile app development company. You can put forth your queries related to the time period for which the company will offer its app maintenance services.
Most companies offer relentless support in terms of updating security frameworks, audits for bug fixes, and core updates to ensure compatibility with the latest versions of iOs and Android platforms.
Mobile app development lifecycle
The mobile app industry has seen a massive boom in the past two decades and its marvels won't stop here, we will eventually see exponential growth in coming years.
If you are a researcher or an entrepreneur who has got a vision to create an app of his imagination, sit there, hold tight, we are here to assist you with your next startup.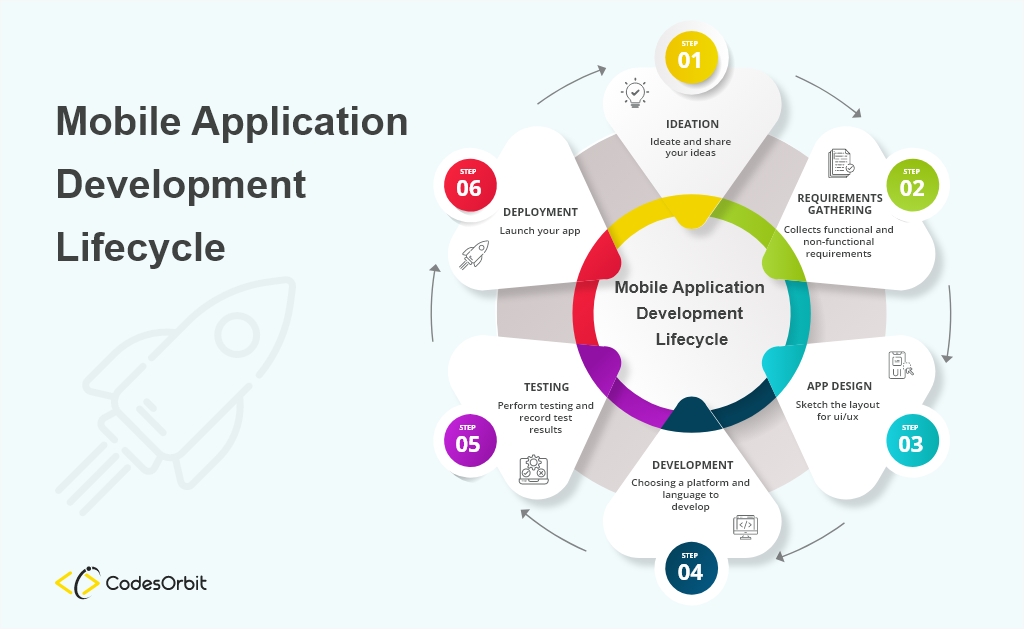 Let's say you have got a wonderful idea about your mobile, you have identified your target market and you are also not short of budget. At this point, you will come across a lot of questions that may trouble you for a while, but, hang on, we are here to answer all your queries.
If you are stuck in your thinking process that involves these kinds of queries, which in your case in genuine:
What are the prerequisites for mobile app development?
Do I have to start from scratch for making an app?
What are the steps in making a mobile app?
What is a mobile app development lifecycle?
Which method will deliver an efficient mobile app?
How much time is required to develop a mobile app?
Is the workforce well equipped with the latest tools and technologies?
We receive a lot of mind-boggling questions from our clients so we decided to write a detailed article that can better address all the queries. You can save this article for future use, it will help you understand the stages of the mobile app development process and key metrics to create an app.
The first step is project discussion with the client over the phone call, it can be a short, casual call where we get a general idea about our client expectations and demand for a certain product. Whether we are able to move forward with the specified product requirement or not.
We believe in healthy and informal discussions that engage both our clients and stakeholders.
At CodesOrbit, we collect basic details from your side. For instance, what kind of app do you want to develop? , how can your idea best-fit customers' needs? What is your budget for the app? Do you have a prototype of an app?
As a result, our team prepares a detailed feasibility study and suggests a robust technical solution to go ahead.
Your application is a success if you understand the aesthetic sense of your targeted audience. The design of your app should resonate with your customers.
There are some essential steps to take into consideration while designing a mobile application:
1. Workflow
Workflows are the routes that users may take through your application. Consider how many clicks are required to complete each of the actions you want your users to be able to perform. Make sure each click is easy to understand. It's great if something takes a few clicks to complete, but it shouldn't take a few clicks to do basic chores. Update your wireframes when you discover issues with your workflows and try again. Remember to go through all of your features in each iteration to make sure you didn't make one activity more complex in order to improve another.
2. Information architecture
The process of deciding what data and functionality should be offered within your app, as well as how both parts should be arranged, is known as information architecture. We usually start by making a list of the features we want the app to have and a list of what needs to be presented in the app. These are the fundamental components from which the wireframes will be constructed.
3. Designing wireframes
Then we start designing screens and applying functions and data to them. Initially, this technique is generally done on whiteboards or paper. You want to make adjustments now rather than later in the process since erasing certain marks is significantly less expensive than rewriting code. Start thinking about your app's processes once you've sketched out a few displays.
4. Style guide
Style guides serve as the foundation for the style of your app. Having a good style guide can greatly improve the usability of your app. You don't want your call to action button to be red on the bottom of one screen, and green on another one in the header. Users are more likely to feel at ease with your app if the design language is consistent.
There's a lot that goes into deciding on a style guide for an app. You must analyze who you are and who will be your consumers. Will your app be utilized late at night? Then a dark theme could be the best option to avoid blinding your users. Will it mostly be utilized by busy employees? Keep the clutter to a minimum and focus on the main features of your app.
An expert designer or design team can provide a wide range of results and create an app that is a good match for you and your clients. This step produces a palette of colors, typefaces, and widgets (buttons, forms, labels, and so on) that will be used in the design of your product.
5. Mockups
Mockup design is the process of replacing grayscale items in your wireframes with components from your style guide. Each wireframe screen should have a rendered version. In this phase, try to stick to your style guide as much as possible, but don't be rigid about it. Feel free to alter or adjust your style guides if you find yourself seeking a new or different look. When this step is finished, ensure your design consistency for an enhanced user experience.
6. App Prototype
Return to your click-through model application and retest your app after all of your screens have been rendered. This is the stage of the mobile app development process where you should take it slowly. Despite the fact that a significant amount of work has already gone into the software, adjustments might become very expensive after this point. Consider it like going through a floor plan before the concrete is poured into your home. Fortunately, mobile app development is more adaptable than building, although doing it in this manner can save money.
After putting so much time and work into the look and feel of your app, it's critical that your development team carries out your vision. It never ceases to amaze me how frequently this phase in the mobile app development process fails. This might be because many firms and agencies only provide design or development services, or because designers and developers have a tense relationship. Whatever the case may be, I strongly advise hiring a team that can provide both design and development services and can effectively manage this stage of the project.
This phase requires comprehensive mobile app testing which ensures that the developed mobile app is up to par. Furthermore, it is critical to design test cases that cover all areas of mobile app testing in order to provide high-quality testing. In order to ensure that your app functions at its best, delivers top-notch solutions, and serves your purpose then it should undergo the following procedures:
Functional testing
Non-functional testing
Framework testing
Performance testing
Security testing
Test cases are essential because they are used to record test results, evaluate software quality, and indicate key issues for retesting.
During the deployment process, certain mobile apps are submitted to app stores, such as Google Play for Android and Apple App Store for iOS, based on their type and business needs, while others are built to use within the organization. If you're releasing an app to the app store, you'll want everything to go smoothly. As a result, some metadata must be prepared, such as:
App title
Brief description of the app
Category/Genre of the app
Primary keywords for searching the app
Design and Launch Logo of the app
Screenshots to give a sneak peek into the working of an app
Elements that affect your mobile app development cost
We will pen down some major elements that affect your mobile app development expenses. Let's get into some nitty-gritty details of each factor:
This aspect usually creates misunderstandings between clients and project managers. The payment given by the client is solely for app development. The client usually overlooks the utilization of capital for scaling the mobile app, marketing and promoting it on the app store, maintaining the backend server, and carrying out other legal support. All these activities demand separate budget plans and one needs to take care of these expenses after product release.
Time to develop a mobile app
Though there are no specific industry standards for a certain time frame to develop an app, it varies from app to app. It directly affects the cost of the mobile app. There are some key considerations for calculating time to develop your app:
Features and functionalities which you want in your app
Time taken to test the app to make it bug-free
Make sure that the app is compatible with back end and front end design
Usually, complex and large-sized apps need ( 11-12 weeks), medium-sized apps require (7-8 weeks), small apps take around (3-6weeks)
Size of the mobile app development team
This usually depends upon the project whether it demands a dedicated team for android or iOs, it relies on project complexity and functional/non-functional requirements. The usual structure of a mobile app development team is as follows:
Project manager
UI/UX designer
Android/iOS developer
Software quality assurance engineer
Most of the apps are launched on the app store, a handful of apps are designed for internal usage i.e, they are developed for the organization and we cannot share them with the public. Local launch does not call for any promotions or marketing campaign while applications that are released to the public must go through specific steps in order to be accepted by the store and reach their targeted audience.
If customers want to succeed in today's mobile app development industry, they must stay abreast of current market trends and the latest tools and technologies. Everything is crucial in producing a successful mobile app, from determining the scope of mobile app development to hiring a reputable mobile app development company.
The process of creating a mobile app may appear daunting and time-consuming. It involves smart decision-making at every step along the road. However, it is a really fulfilling process that may also be fairly profitable.
This guidance is based upon years of experience working with app owners and designers in the software industry.
If you are working on your next or first mobile app and need assistance with one or more of these processes, you are lucky. Our technoids have got the right skills and versatile experience to produce an amazing mobile app for your business.
We create wonderful apps you yourself would want to use and bring joy to those you're offering them to. Let us help you put your fantastic ideas in motion. Get in touch with us.