Statistics show that the future of eCommerce is more than bright. Pandemic is further pushing the businesses to go digital, and looking at the trend makes one feel like all businesses in the world will go through digital transformation in a decade or two.
Do you find it hard to believe? Well, we have brought you a list of statistics. Rather than just blurting out numbers, we will also try to derive some key takeaways related to the growth of your eCommerce stores from different facts.
The List of Top Ten Ecommerce Markets in the World
| Country | Annual Online Sale | E-Commerce Share of Total Retail Sales |
| --- | --- | --- |
| China | $672 billion | 15.9% |
| USA | $340 billion | 7.5% |
| UK | $99 billion | 14.5% |
| Japan | $79 billion | 5.4% |
| Germany | $73 billion | 8.4% |
| France | $43 billion | 5.1% |
| South Korea | $37 billion | 9.8% |
|  Canada | $30 billion | 5.7% |
| Russia | $20 billion | 2% |
| Brazil | $19 billion | 2.8% |
Traffic Volumes of Most Popular eCommerce Websites in United States (2020 Facts)
| Website | Monthly Traffic Volume |
| --- | --- |
| Amazon | 2.5 billion visitors |
| eBay | 940 million visitors |
| Walmart | 450 million visitors |
| Craigslist | 420 million visitors |
| Etsy | 352 million visitors |
How Many People In The World Are Buying Online?
1. 93% of global internet users have purchased products online at any point in their life. It means that 9 out of every 10 people in the world have bought things online. A large consumer base makes the profitability of business evident. (Optinmonster)
2. 95% of worldwide purchases will be online by 2040. Why not take the step today to be a part of those 95 percent and not of 5% left behind. (Nasdaq)
3. 59% of millennials will go to Amazon first when shopping online. (Inviqa)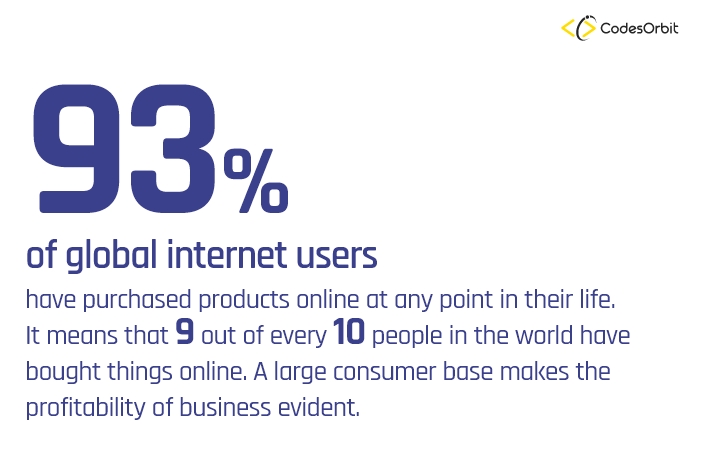 4. More than one-third of all users who find a product through Google search buy it within three to five days. (Wordstream)
5. 69% of B2B businesses say they do not see themselves printing catalogs in the next five years. Old trends fading out so swiftly demonstrate how quickly new trends are proving themselves. (B2xpartners)
6. Amazon accounted for 44% of US sales in 2017. (CNBC)
Marketing and Ecommerce – What Works and What's Outdated
Just like any other online platform, eCommerce stores need as much juice from marketing as they can get. Here are a few stats highlighting what works best for ecommerce stores.
7. One out of every five eCommerce sales comes from good digital/email marketing. (Wolfgangdigital)
8. A study from 2019 shows that search traffic generated 65% of all eCommerce sessions. Organic search was responsible for 33% of them and paid search for the rest of 32%. (Statista)
9. 61% of consumers like to be contacted by brands via emails. (Statista)
10. More than half of online shoppers use Google to research the product they intend to buy. (Facebook)
11. For each $1 spent, email marketing returns $44. This is 4400% ROI. (Campaignmonitor)
12. 60% of people say they have bought products recommended in emails. (Optinmonster)
13. 64% of marketers invest their time in optimizing their web app for Google search results. (Hubspot)
14. 40% of website traffic starts from a search query. (Smartinsights)

In the beginning, social media was just something teens and kids used for fun. However, those days are gone. Today, social networks are influential platforms to gain some credibility that is crucial for business growth. Make sure your eCommerce store has a profound presence on social media platforms.
15. E-commerce stores with a professional social media presence enjoy 32% more sales than those that don't. (Bigcommerce)
16. The average website publishes 4 to 5 posts every week on different social media platforms. (Bigcommerce)
17. 74% of online consumers rely on social media networks to make purchasing decisions. (Firstsiteguide)
18. Facebook is responsible for 85% of orders that come from social media. (Shopify)
19. 75% of Instagram users do take action after checking Instagram posts. (Locowise)
20. The average order value for customers referred from Instagram is $65.00, followed by Facebook ($55), Twitter ($46), and YouTube ($38). (CMSwire)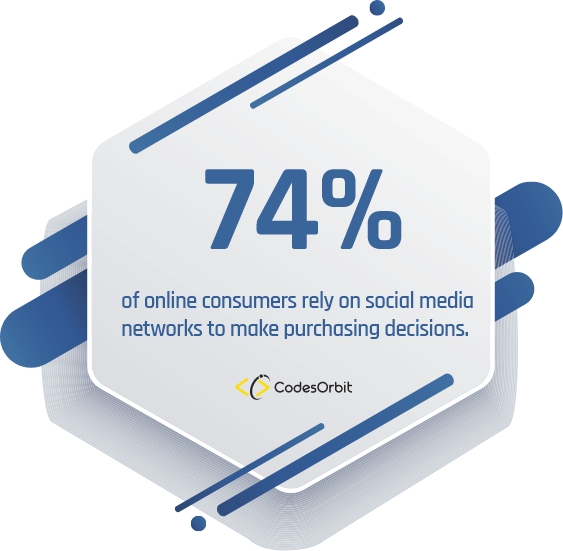 Is Mobile Optimization Necessary?
Mobile optimization for eCommerce websites is paramount since smartphone purchases make up a heavy part of all eCommerce sales. Make sure that your website smoothly runs on mobile. However, the best would be when you have a complete mobile app for your eCommerce business.
21. 82% of mobile smartphone users in America have used their phones to order different things. (Statista)
22. More than half of global internet traffic comes from mobile phones. 
23. 40% of all eCommerce purchases in the holiday season of 2018 were made on smartphones. (Outerboxdesign)
24. 80% of shoppers used a mobile phone inside a physical store to either look up product reviews, compare prices or find alternative store locations. (Outerboxdesign)

How Important is a Shopping Cart?
All's well that ends well. A shopping cart is the last step of the eCommerce purchase process. Moreover, it is a crucial stage of the sales funnel. The wise setup can minimize cart abandonment.
25. 46.5% of small to medium-sized businesses say that free shipping increases their profits. (Multichannelmerchant)
26. When account creation is necessary, 28% of people abandon carts. (Baymard)
27. The optimized checkout design can increase the conversion rate to 35%. (Baymard)
28. The average cart abandonment rate (almost 70%) makes eCommerce sites lose almost $3 billion every year. (Disruptiveadvertising)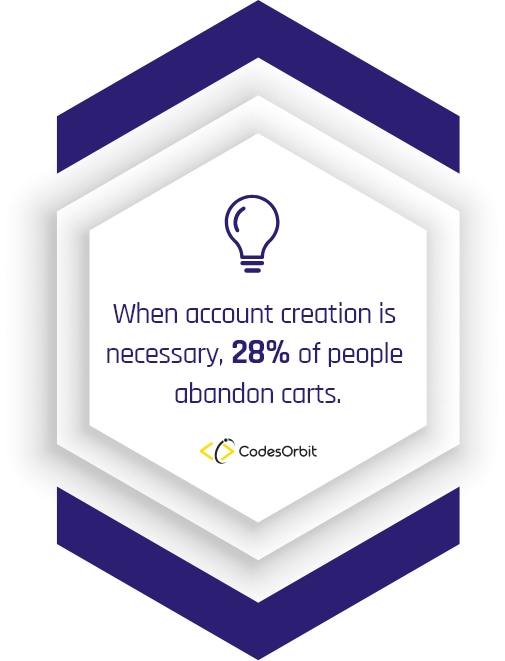 29. Mobile has the lowest cart abandonment rate among all devices. (Barilliance)
So, here are the four major lessons we could learn from these five statistics. 
       A. The checkout process of your eCommerce store should not require account creation. 
       B. Providing free shipping could dramatically increase sales. 
       C. Your check-out process should be mobile optimized.  
       D. Check-out design should also be optimized.
Read more: The Complete Guide to Quick Commerce

Can Well-written Blogs Help Me Generate Traffic and Earn Revenue?
Blog writing is an imperative part of content marketing strategy.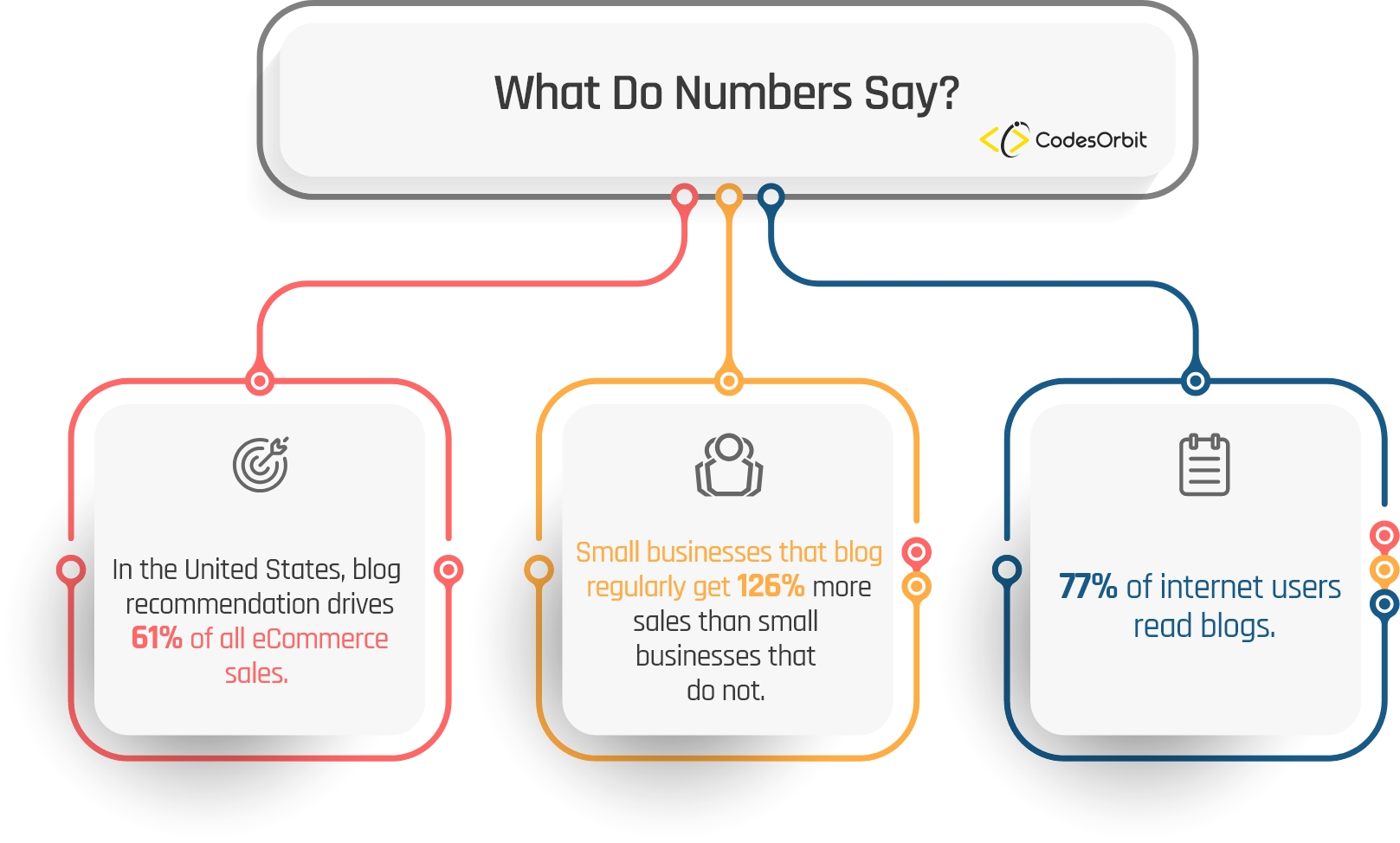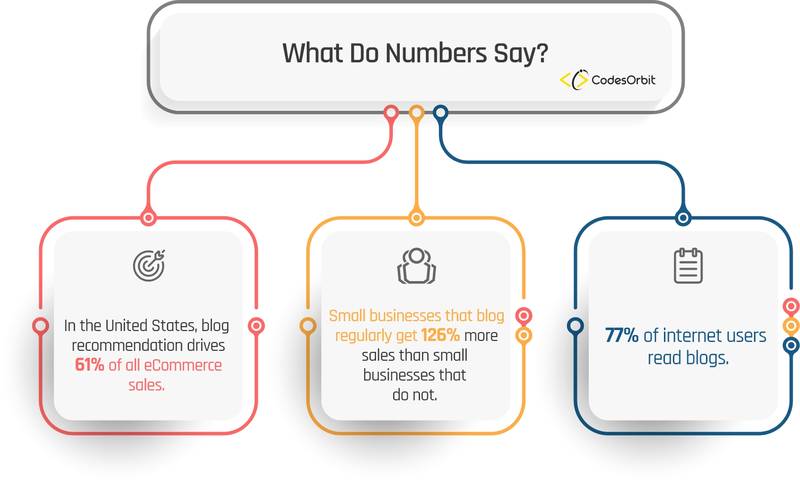 What eCommerce Platform Should We Use?
WooCommerce, which holds 26% of the global market, is the most popular eCommerce platform in the world. Two other big names are Shopify and Wix.
Would it be Good to Incorporate Latest Technologies like Augmented Reality and Artificial Intelligence in eCommerce Stores?
It is the era of Artificial Intelligence. Not only do people know about these technologies, but they are also willing to experience them in online shopping.
Being unable to try something in real-time is the biggest problem in eCommerce, and Augmented Reality helps overcome this challenge. For example, a woman can check out how a specific outfit would look on her.
30. Michael Prusich, Director of Business Development at 1Digital Agency, says that 35% of people will be shopping more from an eCommerce store that allows them to try before they buy. (Bigcommerce)
31. Back in 2019, Gartner predicted that 100 million consumers will shop using AR by 2020. (Gartner)
So it makes sense to find a firm that helps you turn your ideas into reality with the power of computer vision and augmented reality.
Similarly, people are ready to use other AI-based features like voice search, product recommendation, etc.
All statistics boil down to one point, and that is the profitability of the eCommerce business. Yes, many people may only buy from company-specific apps, but the statistics show how huge the consumer base is. With such gigantic volumes, it is not so difficult to earn good money from eCommerce stores.
However, only the full implementation of best content marketing practices can help you maintain a strong business that creates brand identity and generates a handsome amount every month.