At times, receiving orders within two days was a crazy idea, and people had to wait a little less for things they needed. But, the world we live in now demands fast and furious delivery of essentials to the doorstep. Today, fast and furious is not only referred to as a movie but a principle on which time-scarce millennials live. We need everything instant: from coffee to noodles to streaming content on social media, and we appreciate it wholeheartedly.
E-commerce has adapted quickly to the dynamism of customer demands by introducing Q-commerce to join the fast and furious trend. Service with a commitment to deliver things in less than 30 minutes. Thanks to the Covid-19 Pandemic for bringing these fast-paced technology revolutions and altering customer behavior to adopt these changes.
A lot of buzz about this term made us realize that we should write a complete guide to Q-Commerce. Let's look at the growth statistics of the Q-commerce business model and then we will dive deep into what Q-Commerce really is and how you can erupt this domain.
Captivating Growth of Quick Commerce in Recent Years
Q-commerce phenomena represent the last mile deliveries of food, groceries, and other essentials. In recent years, this business model has attracted many consumers with streamlined processes, innovative warehousing, and fast-paced deliveries.
The trend of last-mile deliveries has opened doors to many opportunities for startups and new ventures. Two-wheelers like bikes, scooters, and bicycles are used for fast-paced deliveries in dense traffic.
The Middle East and North Africa are the targeted markets of q-commerce. According to Statista, the MENA region will have a $20 billion market value of q-commerce by 2024. At the same time, the global market will acquire a value of $525 billion by 2030.
Quick commerce is a global phenomenon attracting customers from all over the world. Reports show that 30 Q-Commerce companies have emerged in Western Europe alone during the past ten months. With an advertised delivery time of 10 minutes, Gorillas, a Berlin-based delivery service, became a unicorn company nine months after its launch.
Businesses dealing with last-mile food and grocery deliveries earned a revenue of $25 billion in 2020 and are expected to cross &72 billion by 2025. So, without further due, let's explain what quick commerce is all about, its challenges, benefits, and critical points for tremendous growth.
What is Quick Commerce?
Quick Commerce or Q-commerce is a term you might not be familiar with, but you might have experienced its services. It is commonly known as "On-demand delivery services" or "grocery delivery".
Q-commerce means quick delivery of items to your doorsteps in less than an hour or 30 minutes. Ideally, the business model has combined the merits of traditional e-commerce, with speed being the main differentiator.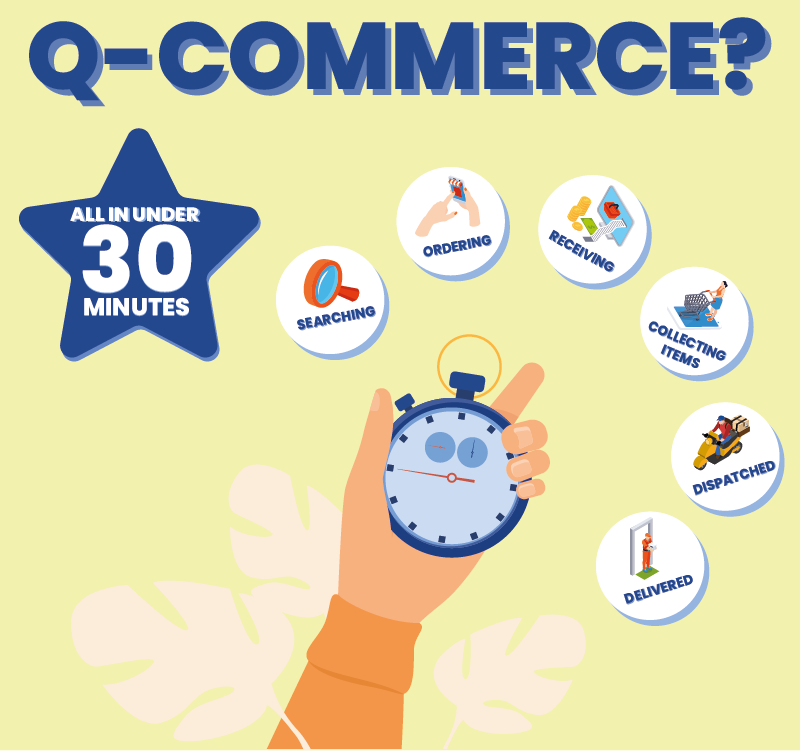 The businesses now cater to a broader set of items consumers can order, with perishable goods – like groceries – being the most extensive niche.
Main Components of Q-Commerce Eco System
Following are the briefly explained components of the Quick commerce ecosystem.
Third-Party Delivery Platforms
Current delivery platforms deliver products from nearby retail outlets, usually picking up orders and fulfilling delivery. They have now moved from promising one-day delivery to several hours to 30 minutes or less.
Vertically Integrated Specialists
Vertically integrated specialists operate neighbourhood warehouses, known as dark stores, solving traditional retail inefficiencies by delivering mostly frequently bought items to shoppers, usually within 10-30 minutes.
The targeting audience of these companies is Gen-Z and millennials, famous for top-up and unplanned purchases.
Both offline and online, retail giants have begun transitioning their services to an omnichannel experience of Q-commerce. At the same time, leveraging drone deliveries with other fast-paced delivery innovations.
With these factors in mind, here are some significant components you need to set up Q-commerce in 2022.
How to Implement Quick Commerce
Q-commerce is a must-have for brands with a target audience of work professionals, Gen-Z, millennials, and old age people. The business model also attracts brands dealing in Consumer Package Goods(CPG), but the ultimate demand is fast and furious delivery. Therefore it's better to start implementing a Q-commerce system by marking these mandatory checkpoints.
     1. Set Up Local Hubs
Suppose you plan to deliver products in less than an hour or 30 minutes. In that case, you must be located near your customers, which means to have a local warehouse, aka dark stores, to serve people in immediate proximity.
For instance, Alibaba has opted for a unique approach of opening hundreds of brick and mortar 'Ferma stores' in China, acting as q-commerce hubs delivering under 30 mins.
In addition, hire a workforce from the local area and deliver services on two-wheelers. This will help riders move fast in dense traffic and areas with parking issues. Businesses can also get help from third-party delivery platforms like Deliveroo & UberEats to deliver their products and services.
     2. Meticulously Choose your Q-Commerce Stock
We all know that quick-commerce is booming day by day, yet, it works best for specific product niches. Fast and Furious deliveries make sense for consumer-packed goods, food, drinks, cosmetics, and groceries used in the routine.
You can also opt for gifts and medicines stock to initiate your next q-commerce business. In addition, office supplies and electronic items are also emerging as hot items for quick deliveries with a growing trend of WFH.
     3. Cutting Edge Software
Having the right software or inventory management tool in hand does wonders for you. Ensuring speedy and efficient stock management to prevent stockouts and deadstock with up-to-date information & inventory maintenance.
You can use various reporting tools, such as eTail Monitoring, that provide a stock level overview of the entire retailer network. Furthermore, it also helps to analyze and optimize products based on best-selling characteristics.
So are you ready to step into this q-commerce domain and make your identities like GoPuff and Gorilla? Then CodesOrbit is the right place to develop "On-demand" & "E-commerce applications" for your next big venture.
E-Commerce Vs Q-Commerce
Quick Commerce is a modern, fast-paced version of e-commerce intermixing the perks of conventional e-commerce with technological breakthroughs in last-mile shipping.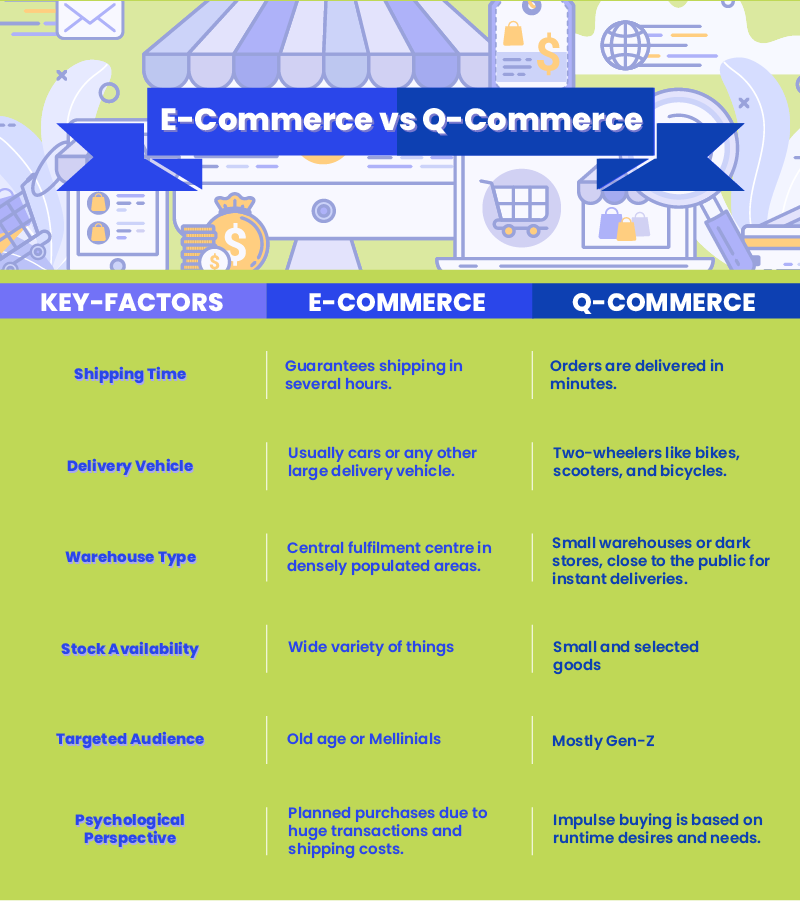 The delivery time is the primary differentiator between e-commerce and quick commerce, where E-commerce guarantees shipping within several hours at most and later delivers orders in minutes. The claim of the fastest delivery services has increased the potential market size of Q-commerce in the USA & is projected to go over $72 billion by 2025.
Delivery methods and the mediums used for both business models are other reasons to differentiate easily. E-com uses large delivery vehicles and cars, while quick commerce uses two-wheelers for fast and furious order fulfilment.
In addition, e-commerce purchases are carefully handled due to substantially longer shipping times and increased transaction charges. While on the other hand, q-commerce purchases are spur of the moment, primarily based on the needs, desires, or sometimes experiments of trying a new service opened in an area.
Last but not least is the demographic difference of customers that significantly affects the popularity of anything. Q commerce customers are mostly aged between 16-24, making it an 80% share of the total orders.
Benefits of Quick Commerce Business Model
In this fast-paced world, receiving orders and food takeaways in no time is like a dream come true for customers. While on the other hand, a company offering such quick service is a top priority of users.
The advent of the fast and furious trade model allows customers to receive orders in no time in this shifting delivery scenario. The following are the Perks that a Q-commerce company can provide to its customers: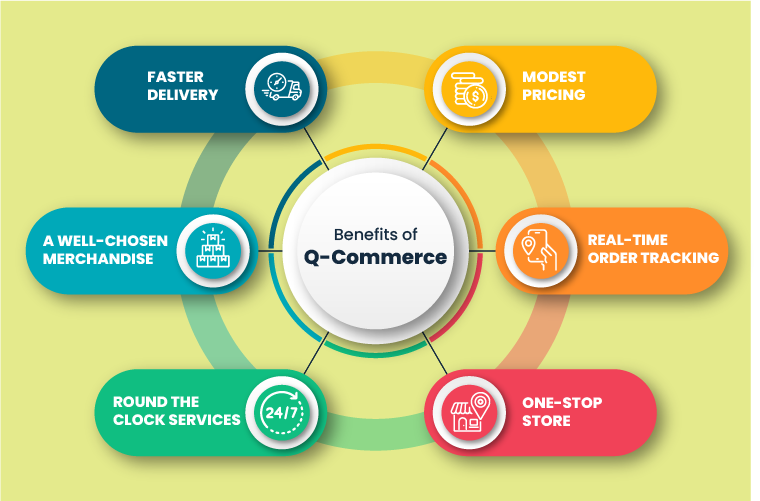 Compared to e-commerce, the quick-commerce model promises faster deliveries, typically in less than an hour or within minutes. The primary reason is the previously described hyper-local micro-fulfilment facilities (dark stores). Spread out over densely populated areas of cities in close proximity to their customers.
A third party courier service or a self-employed workforce could be a better option for quick deliveries. Thus, dark store establishments should not be forced to give up valuable floor space so that shoppers can walk through the aisles easier. Delivery couriers can go back and forth between dark stores and customers' homes upon completing transactions.
A Well-Chosen Merchandise
Along with delivering goods within 30 minutes, q-commerce stores have well-chosen merchandise for you. Thanks to AI(Artificial Intelligence) and other leading-edge technologies that aid in monitoring customer demand patterns and real-time inventory management. Q-commerce firms can react to demand patterns by ensuring that resources are available when required most. In addition, companies can well train their front faces with upto date data to provide excellent service to their customers via cutting-edge technology.
The q-commerce business model provides 24/7 services with great convenience and reliability. The model differs from the typical brick and mortar model that offers specific hours of delivery and allows clients to have their orders delivered at any convenient time. Through quick-commerce, customers can shop anytime and anywhere with a tap of their fingers.
Deliveries within 10-30 minutes would be a great marketing tactic for highlighting any brand.
Modest Pricing/ Cheaper Products
The websites or apps having a plethora of items might bother you from stepping into this business. But it's not only listing a wide range of products but gaining profits through them.
Well, the merchandise is purchased frequently and in bulk, decreasing the cost-price price of each product. Due to this, business owners provide captivating discounts to customers. The modest pricing model of products helps customers purchase their favourite items while staying within budget.
Real-time order tracking is one of the most significant advantages of the q-commerce business model. Customers can not only track their current orders but easily manage and trace all their previous purchases.
Customers can order a wide range of products from a single eCommerce Platform. Thanks to the applications used as store visual impact and helping clients to order multiple products in one purchase. The q-commerce delivers micro to smaller amounts of commodities, including food, stationery, and over-the-counter pharmaceuticals. In short, an on-demand delivery service for the customers.
Future of Q-Commerce Looks Bright!
Customer needs and overgrowing expectations of fast-paced deliveries will make q-commerce a standard. The tremendous growth of this business model has left alerts for others to jump into this business with fully automated delivery solutions. At CodesOrbit, we think that the q-commerce future looks bright. However, there might be some points at which this business model will face inconvenience in completing operations effectively.
The rise of q-commerce will surely increase the number of goods delivered to the customers. Competition in this field is growing daily, and the adoption of technological advancements will nurture this pre-pandemic change.
Companies can mark their presence with grand introductions using drone deliveries and machine learning. For instance, drone deliveries will help cover a large area with reliable delivery times.
Delivery giants like Uber are already working on introducing these cutting-edge innovations to stay ahead of the curve.
Final Words
Whether you want to enter into a q-commerce business domain or are interested in learning more about this newly emerged term, we have made this complete guide to Q-commerce. From highlighting its growth to what it means to how to erupt this business dynamics to the benefits, it will provide.
We believe it is a unique business strategy and has opened many doors of opportunity in the commerce vertical. It has substantial potential worldwide with a proper blend of technology, network, and an unrelenting emphasis on user experience.
If you are ready to erupt this commercial vertical, get in touch with us to plan your next cutting-edge e-commerce application. Let us build a feature-rich application that best fits the q-commerce market.