In today's digital age, the world of real estate has become more accessible and convenient than ever before, thanks to mobile applications. Mobile apps are the perfect solution for buyers and sellers alike, providing them with a comprehensive platform to list and search for properties, connect with agents, and make secure transactions.
Currently, the popularity of searching for properties online is at an all-time high, leading to cutthroat competition in the real estate market.
According to market research, 95% of real estate agencies have their own websites showcasing property listings.
However, merely having a website is insufficient to stand out in such intense rivalry. To remain ahead of the game, you need to invest in real estate app development for your business that is exceptional and distinctive compared to the numerous other options available for download.
Are you a real estate agent or business owner looking for ways to boost your revenue and customer satisfaction? Look no further than a real estate mobile app! With the ever-growing number of smartphone users, real estate app development is becoming increasingly essential for staying competitive in the market.
In this article, we'll explore the features of a real estate mobile app and the costs involved in real estate application development. But first, look at what real estate mobile apps are and why you should get one.
Why You Should Consider a Real Estate Mobile App
The real estate world has gone digital! Gone are the days when buyers depended solely on real estate agents to find their dream homes. Thanks to smartphones, people can now search through countless property listings in a matter of minutes. 
As a result, the demand for user-friendly real estate mobile apps is at an all-time high. To keep up with this trend, real estate app development companies must deliver high-quality apps that cater to the unique needs of homebuyers.
Did you know that in 2018, more than 44% of people searched for properties online before doing anything else? And the trend is only growing stronger! By 2023, experts predict that online property searches will become even more popular, making it crucial for real estate companies to have a strong digital presence. 
In fact, the US Real Estate industry is projected to generate a whopping US$395.40 billion in revenue by 2023, with a steady annual growth rate of 2.15%. These statistics show the importance of investing in a reliable and user-friendly real estate mobile app to stay ahead of the game. Have a look at some more to get convinced easily.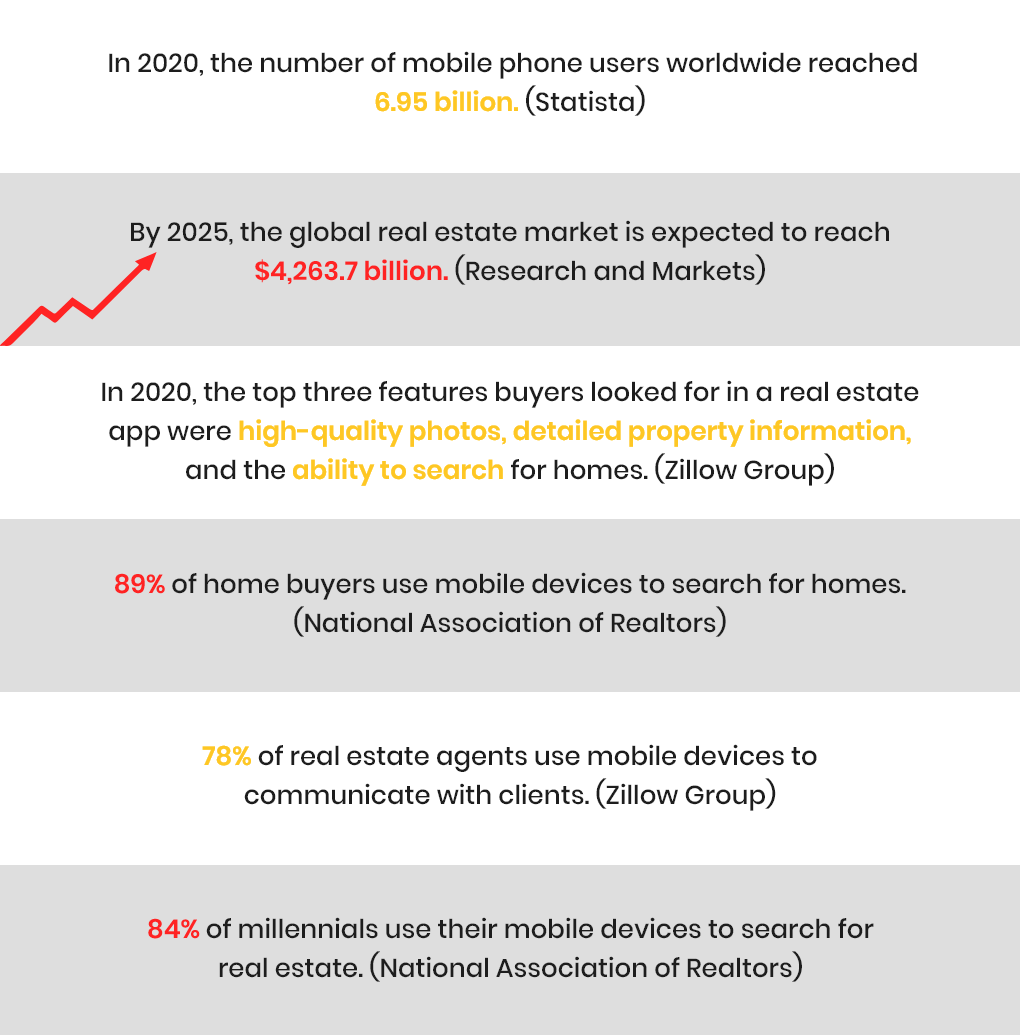 What Is Real Estate Mobile App?
A software application designed for mobile devices that provide real estate services to users. It enables buyers and sellers to view and list properties, connect with real estate agents, and make transactions from their homes. 
The use of mobile apps in real estate has been on the rise in recent years, with the number of users increasing exponentially every day.
Real Estate App Development: Stellar Features
Intuitive UI: A user-friendly interface, including a real estate app, is a must-have for any mobile app. The app's design should be optimized for both Android and iOS devices. It should be easy to navigate, with a simple and intuitive design that lets users quickly find what they want.
Extensive Search Filters: Your app should have search filters that allow users to find their properties quickly. Allow them to search through filters including location, price, property type, number of bedrooms and bathrooms, and other essentials.
Property Listings: Provide users with a comprehensive list of properties for sale or rent in their chosen location. It should display photos, descriptions, and other relevant information about the property.
Property Details: Give users detailed information about each property, including floor plans, virtual tours, and other essential details. It should enable users to contact the seller or real estate agent directly from the app.
Maps and Directions: The app needs to give users accurate maps and directions to the properties they're interested in, making it easy to view the property location on a map and get directions.
Push Notifications: An ideal real estate mobile app should notify users about new listings matching their search preferences, price drops, and other key updates.
Seamless Integration with Other Apps: The app should integrate seamlessly with other apps, such as mortgage calculators, payment apps, etc., essential for real estate transactions.
Mortgage Calculator: An ideal real estate mobile app should include a mortgage calculator that enables users to calculate their monthly payments based on the property price, interest rate, and other factors.
Analytics: Every successful mobile app needs analytics, whether a real estate marketplace or a business-specific app. Analytics provides crucial insights into how users interact with your app, offering information on performance and opportunities for improvement. By analyzing user behavior, including time spent on certain screens, you can make data-driven decisions to enhance your app's functionality. One can also categorize users based on their behavior and use this information to tailor marketing campaigns for maximum impact.
Secure Transactions: Security is paramount in any application. The platform must be secure enough to perform transactions, including payment processing and document signing.
Agent Profiles: The app should include profiles of real estate agents, including their experience, certifications, and other important information.
Some Additional Features To Out-class Competitors!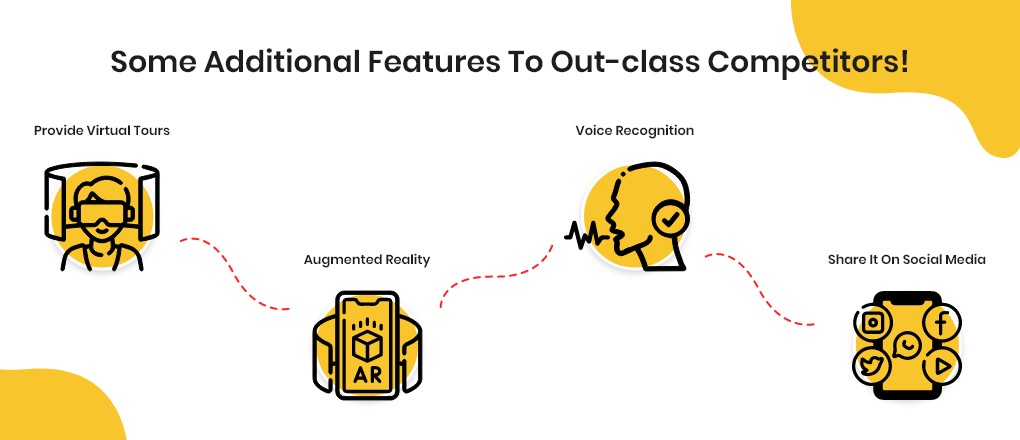 Provide Virtual Tours
Allow users to take virtual tours of the properties they're interested in. It lets users view the property as if they were there in person, giving them a better sense of the space and layout.
Want a top-notch app for an enriched real-estate dealing experience? Probe through our product CASA COMMAND's case study. 
Augmented Reality
AR is another feature becoming increasingly popular in real estate mobile apps. It lets users view property in 3D motion with additional information and details overlaid on the screen. It can also verify designs, seating arrangements, or constructions overlook.
Voice Recognition
A convenient feature that enables users to search for properties, filter listings, and make transactions when doing anything by hand or while traveling.
Share It On Social Media
Allow your users or agents to share properties with their friends and family on social platforms. This allows them to reach a broader audience. 
Ready To Get A Cutting-Edge Real Estate App? See What It Costs
Now that we've covered the features of a real estate mobile app let's talk about the costs involved in real estate application development. There are a few factors that can influence the cost of developing a real estate app, including:
Platform You Choose
The platform you choose to develop your app can significantly impact the cost. Developing an app for both iOS and Android separately will be more expensive than a cross-platform app.
Real estate app development costs depend on the device and technology used. Companies must decide whether to develop for iOS, Android, or both, which can impact time and resources. Technology choice is also crucial, with native apps using Swift or Java costing more than hybrid apps built with React Native or Xamarin.
App Features Or Complexity
One of the primary factors affecting the cost of real estate app development is the no of features an app would have. Standard features, such as property listings, search filters, maps, and agent profiles, are common in most real estate apps. The features determine the app's functionality and user experience, with more complex features resulting in higher development costs. 
However, advanced features like virtual tours, mortgage calculators, and 3D floor plans will add to the development cost.
Hourly Developers Or Team Rates
The hourly rate of the development company plays a critical role in determining the cost of building a real estate app. Depending on the company's location, hourly rates can range from $50 to $250 in North America, while Eastern European companies offer more affordable options.
Several factors impact the cost of developing a real estate app, including the feature set, design, device and technology, and hourly rate. Investing in a high-quality app development company like CodesOrbit can help you balance the cost and features to get the best value for your investment.
Maintenance Costs
Remember that the cost of developing a real estate mobile app isn't a one-time expense. You'll also need to factor in the ongoing costs of maintaining and updating the app.
Wrapping Up: Bring Your Ideas To Life Today!
A well-designed real estate mobile app can provide a multitude of benefits to both buyers and agents alike. By incorporating must-have features such as detailed property information, high-quality photos, real-time updates, and user-friendly interfaces, mobile apps can streamline the home buying and selling process, making it more efficient and convenient for everyone involved. 
With the continued growth of mobile phone usage and the real estate market, the importance of having a top-notch mobile app cannot be overstated. So if you're in the market for a new home or looking to improve your real estate business, be sure to consider the power of a well-designed mobile app. 
For a better development experience and to make the app stand out in a crowded market, You must consider a leading app development company or hire a team from them. If you are searching for a trusted partner, CodesOrbit is ready to develop an app for you!
Contact us today to get a flawless application with advanced features and create a valuable tool that meets the needs of its users and stands out in a crowded market.
Frequently Asked Questions
How much does it cost to develop a real estate mobile app?
The cost can vary depending on factors such as complexity, features, and platform. Basic apps can cost $10K-$50K, while complex ones can cost over $100K. However, investing in a high-quality app can lead to significant returns.
What makes a great real estate mobile app stand out?
A clean interface, advanced search options, detailed property information, and the ability to save favorites and receive alerts.
 Is investing in a real estate mobile app worth it?
Yes, it can differentiate your business and make it easier for potential clients to connect with you.
How can I optimize my real estate mobile app for search engines?
Use relevant keywords in the title, description, and metadata, provide high-quality content, and include user reviews and ratings.
How can I keep my real estate mobile app relevant and up-to-date?
Regularly update your app with new features and bug fixes, stay informed about industry trends, and listen to user feedback.
What emerging technologies can enhance a real estate mobile app's functionality?
Virtual and augmented reality, artificial intelligence, and blockchain offer innovative ways to search for properties, provide personalized recommendations, and streamline the buying and selling process.