Finding appropriate accommodation takes days, if not weeks. You must also keep in touch with your real estate agent to choose an apartment that corresponds to your requirements. From in-person visits resulting in continuous delays and wastage of time & effort, you might think, what if I can have a virtual tour of the property? 2020 and the Covid pandemic have accelerated the digitalization trend in the real estate industry.
"63% of people who bought a home last year made an offer for a property they still hadn't seen in person. However, 87% of home buyers consider pictures useful in a listing."
Our client John Groom, a landlord running multiple businesses, aimed to utilize trending technologies to improve moving, home maintenance, insurance, and other aspects of property ownership. The objective was to help real estate agents, vacation rentals, and Airbnb hosts capture incredible pictures without leveraging high-end DSLR cameras and photo editing apps.
That's where we came in. We put forth our teams' expertise in providing a scalable solution to our client in the form of an intuitive application. Introducing CASA Command – Your Perfect Home Camera App allows you to capture high-end 360-degree panoramas without any assistant hardware.
CASA Command – an app built to help capture top-notch quality stills and 360-degree panoramas. Not only this, you can share these through specific links to create a virtual tour of the asset. The app is currently available for iOS users & can be leveraged by
Property-Related Businesses
Listings with Higher-quality Images Sold 32% Faster
Making it even better with 360° Panoramas
Built-in camera feature of the app to capture top-quality 360° multiple panoramas of your property without adding any external hardware.
High-Quality Processed Images
Capture stills of rooms or areas you want to highlight in the listing. The app will automatically enhance your images. Giving you real estate ready correctly formatted and filtered images.
Manage Multiple Properties
Casa Command allows agents or users to manage multiple properties simultaneously. Keep images of every property in a separate folder to avoid confusion in Multiple listings.
Facing any issues using an app or need to know how to upload images? Make your life easier with prompt responses from the admin through an in-app chat feature.
Deep linking allow users to share property tours with their clients efficiently. If your client has access to an app, the autogenerated link will directly open with it. Else it will be redirected to the web.
Want to take a data backup or need to share it with some other person, you can either directly download it or export all the data through email.
Ease in with essential tips and tutorials and utilize the app to its fullest.
A plethora of tagging options are available for panoramas, including navigational & inventory tags.
CASA Command, an intuitive and flawless application developed by our industry expert developers. Leveraging market-trending technologies & tools, we developed an app that allows users to capture an entire home in under 20 minutes with no external equipment.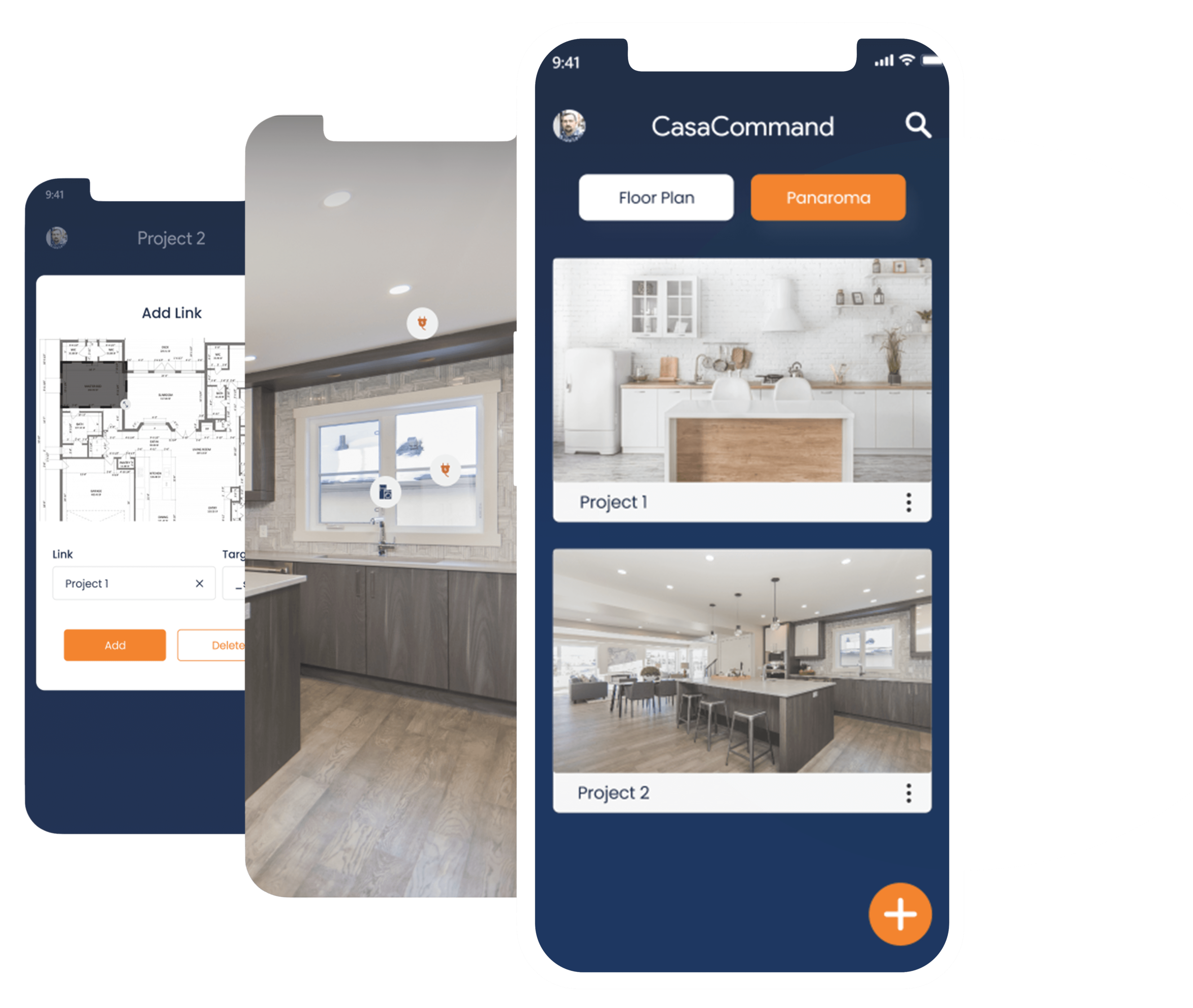 At CodesOrbit we are well aware that the customer's world is constantly changing. Therefore, we continue to challenge ourselves to push the boundaries of development. What we assure is that the technology we use to develop your digital signature will not just meet the industry standards but, it might just go on to create a new benchmark.