Are you a retailer or a business owner who wants to centralize their business? Or afraid of losing a customer base with fewer payment options and empty shelves. Then shake off your fears, as POS systems are here to help you stand out in the market and gain customer trust. With rapidly growing business needs and numerous options available in the market, you might need guidance while selecting the most suitable solution.
After thorough research and consideration, we have decided to help you choose between Clover and Square, the most efficient, cost-effective, and customizable Point-of-Sale solutions. But before digging into the battle of Clover vs. Square, you should know what POS is.
What is a POS System?
Point-Of-Sale Systems, commonly known as "Cash Registers," of your business.
A combination of hardware and software that allows business owners & retailers to manage their sales, cash counters, & inventory digitally. However, connection to POS hardware depends on the nature of your business. If you are running an online store, then there is no need to use any hardware.
Having a POS system means you can manage your customers from anywhere at any time. Make sure you have a smartphone or tablet with a good internet connection and a POS app.
Want to leverage the benefits of a modern point-of-sale system for your business? Head down to learn the key differences between Clover and Square System and which POS suits your business the best.
CLOVER vs. SQUARE
You might think, is Clover better than Square, or does the latter win the race? You might have to do some research work for a conclusion, but not anymore! We are here to help you transform your business with a top-notch POS system. Let's dig into the detailed comparison of Clover & Square based on pricing plans, services & hardware fees, and much more.
However, before finalizing any of them, consider your business requirements. It will help you make an informed decision with focused benefits in the long run.
Clover POS vs. Square Core Software Features
Software developed for Clover, and Square facilitates modern business & market requirements. However, these features are industry specific and can only be used for a particular sector. Here is a list of core features offered by both POS software, so you can select the one that best suits your business needs.
Clover Software:
Clover POS is specially designed to facilitate users from all industries with core features like credit & debit card processing, allows acceptance of mobile wallet payments, and offers customer relationship management (CRM). In addition, it provides order & team management, sales & inventory tracking, eCommerce, and third-party app integration.
Clover offers software plans to make it easy for business owners to select the most needed software. Following are the details of all these plans.
Full-Service Dining Software plans allow restaurant owners to utilize Starter, Standard, and Advanced table services to offer unique dining experiences to their customers. These plans also include essential features like table mapping, discounts, and bill splitting, along with tipping & contactless dining management options.

Quick-Service Dining plan allows you to give your guests a quick service experience, so they keep coming back. With the same Starter, Standard, and Advanced counter service restaurant management and basic features, they have an additional feature of remote order firing.

Retail Store starter software plan offers features like item and category management, itemized order creation, and itemized stock tracking.

While opting for Standard and Advanced plans allows you to enjoy all the features mentioned above, along with item variants, itemized returns/exchanges, and scale integration for orders by weight.

Professional Services Starter plan comes with minimal features controlled with a web browser. While on the other hand, Standard & Advanced plans to cover all the basic features and allows you to accept payments from eWallets, gift cards, mobile wallets, and other alternative methods.

Home & field Services Starter plan's come with limited features and is fully controlled through a web browser. The Standard plan enables you to manage operations through a mobile device and easily accept all types of payments.

However, the Advanced plan has two additional features of item variants and itemized returns/exchanges and comes with a handheld POS system.
Square Software:
Square, however, is no less than Clover in providing excellent software for various industries. The key features they provide include team employee management, eCommerce integrations, and systems that accept credit card payments.
The primary software and the features they provide are the following:
If you are a retailer, you can leverage the benefits of features like barcode label printing, purchase orders, and supplier management, along with a view of multi-location stock and utilize(COGS) reporting for better decisions.

Square Software for Restaurants offers vital features like table, course, item management, delivery, and takeout integrations. Other than that, cover reports, kitchen performance reports, and auto gratuity are some of the other features they provide.

To handle smooth Appointments, Square's POS comes with session reservations, digital assistants & automatic reminders. You can also manage recurring appointments and address staff and location issues.
Clover vs. Square: Hardware
Clover Hardware Components:
Clover Station: The most comprehensive POS part that Clover offers to its clients is Clover Station Solo and Duo. Make use of the Solo station to accept payments from customers, manage your team and put your part in promoting customer loyalty. However, Duo Station is for you if you want to enjoy all these features and a customer display screen.

Clover Flex: A wireless & LTE connectivity Clover's Flex is designed for you to accept payments anywhere at any time. The terminal supports all major types of payment methods.

Clover Mini: It is a cloud-based mini station offering all the features of Solo & Duo Stations. Clover mini must be fascinating for many as it is small device & business owners can access information anywhere on any device.

Clover Go: A portable credit card reader that can accept EVM chips, magnetic stripes, and contactless payment. In addition, it supports Apple & Android Pay. Grab a smartphone or a tablet and the Clover Go app from app stores, and you are good to go.
Square Hardware Components:
Square Register: A fully integrated point-of-sale system lets you start selling right out of the box with two displays for the customer and the merchant.

Square Terminal: A square terminal that is portable and allows you to connect to a wireless network, which means that your customers can pay with their own devices. The terminal can handle payments from commonly used payment methods & print receipts also.

Square Readers: It comes with two types of readers, one for accepting payments via swiping magstripe cards. While the other accepts EVM chip cards & contactless payments. You can easily attach them to a smartphone or a tablet.
You can also grab a ready-made hardware kit from Square to quickly shift to a new POS system.
Clover Vs. Square: Pricing Plans
Business owners always look for something more efficient with light pressure on their budget. Both points of sale have different pricing systems and offer services accordingly.
Let's take a look at the quick breakdown of the Clover & Square POS pricing to find out how much they will cost.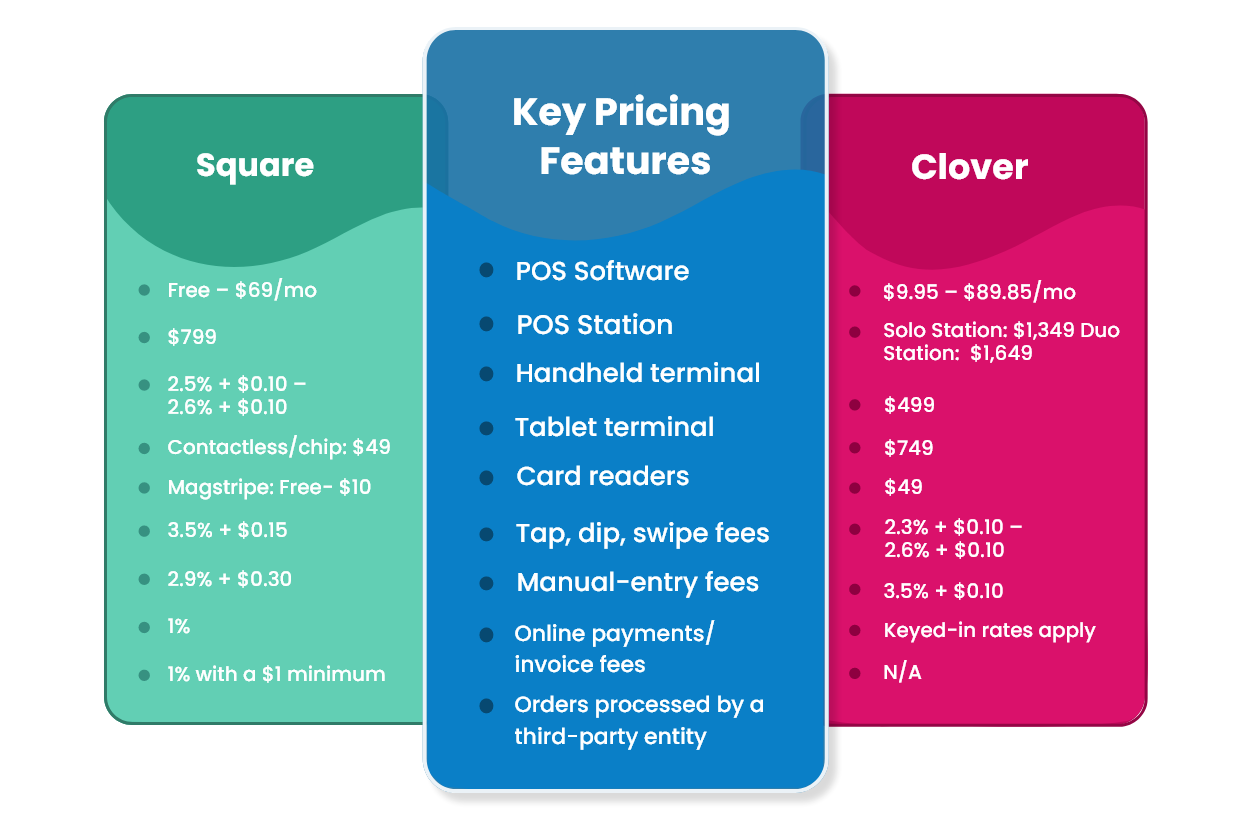 When it comes to pricing plans of both the POS systems, Square might be your favorite at first glance, but for large businesses looking for a long term POS, Clover will be an ultimate favorite.
Clover has various built-in features, whereas Square's free version software plan has very limited functions, and you have to pay to add new features every time.
Clover vs. Square: Supportive Payment Methods
Selecting the best payment service provider system for your business requires keen attention to the modes of payment it accepts, especially the modes your customers prefer.
When comparing the payment modes that clover and square support, both the POS have hit the mark for that. Here are the major payment types that are accepted by both terminals.
All the Major debit and credit cards, including Mastercard, Discover, American Express, Visa, and JCB.
Magstripe payments
EMV Chips payments
Checks
ACH payments
Virtual terminal
Gift cards
NFC payments like Apple Pay, Google Pay, etc.
Want a Clover-like POS system for your business? Then CodesOrbit is the right place for you. Explore more Clover apps like Spoonity by probing into Clover App Development, and decide what we can do for you.
Clover vs. Square: Customer Support Services
When it comes to providing excellent customer support services, Clover offers 24/7 technical support to its users. While Square offers phone support only five days a week from 7:00 am to 7:00 pm.
Considering these facts, Clover can be ideal for retail and payment processing companies with a lot of weekend traffic. Whereas Square's availability is not ideal in these conditions.
Conclusion: Which POS Should You Choose?
You should go for Clover if:
You are running a large business and want a tailor-made and scalable solution for it then Clover is a top-class system for you. It might be quite expensive compared to Square POS, but the advantage is that Clover comes with built-in features like employee management, payroll processing, and scheduling.
You should go for Square if:
You are running a small business, let's say a mobile store, then Square will best fit your needs. For any type of business or payment processing system that has an average transaction size under $20, the Square system will greatly help these ventures.
A Look At Clover & Square POS Alternatives
Well, just like your life needs multiple options to grow and find success, your business also needs many options to choose the right POS. To cater to the demands of your processes and budget, here is a quick overview of some alternatives to Clover and Square. Use them according to the demands of your business goals, employees, and, off-course, the key players of any business – customers.
1. Touch Bistro: Best POS for Guest Experience
Industries Served: Restaurants
Free Trials: N/A
Starting Price: $69/month
Third-Party Integrations: Yes with 20+
Third-Party payment processing compatibility: Yes
Customer Services: Via Phone & email.
2. Toast: Best POS for Restaurants of All Sizes
Industries Served: Restaurants
Free Trials: N/A
Starting Price: Free Plan
Third-Party Integrations: Yes with more than 65
Third-Party payment processing compatibility: No
Customer Services: Via Phone, email, & live chat
3. LightSpeed: Best POS for Retail
Industries Served: Retail & Restaurants
Free Trials: 14 days
Starting Price: $69/month
Third-Party Integrations: Yes with 200+
Third-Party payment processing compatibility: Yes
Customer Services: Via Phone & email.
4. GoDaddy: Best POS for tracking sales
Industries Served: E-commerce
Free Trials: 30 days
Starting Price: $6.99/month
Third-Party Integrations: Yes
Third-Party payment processing compatibility: No
Customer Services: Via Phone & Live chat.
5. Upserve: Best POS for small Restaurants
Industries Served: Restaurants
Free Trials: N/A
Starting Price: $59/month
Third-Party Integrations: Yes with more than 45
Third-Party payment processing compatibility: No
Customer Services: Via Phone, Email, & Live chat.
Closing Thoughts
After meticulously comparing both POS systems, I can not declare a clear winner. Both Clover & Square are great solutions depending on your business needs. For instance, if you are a newbie to the business world, then Square's free software and modestly-priced hardware are for you. However, if your business is growing and you need a user-friendly, customized, and scalable solution, then Clover is the right fit.
Seeking tailored Clover Application Development services from a top-notch company, CodesOrbit has an in-house team of Clover developers. We also offer API integration and round-the-clock customer support services to ensure our clients manage their business procedures easily.
Hope you find this blog useful and have a great experience either with Clover or Square. Do share it with your fellows!