Are you managing a large enterprise without leveraging the benefits of enterprise mobility solutions? Or, Being a manager of an enterprise-level company, the pressure of handling smooth workflows and keeping clients happy gives you a nightmare? If so, then you are in great need of a high-quality mobile application for assistance and automation. You are missing out on some tremendous benefits it offers.
Large businesses continually look for ways to reduce costs and time spent on a task. Introducing how to automate workflows, enhance employee productivity, and save money with enterprise mobile app development. Enterprise app development services offer their hitches and explicitness to the users. Head down to know the types or levels of mobile apps for enterprises, the reasons to create such apps from scratch, and the steps to consider before going for enterprise mobile application development.
Sneak Peak Of Enterprise App Market Growth: Making Your Mind
Living in a fast-paced environment opens doors for digital innovations to help people perform their tasks efficiently. Smartphones and similar devices are everywhere, making mobile app development an everlasting trend. The apps let users manage daily tasks with a tap of their fingers.
The mobile app development market is growing tremendously, expected to earn a revenue of $35 billion by 2023. The enterprise mobile application market is proliferating worldwide. Increasing cloud-based services usage, an expanding mobile phone user base, and rising telecom offerings are driving significant growth in the Global Mobile Enterprise market. Valued at $90.53 billion in 2021 and is expected to reach a whopping value of $268.14 billion by 2030.
Intelligent business owners and successful enterprises extensively utilize mobile technology for top-class operational and business workflow management. Provoking the demand for mobile application development platforms, 73% of companies will invest in enterprise mobility solutions to strengthen their brand.
"Research shows that the implementation of enterprise mobile apps can increase productivity at a workplace by 40%."
The paradigm shift from a traditional office model to a digital office has increased the adaptability of Enterprise app development. For smoother interactions with employees, customers, and investors, Let's invest in an incredible application for your organization. But first, let's understand what exactly an enterprise application is. What's the difference between traditional app development and enterprise app development? Also, what to consider when creating one.
Understanding an Enterprise Mobile Application
Enterprise Mobile Application is a software developed to cater to the needs of an enterprise-level corporate entity. It can be used and designed specifically for organizations, governments, or corporations, allowing them to digitize and speed up their business processes.
Besides satisfying the precise needs, the application must abide by the company's global policies and strategies and offer high-end security for sensitive data transmission. In addition, the enterprise mobile app allows users to access some of the features from anywhere at any time.
A real-world example of an enterprise mobile application is Microsoft Teams, making employee's life more comfortable and manageable with remote meetings and contact options.
It might be confusing to see so many enterprise apps in the market, but no need to worry as we have divided them into three major types or levels.
Levels Of Mobile Enterprise Applications
An enterprise company has several departments and hundreds of employees. Generally, business apps fall into three major categories, catering to the stakeholders' needs. These include: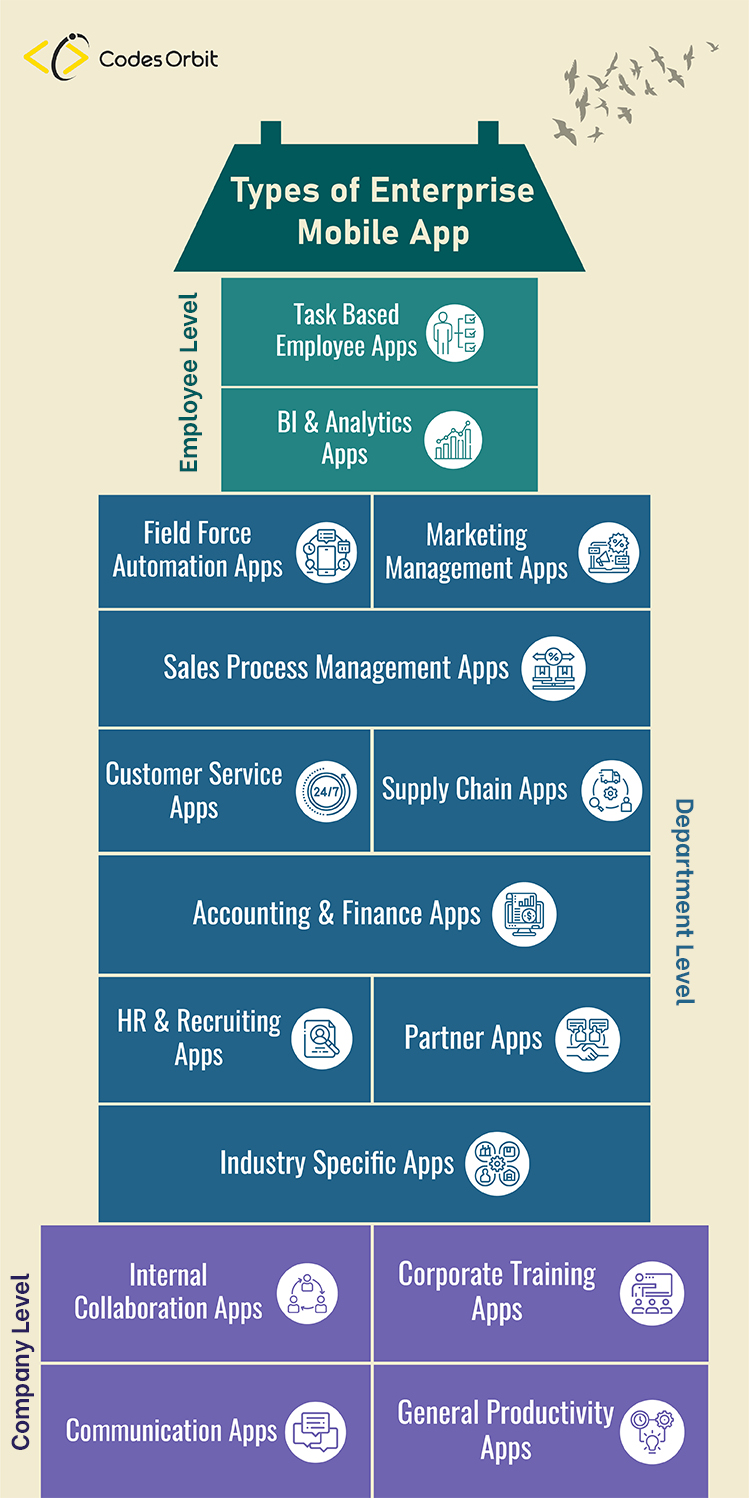 Employee Level
These applications are designed to micromanage projects for on-time completion without hindrance or to enable communication between counterparts.
For instance, Slack is the best example of an employee-level enterprise app. Faster than emails, something more than ordinary texts with an option to integrate many more things and manage tasks.
Departmental Level
As the name suggests, these apps cater to a specific department's needs, helping them boost productivity.
For instance, HRs can conduct recruitment and onboarding processes with departmental apps. Customer service agents can communicate with customers via text or voice-enabled applications, accountants can keep track of finances and all finance-related matters, and a marketing head can optimize internal workflows.
Company Level
Company level or organizational applications connect all its departments to a single hub, making employees stay in touch with their CEOs and access documents & databases without any hindrance. However, the authorization to access such sensitive data is defined during the development. All employees can access the data as per their role or seniority level.
Enterprise Mobile Application Development & How It Stand Apart From Conventional Development?
From curating an idea to creating a customized application fulfilling the organization's needs is known as Enterprise application development. An enterprise solution aims to help businesses bring in more revenues, expand to new areas, and stay ahead of the curve without compromising speed & efficiency.
Enterprises need to keep high-level software support and update apps often to accommodate growth; therefore, developers must consider enhancing the app's capacity to scale. You can specify these crucial requirements only when you understand the contrast between Enterprise app development and conventional mobile app development.
Solutions for enterprise-level businesses mostly entertain employees and help them streamline workflows and other business operations. It is important to note that enterprise apps differ in development from consumer mobile applications.
To build a cutting-edge enterprise application, the development team or a person must know the key contrasts to avoid inconvenience during development.
Like any other corporate system, enterprise apps deal with corporate databases and frequent data transfers. Making developers more conscious about designing solutions with high security and scalability. In addition, mobile enterprise apps must be consistent across all devices and platforms, even more than consumer apps, to avoid costly errors.
Moreover, testing and integrating an app into an enterprise's infrastructure are peculiar.
Here are some substantial differences between enterprise and conventional or consumer app development:
Security: Security is paramount, as they handle large corporate databases with frequent data transactions. As a result, enterprise app developers should pay particular attention to data safety.
User interface: Users typically expect enterprise apps to be more functional and usable.
Flexibility and customization: Enterprise apps must be highly flexible and customizable to meet an organization's specific requirements and future needs.
Integration: To ensure smooth integration, developers must be familiar with various integration and data-sharing protocols for enterprise apps.
Scalability: Businesses need their apps to scale as their requirements change.
App distribution: Developing and delivering mobile enterprise apps requires more legal work than regular consumer apps. Companies distribute these apps internally.
Benefits of Enterprise Application Development
Incorporating enterprise app development enables you to increase revenue and productivity with automation. In addition to high-security levels, portability, and device compatibility, mobile apps also possess several vital features.
What benefits can you derive from enterprise mobile application development for your company, or are you looking for reasons why it makes sense to do so? Let's look at the privileges you can enjoy with your enterprise app.
Controlled Finances
Controlled transactions are life saviors for business giants; whether you are a B2C retailer or a B2B SaaS enterprise, you can understand this benefit very well. These apps allow smooth management of incoming and outgoing transactions, deadlines, and notifications for customer awareness.
Enterprise mobile app developers can develop various payment features depending on your requirements and goals.
Improved Data Management
Processing and managing data for enterprises is always tedious and requires much effort. From information analysis to data verification, enterprise apps facilitate you in improving data-related operations and increasing the overall efficiency of the business.
Track Your Business Goals
Keeping yourself focused on goals is always difficult, and you might get sidetracked. But large enterprises can not afford such types of mistakes. Therefore enterprise apps help businesses keep an eye on their primary goals while reducing manual efforts and human errors with long-run benefits.
Mobile Monitoring
The post-Covid situation has opened doors for work-from-home options, and enterprises now offer both remote and hybrid work models. It increases the employee's productivity but makes it difficult for team leads or heads to monitor remote workers.
A mobile enterprise app lets you keep an eye on work progress while giving employees a convenient way to report their progress. You can also use it if you are a B2B business enterprise dealing with complex solutions.
Supply Chain / Logistics Control
Logistics and supply chains are among the most complex businesses and require dozens of considerations like accurate planning, tracking of the process, expansion of services, courier work, and many more.
Enterprise apps allow users to optimize supply chain management and efficiently serve goods and services by adopting trending norms like on-demand services.
These apps greatly help increase customer bandwidth with efficient order tracking, load management, and planning. In addition, it complements the paperwork process with the automatic storing of necessary data in the company's database.
Employee Onboarding
Simplify the onboarding process, or manage staff information, certifications, announcements, and appreciations through mobile enterprise apps. It saves the time and effort of HR managers and helps companies achieve higher results.
Do Your Homework Before Opting For Enterprise App Development
Ready to go for enterprise app development and hire a team of developers? But hold on for a minute and give a read to how to do the proper homework. Mark these points and analyze them deeply to get the desired application!
Understand Your Business Objectives
The first step is to determine your short- and long-term development goals, problems that mobile enterprise apps will address, and their impacts on your company's growth.
For example, If you need a solution for employees, understand and analyze the expectations and jot down requirements for efficient management.
Quick & Easy Integration
You might have an already built system helping you manage tasks, but you need an enterprise application to adjust to the company's infrastructure to prevent significant interruptions. But for that, it's essential to have APIs that can easily adapt to third-party integrations and current processes.
Security Issues
Security is crucial, and you must pay attention to steps and procedures that include exchanging the company's information, like data storage and transfer.
Most employees install apps on personal devices to store data in one place to stay updated and have synchronized data. You can not use simple passwords or patterns since they can risk the company's security and financial stability. For a foolproof system, figure out all the possible issues.
Administration and Control
Enterprise mobile app development process requires effort from the development team and a lot of administration and legal activities from the client side to get great apps.
Therefore before hiring a development team or signing a contract with an IT company, appoint a training supervisor and a project coordinator/ manager from your side.
Agile Model
Always go for an agile model for your enterprise apps, as it offers iterative completion of software. From design to development to testing, the agile lifecycle allows you quickly fix mistakes and go to previous steps for smooth development. In addition, you can get your MVP quickly to understand how it comes as a final product.
Stay Ahead Of The Curve
Choose your app's technology wisely to enjoy benefits in the long run. Spending a lot of budget on your enterprise app demands it can keep pace with the latest global market trends.
However, you might stumble upon deciding the best fit technology for your app. Therefore, take consultation services from a top-notch enterprise mobile development company, and select the best fit for your next app.
CodesOrbit is a leading enterprise mobile app development company. It offers cutting-edge enterprise mobile development services with incredible consultation services to clients worldwide.
Contact us now for the best advice for trending and lasting technology stacks.
Mobile Enterprise Application Platform
The primary benefit of MEAP is its adaptability to cross-platform. Develop an app that can run on multiple devices and various operating systems so that everyone can make full use of it from anywhere at any time. Choosing MEAP means cost-efficient solutions and one-time homework for developing business logic.
Developing an Enterprise App: What Will it Cost?
To know the precise budget required to create an enterprise application, share your project requirements and details with our team. But on average, a simple app can cost you a minimum of $30000 if leveraging an excellent development team.
The greater the complexity, the more the cost and time to complete your app will be. But make sure to do complete homework before leveraging any type of services and expertise. To get a cutting-edge application for your business with accurate estimations of cost and timeline means outstanding research of critical functionalities. Resulting in cost-efficient solutions with the right functions and no guilts of wasting time and effort.
Consult us now to get an accurate estimation right from the discovery phase to avoid inconvenience later.
CodesOrbit Helps You Out Class Competitors With Enterprise Mobile Solutions
Backed by years of experience, CodesOrbit is one of the leading enterprise mobile app development companies. Our team of mavens offers expertise, helping you jump on competitors with a faster time to market your idea.
Leveraging modern approaches, tools, and technologies, our developers ensure that your product is robust, highly scalable, and adaptable to third-party integrations for further business modifications. We provide round-the-clock support services for our clients worldwide with no time zone compatibility issues.
Get in touch with us to hire our dedicated team of developers for outsource application development or hire part-time developers to modify your enterprise apps.
Closing Thoughts
From SMBs to Large enterprises, every business knowingly or unknowingly uses enterprise apps. Getting an enterprise app for your business means greater customer satisfaction, increased productivity, efficient management, and time and cost saving. It builds an incredible foundation and shapes your business to keep pace with modern trends. Managing workflows and enhancing employee performance are some of the advantages.
In short, Enterprise apps are just more than applications, incorporating intelligence into your business to keep you ahead of the curve and benefit your business in the long run.