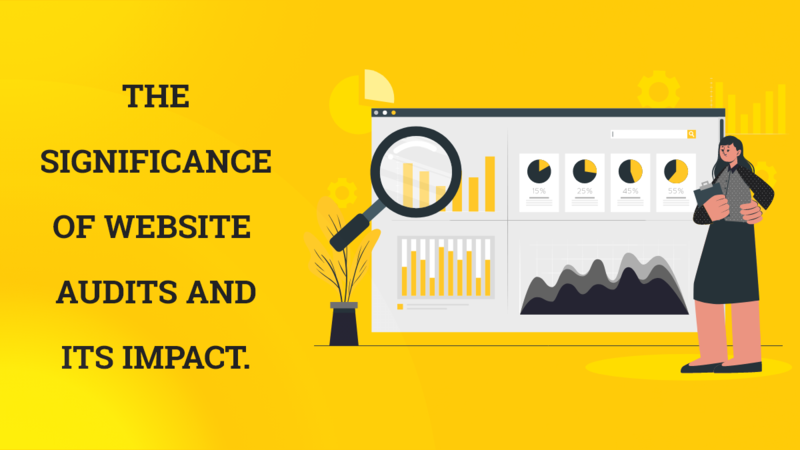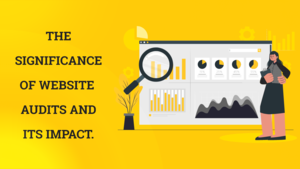 Website Audit
What is the most concrete way to determine the efficacy of a website? It is conducting a website audit. A website audit is when you fully analyze the factors that are affecting your website's visibility in search engines. It reviews everything overall and allows the business to make all the changes that are necessary. The audit provides a complete picture and gives feedback over what to change and what to improve from your technical issues which are damaging the site to your content not encouraging a lot of traffic. When you regularly conduct or hold site audits, it improves the engagement and the performance on the whole and it also helps you understand deeper and in detail as why your sales are so stagnant or why your site is not generating the traffic that you predict it should.
Business and Website Audit
A lot of times we are so caught up with our product and generate its need among the consumers that we forget to make sure if our consumers are even viewing the product or not. The website is the face of your business, it is how you interact with your potential customers. There are numerous times that your online presence and dealing will be the only customer experience the consumer will gain – so it is your job to make sure it is worth it after all website audits are just for marketing purposes and customer convenience. When you look after your website, it means you automatically are looking out for the brand image of your business. At times business owners or companies might even wonder who needs a website auditing; the answer is every small or big enterprise does! A good site audit can prove to be beneficial in the longer run for you and for your business.
Elements of Website Audits
A website analysis is when all the factors are thoroughly analyzed and issues are resolved that may have gone unnoticed in the past. If you combine all the audits below, you have your whole website audit anyway.
1 – Technical Audit
No matter how hard you work on your content, your media posts and the graphics; all your effort can go to waste if there is a technical difficulty. Technical audits focus on the fact that all search engine requirements are met for crawling and indexing.
2 – SEO Audit
SEO Audit includes link profiles, keyword analysis, goal conversations, traffic and much more. There are so many ranking factors that affect your website's performance in the worst way possible and this is where this SEO audit figures out how appropriately your website is optimized for search.
3 – Content Audit
This is how you interact, after flashy and eye-catching images; content is read to understand your business or company better – it is valuable to your business. This helps you build a better brand image, you can assess which type of content attracts the consumer and remove any that does not. Apart from this, you can also check the tone of your content, if it is inviting or friendly enough if it is attractive enough that the consumer does not lose interest after reading two lines of what you have spent 37 hours writing and editing.
4 – Site Security Audit
This audit makes sure that sensitive information of the business and its clients are not at risk in any way possible. It makes sure that there are no possibilities of security breaches.
5 – Competitor Website Audit
In every market, there is competition and every business needs to be aware of what its competitor is doing – competitor audits help you find ideas and opportunities that you can implement in your own marketing and promoting strategies.
6 – Site Health Audit
This audit helps you assess your website usability. The site structure, Meta descriptions, load time page titles etc. It also assesses the architecture of your website.
7 – Conversion Rate Optimization Audit
This is where you figure out what your consumers like on your website when they visit, what they prefer, which ways they prefer to give information or what they like searching for the most and what stops or causes hindrance for them to reach the final destination etc.
8 – Recovery Audit
This audit assesses issues that are either algorithmic issues or manual issues and it provides solutions for them to be resolved, this is done for site recovery.
Social media audit, UX, code audit – the remaining smaller more targeted audits you can also focus upon if the need arises. These audits can help you get better whenever it is necessary or whenever you think it is required.
Significance of Site Audit
We often think that we have built our website up to the mark and it is up to the required standard so why go through the trouble of undergoing website audits? It is because of the change that is continuously occurring and requires you to be advanced every other day that you do not fall behind your competitors or are following older techniques in a modern world. Your content, speed and code need to be updated because things change in the search engines – this helps with the rankings. Your website audit is only for your own advantage, to further grow and flourish by making things easier for the users or visitors of your site. These audits provide you with everything that you are required to know about maintaining your website. It helps you with a few things that I will highlight below for you to have a better understanding of the importance and significance of website audits
Website audits help you identify new SEO opportunities; during the auditing process, there is a higher chance of discovering pages that are not performing very well or maybe discovering technical tugs to improve the consumer experience a little more than before because this is the way to interact with your visitors. This way the site also reveals numerous available SEO opportunities that could benefit in a larger manner.
The website auditing helps you optimize your site further. The website has gone through several changes over the years, at times the content changes, older pages receive updates, maybe the company name changes or maybe the logo like Jubilee Insurance changed their name in 1995 so it changed on the website too and policies change for e.g. when Covid'19 arrived, a few companies added details regarding a few SOPs for consumer safety.  Every little change leads to a majority of changes altogether which results in your original website not existing anymore, so whatever issue the new changes bring in, website auditing makes sure that it eliminates those issues keeping the site fully optimized.
Thirdly, website auditing is necessary to keep up with the changes which I mentioned earlier above as well – It is not easy to keep up with the demands of SEO, when you market a product or service online, you have to keep a lot of factors in mind to make sure that you know about the traffic that is coming to your site and what keywords are used to trigger your site. If you had 10 factors to take care of in the past, there might be 100 now and website auditing helps you get a better picture of what improvements or changes to make on a regular basis!
Moreover, website auditing helps you with boosting conversions. There are strategies that you might have thought would do wonders for your business but they fail miserably or maybe they are not as effective as you thought they would be, perhaps there are several opportunities to make more profit or make sales in a better manner that you were not aware of in the past – analyzing the site will help you gain new strategic ideas, it can help you create new strategies which can ultimately snowball traffic to your website and analyzing also answer all the questions you have in your mind for further growth which is one of the major goals for any business out there in the global market, big or small.
Lastly, to sum it all up website audits can help you recover and resolve any issue that is found on your website. HTML and CSS errors are also amended. It helps you abolish each and every issue that is triggering trouble on your sites, like the slow loading of pages or less traffic. A complete website audit provides you insights regarding the website traffic ranking, search percentages and bounce rates along with feedback on various links or different problems with your website links, the broken links are authenticated and fixed so the site is issue-free. It also ensures no duplication as such in terms of media or content.
Benefits of Website Audits
There are several times that the visitor calls or emails to further ask about a specific service or product, at times people find it more authentic to talk to someone at the company who is providing the product/service to feel like it is reliable when they are making a purchase, for this contact information displayed prominently is very essential. Website auditing being the important tool will figure the best place to display the contact information – when the number of calls increases, our sales increase and ultimately the revenue boosts.
It is necessary and highly vital for the website to gain organic traffic and a website audit guarantees that site arrangement is SEO friendly and no faulty code is blocking the crawlers also the URL structures present need to communicate well with the search engines – all this needs to be done because a website will never make it to the top of Google searches and when it does not appear in the top Google searches, it cannot gain much organic traffic.
The use of keywords needs to be done appropriately, you cannot fill your content with the one keyword over and over again to appear in the searches but you need to be specific and concise with the appropriate amount and use of keywords. The appropriate use is essential for any company's SEO efforts and this is where website audit helps you as it examines the current keyword count and figures out the content gaps and also helps to assume what could increase traffic to your site.
Any user receiving the message that this site will invite any virus to their device will immediately shut it down. There are multiple times that the company is unaware that their official website is infected with malware but search engines get to know right away. The company reputation can be on the line if this prevails longer and the customer engagement can come to zero. The website auditing helps you regarding this issue as well because it identifies and deletes the malware.
The purpose of a landing page is to provide the visitor with the appropriate amount of knowledge regarding the service or the product that is being sold, it explains the use of it and further has content or media which convinces the visitor to turn into a customer. The design, content and wording can help you with maximum conversions. This process might sound easy but it takes months of thorough and exhaustive testing – the results can prove to be very valuable to the business. It is like a store in real life, you visit the store you like the ambience, the décor, the smell and the theme, you automatically want to associate yourself to the brand and want to make a purchase, the same goes for this online website, it is the face of your brand, it is your online store. The first landing page should encourage the customers to scroll further. Website audits make sure you have such a landing page that has the right keywords when searched for, has the appropriate content and the loading speed etc.
The visitor should know how to use your website, when you look at a website the whole day, it is easier for you to navigate through it and search for the thing you have been looking for, this leads to not noticing the issues a first time visitor might face; for someone visiting it the first time, he might just cross the tab and move on with his life but you lost a potential customer right there and then. There should be an existing balance between the right amount of graphic material and the written content to grab one's attention. Here is when the website auditing saves you as it guides you regarding where you need to simplify a little and where to focus upon expansion.
It is vital to know what your consumer likes the most when it comes to reading, what is the point of writing a million words when the consumer would not read any of it. You should know what interests your consumer the most. Website auditing helps you with writing the most suitable content that the audience enjoys and likes to read and is leading to conversions. Content helps you with better marketing as social media and blogs fascinate a lot of consumers.
How much time do we spend on one site? A few minutes I guess? If your website takes a minute longer than what the consumer expects, they will open the competitor's website to make the purchase. Everyone nowadays has limited time to spend on the internet as everything online is for the consumers' convenience but when the consumer needs something, the site won't even open, where is the convenience then? Website audit helps you figure out what is the cause behind such sluggish loading and it can also offer details for resolving those issues.
Overall, website audits only make improvements that can further benefit you in the future. It can explain the overall improvements that are compulsory. Yearly, Google makes 500 changes to its algorithms which means SEO is constantly changing so even the trivial changes that you make, have a big impact with time.
Main Areas to Focus Upon
Once you have understood how important website auditing is, you will come to realize that there are so many things or reasons why your website is failing to achieve the status that you imagined it would. Website audits are held on a regular basis to avoid SEO errors. Among those abundant errors, there is no need to be confused or panic, you will prioritize the three main areas in the beginning and work upon them for progress.
Firstly, you need to focus upon the on-site setup which includes URLs, site structure and so on. Query-based URLs are a major problem as they activate various errors such as content that is duplicated. You should implement proper official tags to those pages signifying the original URL they belong to; if canonical tags are missing, Google considers your pages as duplicates so you should make sure that there are no misplaced canonical tags, and multiple tags are present on a page and they should lead to a different URL which is either relative or empty. Also, you should attach a relevant number at the completion of an archive subpage's title to avoid the duplicate title tag error.
Secondly, site audits are mainly to provide the user with a better understanding and experience which leads to SEO benefits as this will indicate that the page is performing well among the users and there is traffic on the page. When there is a reduced bounce rate, a sudden boost in page views and higher conversions – this means the website audit is helping and your website is performing well. Website audits can improve the user experience by identifying the issues in Meta tags that can confuse the visitor, interlinking and all crawl related issues. This is the second area to focus upon after your complete website audit.
Thirdly and lastly, on-page issues. These can be broken links, lack of relevant headings or missing meta descriptions – anything of the sort is to be prioritized – a few things can be fixed quickly but a few might take longer than expected but they need to be resolved because if they are not, it can lead to affect you search visibility in an adverse manner.
Website auditing surely helps you identify issues that are resolved eventually and that can lead you to further excel in a better manner than before but the key is to rank things to fix according to their priority on the list, you need bigger returns with minimal effort and that should be your focus.
Conclusion
Once you have made sure that your website is out there in the public, a website audit is an essential tool to make sure that your website keeps on doing well constantly over the years – like an antivirus becomes a necessity for your laptop or your mobile phone – that is how website audit is for your website. Your site will keep on growing, developing and booming in terms of traffic, rankings and user experience which will eventually lead to higher sales, higher sales means more profit, more loyal consumers and more return on investment which is remarkable for your business. You will continuously observe and maintain your website up to the
Once you have made sure that your website is out there in the public, a website audit is an essential tool to make sure that your website keeps on doing well constantly over the years – like an antivirus becomes a necessity for your laptop or your mobile phone – that is how website audit is for your website. Your site will keep on growing, developing and booming in terms of traffic, rankings and user experience which will eventually lead to higher sales, higher sales means more profit, more loyal consumers and more return on investment which is remarkable for your business. You will continuously observe and maintain your website up to the standard as website audit also makes sure that you are aware of what your competitor is doing so you can always come up with better strategies as the goal is to not be the same but to be different in a better manner. If you are not viewing traffic like it was expected or if you are experiencing a decline – you do need to invest in website audits before it is too late. Audit reports help you check for problems, errors and inaccuracies that can be solved. An audit not only makes sure that it just looks at the website from the outside but it gets to the roots of the problems that are occurring and fixes them to enhance the visibility of your website. If you have invested in building a website, make sure you invest in a website audit tool too!