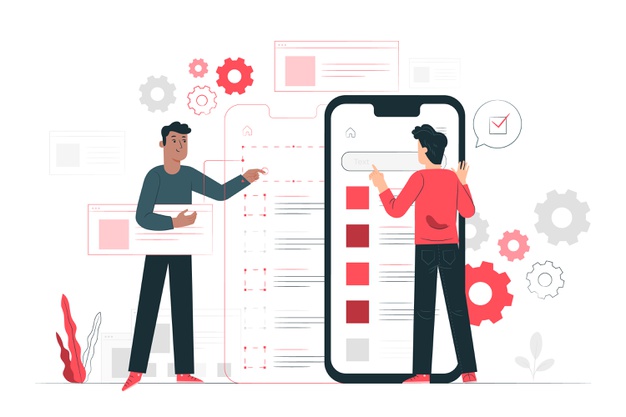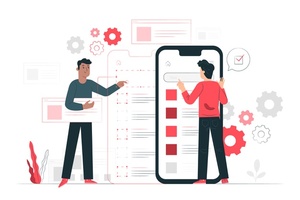 In the world of technology, creativity has no boundaries. To convert an idea into the shape of an app or a featurette is one of the major trends these days. From the invention of mobiles to innovation in design and features, each company focused on one thing; how to bring more apps into the world.
If you are a startup business in the mobile industry you need to meet the impossible challenges with a co-creative team of marketers and app developers. This is a precious opportunity for entrepreneurs to a fresh start, from a small concept and grows into a full blooming app business.
If Brian Acton and Jan Koum did not work in Yahoo or had thrown away the idea of developing an app that would bring millions of users together then the world would be not aware of WhatsApp. It started as a short-term idea of communication built into a world-renowned chat messenger among the brand mobile users.
WhatsApp enables people to keep track of read/unread messages, no registration requirement and made $19 billion when Facebook took it over. Now it is one of the successful raging apps inspiring the messenger bots.
What makes App so Approachable?
The online community thrives with the presence of social media and official websites. A user is not always prone to using a computer and what if he needs to meet a service? Carrying a laptop on public transit? It does not sound much of a good idea.
Therefore, four factors shortlisted the varying reasons why app business is a success for sellers and users.
Convenience. Is it handy to use a mobile app? Of course, it is. Users are usually inclined to use a service that will save them loads of time and put minimum effort into communicating. Just like carrying a book anywhere was not a convenient option when E-Kindle introduced a new platform for readers.
Constant service availability. What made WhatsApp so popular was its vicinity for the users. The app must be accessible at any place, any time for the ease of the user. This idea is most successful for transport service apps like Uber.
Cost-effective. A traditional service may cost more than a mobile app service offer. Not every user is familiar with an app, special offers; vouchers are offered which increases the number of users.
Payment transfers. An on-demand service that makes payments easier is a fundamental quality for a user. In such unprecedented times, users are affiliated with their bank's mobile apps to pay bills, and transactions of money are being conducted online.
These factors give a clear insight into why a mobile app works in the long run. But you still need to build a strategy to make sure your app works the way a user wants it to.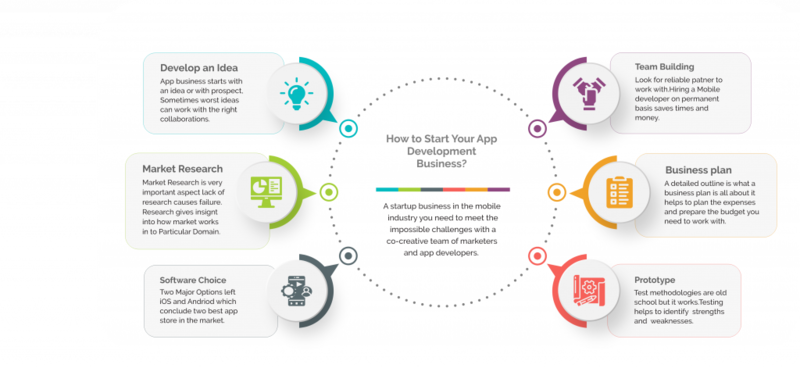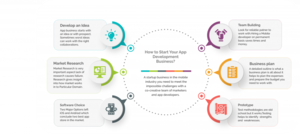 Steps to take for the app development business
If you are entering the world of IT, clear your doubts like is it worthwhile? Does your goal, in the long run, is effective? How will you target the audience?
This brings us to our series of steps you need to follow.
1. Develop an idea
Like any other business, the app business starts with an idea or a prospect. Sometimes the worst ideas can work with the right collaborations and some tweaking in the original idea. You can plan to start an app business but always have back up ideas in case the first one is a failure.
It is okay if the first time doesn't work out. Keep tracking the idea and the market.
2. Market research
Conclusive market research is of primary importance. Sometimes the idea may not work, and it is due to a lack of proper information. Conducting primary research will give you an insight into how the market works in a particular domain. You can list down the competitors and analyze their workings and responses from the audience.
To understand the working of other relevant apps, download those apps, and use them. It will give you an inside view of how the app is supposed to work. You can make amendments accordingly.
3. Software choice
Back in the day, developers must choose between limited options like blackberry, Symbian, Windows Phone, etc.
Now developers have two major options left; Android or iOS, which conclude with the two greatest app stores in the current market.
Windows Phone lacked popularity; hence Nokia downsized its market reach and lost huge shares. Nowadays, the major competitors, Android, or iOS, are running the smartphone industry but if you look at the annual revenue, Apple leads with 3 billion dollars.
Make an impressive choice.
4. Team building
Look for reliable partners to work with. It is all about team building and brainstorming. You need coders, designers, copywriters, and skilled photographers.  You can work with freelancers at Upwork or you can build an outsource team.
Hiring a developer on a permanent basis saves money and experimenting with new developers for each modification is not in the best interest of the company.
5. Follow the business plan
A detailed outline is what a business plan is all about. It helps to plan expenses and prepare the budget you need to work with.
You can initiate with the short-term plans, following the strategy, the long-term plan will help you stay focused and grow in the right direction. A business plan can be simple and detailed at the same time. It must contain details about capital, expenditures, and credits.
For the project to work, you need to make good investments as well, either take a loan or do crowdfunding, depending on the availability of the capital.
6. Build a prototype
Test and trial methodology are old schools, but it works. You can create an interactive prototype that features the quality and idea in a designed framework. This test drive will let you learn the defaults and strengths of the app.
Conduct this hypothesis in a closed experiment group, get the feedback, and estimate how you can improve your app. Be open for suggestions because your investors will want solid proof to see their money being invested in the right place.
Conclusion
For the right price (paid or free) you can make your app available. Advertise the app at online platforms, social media is a powerful tool, or you can propose direct selling. Being on the developing side, you need to put a lot of effort and money to make it all work. And if you are looking for the right investment, codesorbit is open for new ideas and challenges.